Ferrari: We must be perfect from now on, says Stefano Domenicali

By Andrew Benson
Chief F1 writer
Last updated on .From the section Formula 1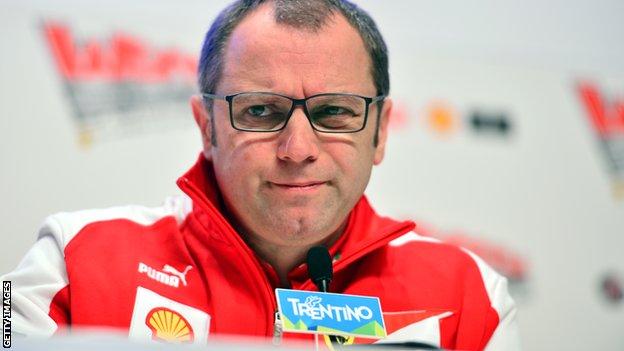 Team principal Stefano Domenicali has urged Ferrari to be "perfect" for the rest of the season.
Domenicali said: "We believe in our ability to fight to the end and this time we have been from the start, which has not been the case for a while.
"At the same time, we must be perfect in every area."
Alonso is fourth in the championship after the first four races, with Red Bull's Sebastian Vettel, the reigning champion, in the lead, 10 points ahead of Lotus driver Kimi Raikkonen.
Mercedes driver Lewis Hamilton is third, three points ahead of Alonso, who was world champion in 2005 and 2006.
The 31-year-old Spaniard finished second in the season-opening race in Australia and won in China.
But in the second race in Malaysia and in Bahrain last weekend, Ferrari encountered problems and made mistakes when reacting to them.
Alonso could still have finished third in Bahrain and at least fifth in Malaysia. Instead, he crashed out in Malaysia and was eighth in Bahrain, missing out on a possible 28 points.
In Malaysia, he damaged his front wing on the back of Vettel's car during lap one but Ferrari did not order him to pit immediately to have it changed. The wing subsequently broke at the start of the second lap, pitching Alonso off the track and out of the race.
In Bahrain, Alonso's DRS overtaking aid failed, leaving the top part of his rear wing stuck in the 'open' position.
He pitted to have it forced back into place but Ferrari allowed him to use it again when he returned to the track. It immediately stuck open again and he had to pit at the end of that lap to have it repaired for a second time.
Ferrari said the problem that caused Alonso's DRS failure was "the breakage of a mechanical component within the system", the first time such a problem had occurred since DRS was introduced in 2011.
Ferrari have become renowned for their excellent reliability over the last decade and more.
Domenicali said it was crucial they did not let those standards slip.
"We must work with renewed attention on this front," he said. "In these first four races of the season, we have not managed, for various reasons, to bring home the points that were within our grasp.
"But we must not be discouraged by this. Quite the contrary, because we have seen so often, both in our favour and against, how things can change in a hurry."