F1 after Bahrain: Red Bull relationships and Alonso's errors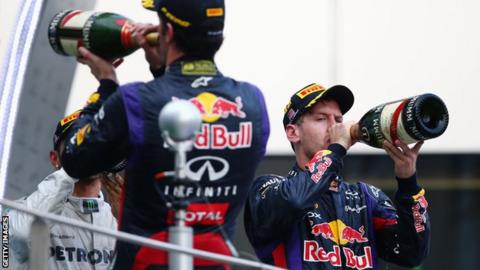 Rows, crashes, desperate wheel-to-wheel racing and podiums consisting entirely of world champions - it's been quite a start to the 2013 Formula 1 season.
Through the thrills and spills, the arguments and the politics, the least surprising thing is the situation at the top of the world championship.
Red Bull's Sebastian Vettel is in his familiar position on the summit and he is trailed by Lotus's Kimi Raikkonen, Mercedes driver Lewis Hamilton and Ferrari's Fernando Alonso. The big beasts' grip on the F1 jungle is as firm as ever.
Four races in and into a three-week break following last weekend's Bahrain Grand Prix until the Spanish Grand Prix on 12 May, several patterns have emerged to set the tone for the season.
RAMPAGING RED BULL
Most fascinating of all has been the transformation almost overnight of Vettel's public image from cheerful, amusing, fresh-faced prodigy to dark anti-hero after he ignored team orders not to pass Mark Webber to win the Malaysian Grand Prix.
The fact that Vettel is as ruthless as they come is hardly a surprise to those who have been paying attention to his career, but the incident has certainly set an intriguing tone for the season.
There are those who suspect Vettel may come to regret his decision in Malaysia, his inability to resist the inner demons that were telling him: "Come on, do it. You're faster. Mark doesn't deserve it."
Vettel has admitted his decision was partly influenced by Webber's unhelpfulness during last season's title-deciding Brazilian Grand Prix. In which case, the German has conveniently forgotten the several times the Australian has sat behind Vettel when told to do so, even when it was against his own best interests.
Webber will not be forgetting the incident any time soon. He, too, is made of steel and there is a suspicion that sooner or later he might find a way to pay Vettel back - presumably in the way that will cause maximum damage to where it hurts him most, ie his title campaign. Time will tell.
Meanwhile, Red Bull have been campaigning hard - unsuccessfully so far - for Pirelli to produce more durable tyres, believing that the inherent superiority of their car is being held back by them being unable to exploit its full potential in races as a result of needing to look after the tyres.
Rival engineers are not sure this theory stands up. After all, if the Red Bull is that superior in downforce and ultimately speed, why has it not qualified on pole position in the last two races?
In fact - people are asking - why was the Red Bull faster than its rivals by nearly a second in both Australia and Malaysia, but then struggling in China and only second on the grid in Bahrain? There are theories and rumours but no more than that.
One thing, though, is clear. With a 10-point advantage at the top of the championship, having absolutely maximised the car's potential in the first four races, Vettel is going to be as tough to beat as ever.
FALTERING FERRARI
Vettel's closest rival has been Alonso of Ferrari, but his campaign has so far been hamstrung by errors that could prove very costly by the end of the season.
Alonso admits tapping the back of Vettel's car in the maelstrom of a wet start in Malaysia was "my mistake" but can perhaps be forgiven, especially as the Red Bull was briefly out of shape and going slower than might have been expected.
The Spaniard was unlucky the incident broke his front wing, but then came the catastrophic decision not to pit at the end of the first lap, which resulted in him crashing out at the start of lap two when the wing collapsed.
Ferrari took the blame for the call - as they should. For even if Alonso had communicated his desire to stay out - as some believe he did - he could not see the wing and the team should have been stronger.
Then, in Bahrain, Alonso's DRS overtaking aid stuck open on the seventh lap while chasing Vettel and Ferrari unwisely believed that, having been shoved back into place, it would operate as normal. It stuck open again the first time he used it and he had to return to the pits.
The errors cost Alonso at least a fifth place in Malaysia and a podium in Bahrain. And at both races, with no problems at all, Alonso might have competed for a win.
Add in his crushing win in China and strong second place in Australia, along with team-mate Felipe Massa's continued resurgence, and it is clear Ferrari have the car they need to compete for the title on a more equal footing than during Alonso's stunning 2012 season.
But they will have to heed team boss Stefano Domenicali's demand to be "perfect" from now on if they are not to squander it.
RAIKKONEN ON A ROLL
Without his team's errors, Alonso would be second in the championship, a mere five points behind Vettel. As it is, Lotus driver Raikkonen is in that slot, 10 points adrift of the German.
Raikkonen started the season with a dominant victory in Australia and has been consistently strong elsewhere.
Like last year, the car has impressive race pace which it cannot quite match in qualifying. But its one-lap pace has been stronger than it was in 2012 and as a result the Lotus challenge has been more robust.
Raikkonen, too, appears to have stepped up a level after being brilliantly consistent rather than electrifyingly fast during his first season back in F1 after two years in rallying and now looks, as one leading team boss put it in Bahrain, "like the real deal again".
The ructions at Red Bull and Raikkonen's form have led to strong rumours that he will be replacing Webber as Vettel's team-mate at Red Bull next season. That will add an interesting subtext to the title battle.
MERCEDES MISSION
Hamilton, like Raikkonen, is one place higher in the championship than he ought to be as a result of Alonso's problems, but that should not take away from an impressive start to the season by his new Mercedes team.
The Englishman's decision to quit McLaren has been proved spectacularly right by the rise of Mercedes and his former team's dramatic fall, and he has had two podium finishes and a pole position.
Whether he can sustain a title challenge, though, is less certain. The Mercedes continues to eat up its rear tyres more than its rivals, a major problem in these days of tyre preservation.
The team say they are working on it urgently, but as it is a problem which has afflicted them for more than three years, it seems unlikely they will find a fix overnight.
THE REST
The Spanish Grand Prix is a critical one for two of F1's big names - McLaren and Williams, who have both had dreadful starts to the season.
After a poor showing in Australia, McLaren have at least shown signs of progress with their car with some decent points finishes, but any hope of a title challenge clearly rests on the upgrade package they are introducing in Spain.
Williams, on the other hand, are in the mire. The FW35 has a major design flaw within it, and the word from inside the team is that fixing it to any extent that rescues their season will not be easy. It might, indeed, be impossible.
Why this is the case after such a strong season in 2012 remains a mystery, but insiders point to the huge leadership vacuum that developed at the team in the closing months of last year.
Steps have been taken to remedy this with the promotion of Sir Frank Williams's daughter Claire to deputy team principal, but Williams still appear management-lite. A long, dispiriting season appears in prospect.
That is far from the case at Force India, where a strong car has put them in position to score good points and Paul di Resta and Adrian Sutil are staging an epic fight for supremacy.
Di Resta must be aware his career hangs in the balance. If he is beaten by Sutil - regarded as a solid driver who is not quite top level - his chances of being picked up by a top team will nose-dive.
The needle is apparent - and spilled over on to the track when Sutil barged Di Resta off the road in China. They say they have discussed it and that it is behind them now. For how long, remains to be seen.