Formula 1: Bernie Ecclestone makes prize fund changes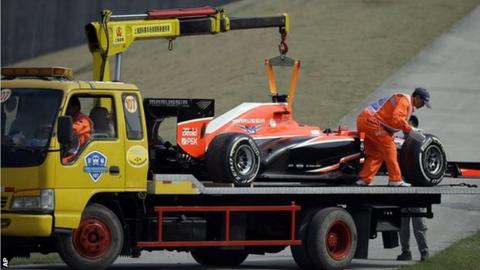 F1's last-placed team at the end of this season will earn no prize money, announced boss Bernie Ecclestone.
There are 11 teams in F1 in 2013 and Ecclestone hopes the new move will add more excitement at the bottom.
"It's more incentive to get going and get into the top 10, like football where you can go up and down," he said.
Payments for 11th and 12th place (whilst HRT competed in the sport) were brought in during 2010 to help new teams with smaller budgets.
But the Concorde Agreement that governs F1 finance expired at the end of last year and a new one has yet to be signed by all parties.
Ecclestone has agreed separate interim individual commercial agreements with all of the teams except Marussia.
Marussia finished second last out of 12 teams in 2012, but currently sit 10th after four races, ahead of Caterham.
Marussia confirmed that they have not been offered an agreement by the sport's commercial rights holder, CVC - who is represented by Ecclestone - but Marussia chief executive Graeme Lowdon said: "It is our understanding that none of the parties are making any public comment about the financial discussions relating to a new Concorde Agreement and on that basis we would prefer not to make any comment."
The Concorde Agreement, which would need to be signed by all 11 teams and the FIA, the sport's governing body, would replace the interim agreements if it comes in.
Private equity fund CVC is pressing ahead with plans to float F1 on the Singapore stock exchange later this year.