Ask Gary Anderson: Raikkonen's future, DRS and his fantasy team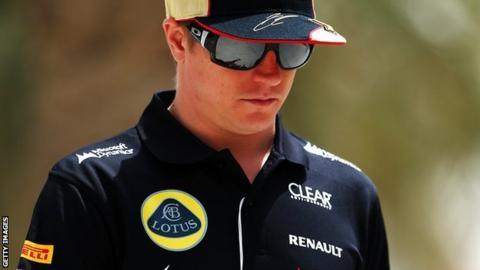 Among the topics Gary discusses this week are:
- Raikkonen being perfect for Red Bull
- Refuelling during racing
- Whether DRS has damaged the sport
- Gary's fantasy F1 team
Do you think Kimi Raikkonen will stay at Lotus? @Nigelh_nigel
I believe he is a perfect fit for Red Bull. His attitude, demeanour, everything is what Red Bull want. He has the speed. Red Bull need to ensure that if Sebastian Vettel gets the mega-offer from Ferrari and leaves, they have their tail covered and Raikkonen would be very capable of that.
I wouldn't be surprised if negotiations were well down the road for this to happen.
Fantasy team: Drivers? Designer? Engine? Tactician? And what one option, outside the current rules, would that team want? @Matchfacts
Drivers: Fernando Alonso and Sauber's German ace Nico Hulkenberg, who continues to look very impressive this season after a strong end to last year with Force India. Engine: Mercedes. Designer: Red Bull's Adrian Newey would be the number one choice, but he's getting older now and someone has to supercede him and I think Lotus's James Allison could be the guy to do that. Tactician? Me!
What the team would want in terms of the rules? That would be stability of the regulations - for them to stay unchanged for a number of years.
If you could alter just one component of the McLaren to make it more competitive, what would it be and why? @F1Smasher
The front wing, because it's a very primitive design and it affects the airflow to the rest of the car, which will never work well until that front-wing situation is addressed.
We see cars scraping the ground and sparking quite often, so how do they not wear the plank out beyond the limit? @Danoldo2000
You are allowed to put metal skids on the plank to protect it from wearing, but the size is limited so you can't do it too much.
How do the '86-'88 turbo engines match up against the new ones that will be introduced in 2014 in terms of power and performance? @Funkstar75
Different world, completely. They will probably be producing less than half the power of those in the late 1980s, in terms of power produced from fuel at least. But the main emphasis is to increase the electrical power. Most road cars nowadays are going to small-capacity turbo engines and F1 is doing the same, and putting electrical power on top of it.
Why does the Mercedes lose performance in the race compared to qualifying, and can they cure it? @Gertigj
It's two-fold. The pace on low tanks is inter-related with the lack of pace on a heavy fuel load. The Mercedes car makes the tyres work very hard, which makes them work well in qualifying and gives a good lap time on low fuel over one lap. But that is detrimental on a heavy fuel load. It uses the rear tyres too much. And when the rear tyres start to deteriorate, either through wear or what is known as thermal degradation, you get wheelspin, which uses the tyres even more, so it is a spiral to nowhere.
What is the one performance-enhancing feature of this year's cars which you would remove to make things interesting? @NickW1987
Downforce-producing rear brake ducts. That would reduce the effectiveness of those cars that have effective Coanda exhaust systems - where the exhaust is used for aerodynamic effect, increasing rear downforce. It would equalise the performance of the cars.
Don't you think the DRS rear wing overtaking aid has killed the sport? No more racing in the corners! Wait for the long straight, use the Kers power-boost system and slip-stream... @Mnsrid
Yes. I would keep DRS, but it would be as a boost button. Drivers could use it at any time they wanted, but on a limited number of occasions in each race. So you could use it to catch someone, or overtake someone, but the other guy could retaliate.
Do you think a return to refuelling during the races would increase overtaking? @PhilWright41
I don't think we want to increase overtaking any more. We have overtaking to the level that it is getting to be a bit too much.
I don't think refuelling would increase overtaking. Tyre management is what makes the race.
What happens to the engines/gearboxes when they have done there cycle/broken down? @nitram123
A lot of the engines will be put back on the dynamometer to analyse what would be the next component to fail. Other than that, they become scrap.
In terms of gearboxes, you have to use the same one for five races, but some components will be re-used because that is not that much, so they will be being recycled. It could become another of your five-race gearboxes once it has been rebuilt.