Spanish GP: An indicator of how the season will pan out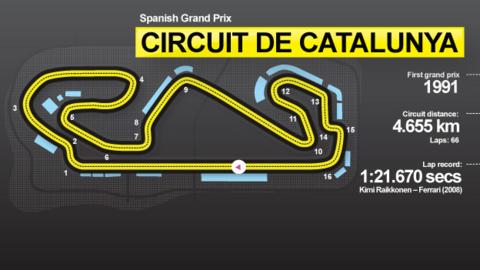 After four races spent touring the far and middle east, it's back to the Formula 1 homeland of Europe, with the familiar surroundings of Barcelona hosting the Spanish Grand Prix - round five of the F1 World Championship.
The Circuit de Catalunya is well known to the teams as it usually hosts at least one pre-season test each year. While the event doesn't always provide the most exciting of races, it remains as a vital indicator of car performance. Run well in Barcelona and you'll likely challenge for the big points throughout the season.
Will Mercedes show they've got what it takes to challenge the Red Bulls, Ferraris and Lotuses all season long? Can Williams' Pastor Maldonado repeat his heroic victory of last year? Can Fernando Alonso win on home turf for the second time in his career?
The track
A combination of high- and medium-speed corners make up the 4.655km circuit, with overtaking notoriously difficult.
For example, in 1999 there was just one overtaking move in the entire race, while in 2011 it was the first race in 12 years not to be won by the man who started on pole position.
However, last season we saw 57 DRS-aided overtaking moves, while the make-up of the tyres means we should see far more action both in the pits and out on track.
The first two sectors are quick with long, sweeping corners which require good downforce and a well-balanced car. The third sector is slower and more technical.
The venue
The circuit, located 25km north of Barcelona, has hosted a Formula 1 race since 1991 and is a popular venue for testing because of its excellent facilities and high-downforce layout.
Only five circuits - Interlagos, Silverstone, Budapest, Monza and Monte Carlo - have had a longer continuous run of hosting a Formula 1 grand prix.
The circuit has been kind to whoever the reigning world champion is each year. The driver with the number one on his car has won 11 times from 21 events. During the same period, the winning driver has gone on to clinch the title 14 times.
The race has been generally well attended courtesy of the success of Alonso, however the country now has just one race on the calendar after Valencia was dropped after last season.
What the drivers say
Mercedes driver Lewis Hamilton: "Barcelona should be a good test as we know the circuit so well having completed most of the pre-season test programme there. The weekend should be a good benchmark of the progress we have made since then."
Lotus driver Kimi Raikkonen: "I have won twice in Barcelona and I was on the podium there last year too, so I really look forward to going there again. The set-up is crucial as the track changes with the wind and temperature so there's plenty of work for the engineers too."
Sauber driver Esteban Gutierrez: "Tyre management will be crucial here, and, especially during a qualifying lap, you need to nurse your tyres in the first two sectors in order to get a clean third sector."
Mercedes driver Nico Rosberg: "It will be an interesting weekend and once we see how everyone performs in Barcelona, it should give a good idea of how the rest of the season will look."
Lotus driver Romain Grosjean: "In Barcelona it will be important to qualify well as it will be much harder to overtake than in Bahrain. As a team, this is an area where we can still improve a little bit, but we have some ideas of how to do that and hopefully we'll be able to make the front row."
BBC Radio 5 live analyst Allan McNish's view
"Ferrari have made a few mistakes this season, the first of which was in Malaysia when they didn't pull Alonso in straight away when he broke his front wing.
"The second was allowing the reactivation of Alonso's DRS in Bahrain when it had jammed open on the previous lap. That meant Alonso had to stop on successive laps which ruined his race.
"After all that, I think Ferrari will be back in Spain. Their car is generally pretty well balanced. It's like the Red Bull in that it's pretty good in most situations.
"Alonso needs to pull a performance out of the hat. He's in Spain, on home turf and when you look back at some of the legendary races over the years such as Nigel Mansell winning at Silverstone and Alonso in Valencia last year, having home support can have a positive effect.
"Ferrari need to get back on track quickly to prevent Red Bull and Kimi Raikkonen getting away. Putting all those factors together and I'm plumping for Alonso for victory.
"Massa is definitely doing a great job, too, and will be there or thereabouts. He's driving as well as he has ever done. He's got a look of confidence about him, away from the track as well as on track.
"I think that's a big thing for Ferrari, to have two guys who are pushing all the time. It keeps Alonso focused as well, not that he really needs it."
A classic Spanish GP
The 1994 Spanish Grand Prix will long live in the memory for two reasons.
Through Britain's Damon Hill, Williams secured their first victory since the death of three-time world champion Ayrton Senna in the San Marino Grand Prix a month before.
And Michael Schumacher finished second despite having spent much of the race in fifth gear, remarkably managing to pull away from pit stops without stalling.
The German seven-time world champion was fortunate in that McLaren's Mika Hakkinen, who was right with him, did not have the chance to attack as his engine failed.
Schumacher's team-mate JJ Lehto moved into third, but his engine failed, too, allowing McLaren's Martin Brundle to get promoted a place before his transmission failed. That gifted Tyrrell's Mark Blundell the third and final podium place.