Murray's Memories: Spain 1986 - 'Mansell won't like that!'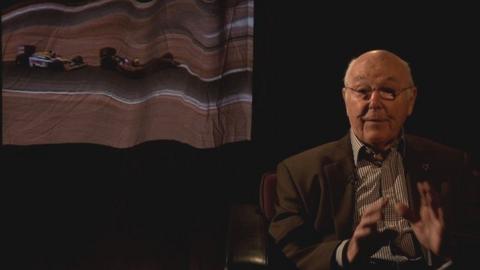 Legendary F1 commentator Murray Walker will be providing a series of archive-based videos and written articles for every race of the 2013 season.
'Murray's Memories' are his personal recollections of some of the most dramatic moments in the history of F1, and the fifth in the series is Ayrton Senna and Nigel Mansell's photo finish during the 1986 Spanish Grand Prix.
The Spanish Grand Prix has found a long-term home at the Circuit de Catalunya near Barcelona and the race has never been more popular because of the success of Fernando Alonso.
Apart from a brief period in the early 1980s, Spain has been a fixture on the Formula 1 calendar since the late 1960s and the country's grand prix has been held at no less than five different locations.
The most spectacular was probably the fabulous road course around the streets of Montjuic Parc, on the famous hill overlooking Barcelona that hosted the 1992 Olympics.
But for the best races you have to look back to the two that bookended the four-year absence of Spain from the calendar.
In 1981, Gilles Villeneuve drove a masterful race in the uncompetitive Ferrari turbo to hold off a train of five cars for virtually the entire grand prix, with all five covered by less than 1.25 seconds at the flag.
Just as exciting, in a different way, was the 1986 race at Jerez, which was a real thriller that produced another of the closest finishes in F1 history.
It was a race that was all about fuel management and tyre wear - don't let anyone tell you that the current era is the first in which drivers have had to take care of their cars during a grand prix!
It boiled down to Ayrton Senna in the Lotus-Renault against the might of Nelson Piquet and Nigel Mansell in their Williams-Hondas, and what a tussle they had.
Piquet had to retire and, with nine laps to go, Mansell took the lead from Senna but had to stop for fresh rubber.
He rejoined 20 seconds adrift, to start a brilliant charge.
With Senna having to watch his fuel consumption, Mansell, on new tyres, gained for lap after lap and the climax was sensational.
Coming out of the final corner, Mansell planted his foot and gave the Honda turbo a boost and he drew alongside the Lotus as they crossed the line.
Just a hardly measurable 0.014secs between Senna, the winner, and Mansell, who initially thought he had won.
If the race had been only a few yards longer he would have done it, but "if" is a big word in Formula 1.