Mercedes backed by Daimler in bid to win F1 title

By Andrew Benson
Chief F1 writer
Last updated on .From the section Formula 1179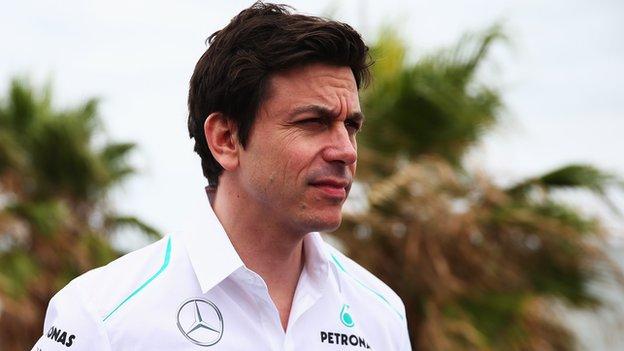 Mercedes will continue to be backed in Formula 1 by parent company Daimler as long as they show they are on track to win the world championship.
Daimler is making swingeing changes to the team to improve their performance.
"If we are perceived as a front-running team - among the top three, four teams - we will be given time," Mercedes boss Toto Wolff told BBC Sport.
"We need to be successful but Mercedes understand you cannot build a winning team in a short time frame."
Wolff, who was appointed in January in a dual role as Mercedes motorsport director and executive director and shareholder of the F1 team, admitted that the team's raison d'etre was to become world champions.
He said: "We are here to deliver the big round thing at the end of the year."
But in an exclusive interview he said that a troubled last three years since Mercedes took over the Brawn team at the end of their title-winning year in 2009 meant they still needed time to build a structure that would allow them to win the world title.
"It's about putting together the right ingredients," Wolff said.
"If you look at what has worked in the past, even Benetton (in 1994-5), the glory days of Ferrari, the glory days of McLaren, you can see there was a group of people which could almost interact non-verbally with each other.
"They fitted them together, the engine was good, the driver was good, the chassis was solid.
"The management worked with each other, a good group of mechanics, a good group of engineers, good technical director, a creative mind in the design office and aero department and a good businessman and politician safeguarding all these guys from the nasty bits.
"And in order to put that together you need time."
Mercedes is committed to F1 for the foreseeable future, having signed a commercial deal that binds them to the sport until 2020.
Both Wolff and team principal Ross Brawn said the evidence of the first four races of this season was that the team were on the right track.
Lewis Hamilton and Nico Rosberg have each taken a pole position in the last two races and Hamilton is third in the world championship, behind Red Bull's Sebastian Vettel and Lotus's Kimi Raikkonen but ahead of Ferrari's Fernando Alonso.
Mercedes have again been experiencing the problems with overuse of the rear tyres that have been their bugbear for the last four years.
But Brawn insists the general picture is far more positive than in 2012, when the team slipped from competitiveness in the second half of the year.
"I can understand comparisons with last year, but I think we didn't have the core performance that I believe we have now," he said.
"I just feel we are much more on top of the car this year than we were last year.
"Time will tell what happens over the rest of the season. But if you remember in Sepang (at the second race), we had a wet final qualifying and we didn't quite call it right with the intermediates (tyres), but up until then we'd been fastest in the dry.
"So we've had three races now where we're the fastest car in qualifying in the dry. That's not an accident but there are other things that have improved to turn that into finally race-winning performances."
He highlighted the engineering structure that is now in place with the addition of engineering director Aldo Costa, technology director Geoff Willis and Mike Elliott, head of aerodynamics.
Brawn added: "So there are a lot of reasons why it will be different, but it can only prove with time that we are going to put up a much more consistent performance than we did last year."
He used the last race in Bahrain as an example of why Mercedes were close to solving their tyre problems.
Hamilton was uncompetitive in the first half of the race, racing at the bottom end of the top 10, but climbed up to fifth in the second half when he found his car performing much better.
Brawn said a drop in track temperature stopped the rear tyres overheating.
"The track just cooled down a fraction and we just suddenly fell into that (correct operating) window," he said.
"So we're very close. It's not as though we're over here and others are here. We're perhaps the ones that drop into [the overheating problem] a little sooner than others. Also if you look at a lot of other teams, they had one car that was in trouble for most of the race and one car that was OK.
"So we're right on the edge of where the issue is. That's encouraging for us because there are some things we've still go to do (to ease the tyre situation)."