Mercedes' Lewis Hamilton & Nico Rosberg: we will struggle in Spain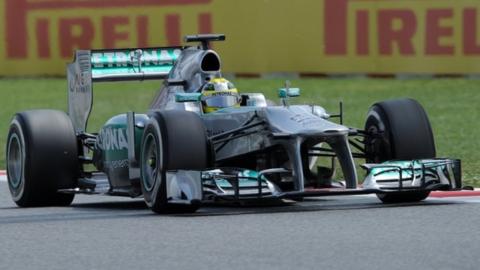 Mercedes drivers Nico Rosberg and Lewis Hamilton believe they will struggle in Sunday's Spanish GP despite qualifying on the front row.
Rosberg, on pole position, said he did not expect to win and Hamilton said the race would be "real difficult".
"The goal has to be to do better than we have recently, which was Lewis's fifth place in Bahrain," said Rosberg.
"I'm sure we can do a bit better than Bahrain, but doubt we can fight for the win and the podium could be difficult."
Hamilton added: "I think for the race I am going to struggle generally. I have to look over things this evening and think how I am going to limit the tyre degradation, which is going to be a big problem for me.
"It's going to be real difficult tomorrow. I don't think it's going to be hugely different to the last race. We are doing everything we can and hopefully tomorrow will be a better day for us."
Mercedes have been struggling for several years now with excessive rear tyre usage.
Although they believe they have made progress with it since the last race in Bahrain, when Rosberg dropped from pole position to finish ninth, they are still in worse shape than their main rivals.
Rosberg said: "Recent experience was from pole to ninth and that's really not a nice thing, really not enjoyable and so for sure we understand the problem better, but here there is a different problem again.
"Here there's graining, where the surface of the tyre starts rippling and it just falls apart, and we didn't have that in Bahrain. So it's a bit different and it's going to be a big challenge in the race."
Asked whether Mercedes' rivals were right in believing he and Rosberg were "sitting ducks" in the race, Hamilton said: "Probably. I hope not. Time will tell."
He admitted that Mercedes had been uncompetitive compared with Red Bull, Lotus and Ferrari when the teams all did their race-simulation runs in Friday practice.
"Through the practice sessions it doesn't look like we have great pace, but fuel loads come into it," Hamilton said.
"The Ferraris and Lotuses are very quick and the Red Bulls too as always. We have to try to keep those guys behind somehow."
Red Bull's Sebastian Vettel is third on the grid, ahead of Lotus's Kimi Raikkonen and Ferrari driver Fernando Alonso.
Vettel, who heads into the race with a 10-point championship lead over Raikkonen, said: "Mercedes were in a league of their own in qualifying. I expect them to be strong in the race because they have been quick all year on this track and I expect the people behind to put some pressure on - Lotus and Ferrari."
Raikkonen said: "We didn't have the speed to beat the Mercedes, but we've seen this situation before, as they've been strong in qualifying in the last couple of races too. But we should be pretty OK for the race.
Alonso, who needs a good result after falling 30 points behind Vettel in the championship after the first four races, said he did not expect to be able to win his home race.
"The car feels good. This is the maximum of what we have in the moment in our hands. We cannot compete with Mercedes again for qualifying, it is the third consecutive pole position.
"We know the race pace is a little bit better for us, so we need to wait for our opportunities tomorrow because they will come. We need to have a good start, a clean first lap and then a good strategy because tyre degradation will be very high, and so it is important and we need to be on top of that problem.
"I feel confident. The car felt good, Sundays have been the best day of the weekend historically, so no reason not to be on the podium. But we want to be something more than the podium so we see what we can do."
Spanish Grand Prix, day three
Sunday, 21 April:

Race: 12:10 BST live BBC One and 13:00 on 5 live, live text commentary online.