Spanish GP: Sebastian Vettel 'happy' with fourth place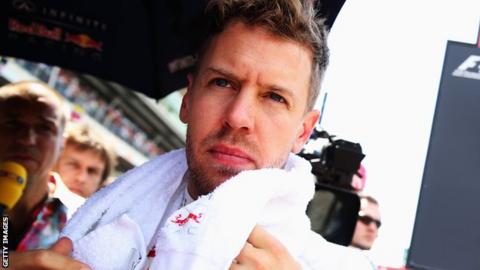 Sebastian Vettel was happy with fourth at the Spanish Grand Prix despite wins in two of the previous three races.
The Red Bull driver still leads the championship but his advantage was cut to four points by Kimi Raikkonen, who was second home behind Fernando Alonso.
"The first three cars were a little bit too fast for us and regarding looking after the tyres, they did a better job," said defending champion Vettel.
"We got some good points, although of course we wanted more."
The 25-year-old added: "We're not going the pace of the car, we're going the pace of the tyres and obviously we do something to make the tyres wear more."
Vettel's Red Bull team-mate Mark Webber finished just one place behind him in fifth, which earned him 10 points.
"We were struggling for the range and a bit of pace today, to be honest," the Australian said.
"The Ferraris and the Lotus were in a bit of a different league and that made it hard for us to compete today. I think we got the most out of what we had, particularly as by the first corner I was probably 14th or 15th, so to come back with that result was pretty good."
Raikkonen took second place in his Lotus for the third race in a row, finishing just nine seconds behind Alonso's Ferrari.
The Finn, 33, said: "We have to just take what we can from every race. We just have to keep working as a team to achieve the biggest goal we can.
"It's only been five races, we are here to try to win races and win championships so it is disappointing to finish second.
"We took some points off Sebastian today and closed the gap so that is a positive but we need to be winning races if we are to win the title."
Britain's Paul Di Resta was among the points again as he took seventh place, just ahead of the McLaren duo of Jenson Button and Sergio Perez.
The Force India driver said: "We said before the race that seventh would be a good result and towards the end I was even fighting for sixth.
"So we can take a lot of positives from the weekend because this is a track that has traditionally not suited our car."
The six points he earned in Spain leave the Scot eighth in the championship, level on points with Romain Grosjean.
"The result shows the consistency that we have had since the start of the year and that we can perform each weekend. There's more to come too, because there is more we can do to optimise the car with the new parts we introduced here, but this is definitely a big result for us."