Spanish GP: Nico Rosberg & Lewis Hamilton bemoan tyres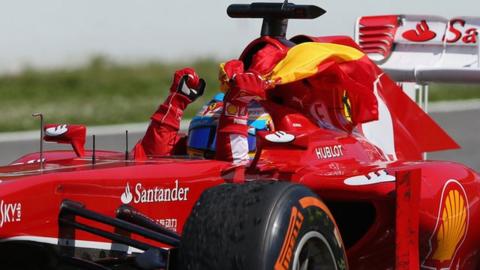 Nico Rosberg was mystified by tyre problems causing Mercedes to struggle in races despite strong qualifying.
The German was sixth in Spain on Sunday after starting on pole. Team-mate Lewis Hamilton dropped from second to 12th.
Rosberg said: "I don't really have an explanation. How can we be so quick on one lap; absolutely dominate?
"It's not as if I do my set-up only for qualifying. I have my set-up for the race and then were quick on one lap and then in the race - unreal."
The problem, which is excessive tyre usage compared to their rivals, has afflicted the team to varying degrees since 2009, when they won the championship with Jenson Button as Brawn before Mercedes took them over for 2010.
Rosberg's pole position in Spain was his second in a row - and from the previous one in Bahrain he dropped back to finish the race ninth.
The team had committed a lot of resources to trying to fix the problems in the three-week gap between Bahrain and Spain and team boss Ross Brawn said before the race that he felt they were beginning to get on top of it.
But Spain proved that a solution remains as elusive as ever.
Rosberg, who led the first stint from Red Bull's Sebastian Vettel and eventual winner Fernando Alonso of Ferrari, said: "It's not nice. Especially because I had a lot of hope in the first stint because I was able to control my pace and do my thing and keep the train behind me.
"I was thinking: 'Maybe I can even win.' Of course they were quicker but if I could keep them behind who knows, it might work out.
"But then in the second stint it went so backwards so fast - it's just strange."
He added: "It's such a complex thing, I don't really have an explanation. The team is working hard to understand it."
Hamilton said: "I went backwards today which is really tough. It just felt slow; we had no grip for some reason. I don't know why.
"I was pushing as hard as I could and saving the tyres, but the tyres never really came in and never got any better. Quite a disappointing weekend.
"We've just got a lot of work to do. We both went backwards, I went backwards a long, long way and I don't know why. We have to go back to the drawing board and hope to find out what's going wrong."