Mercedes favourites to win in Monaco - Fernando Alonso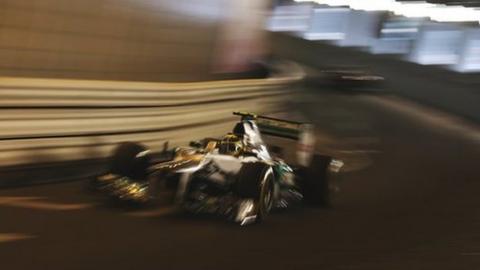 Ferrari's Fernando Alonso says Mercedes will head to the next grand prix in Monaco as favourites to win.
Mercedes have taken pole position in the last three races before dropping back, but Alonso said the difficulty of passing in Monaco would help them.
"They will arrive as favourites. They've been on pole the last three races," he said after winning in Spain.
"It's more difficult to overtake in Monaco... so maybe they can keep good positions for longer."
Michael Schumacher, who retired at the end of last season after Mercedes chose to replace him with Lewis Hamilton, qualified fastest at Monaco last year but was demoted to sixth on the grid as a result of a penalty for causing a crash at the previous race.
Hamilton's team-mate Nico Rosberg, who was on pole in Spain on Sunday and at the previous race in Bahrain, finished second at Monaco last year behind Red Bull's Mark Webber and ahead of Alonso.
Alonso won in Spain from fifth on the grid and has not qualified higher than third this year.
Lotus driver Kimi Raikkonen, second to Alonso in Spain, said: "Mercedes will unfortunately be pretty quick there and after that it's difficult to overtake."
Mercedes have struggled in races this year with excessive tyre degradation - Rosberg slumped to finish sixth in Spain on Sunday while Hamilton dropped from second on the grid to finish 12th.
Rosberg admitted that the Mercedes' one-lap pace could put them in a strong position for the next race at Monaco, where overtaking is almost impossible.
However, he sounded a note of caution, adding: "Maybe lack of race pace is not so detrimental there and we can finish higher up, but still the race is a bit of a concern. [We need to do] a lot of work and a lot of head-scratching."
Alonso said he was expecting Ferrari to put on a strong showing in Monaco.
"I'm confident for Monte Carlo," he said. "Looking at the last three years, even when we were not competitive in Monte Carlo, we always managed to be on the podium, more or less, in a consistent way so that's the aim for this year as well.
"We had a problem in Malaysia [this season], the retirement, the problem with the rear wing in Bahrain and we lost some of the consistency that we need to fight for the championship.
"In the three trouble-free races we've had this year we finished second in Australia, we won in China and in Spain, so what we want to do is put together four or five consistent races with no problems and try to get some podiums in our pocket and score some good points, and I think in Monaco we can continue this trend.
"I remember in 2011 we were lapped here [in Spain] by the McLarens and Red Bull, and we arrived in Monaco and we nearly won the race - we finished second behind Sebastian [Vettel].
"We were fighting for victory so I don't see any reason - with this car which is also competitive everywhere - not to fight for top positions in Monaco."