Mario Andretti the thrillseeker: Skydiving, racing and flying at 74
By Lawrence Barretto
BBC Sport
Last updated on .From the section Formula 1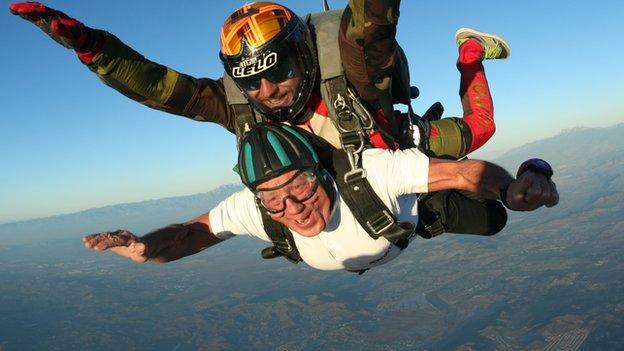 Sat with his feet dangling out of a plane, 12,500 feet up in the air, a 74-year-old man phones his wife and says: "Hey. I'm going to jump; do a skydive."
"Why are you doing that?" she replies. "I don't know," comes the response. "Well, just call me when you reach Earth."
A few minutes later, the feet of motor racing legend Mario Andretti are on solid ground, another challenge ticked off a list already crammed with an array of remarkable achievements.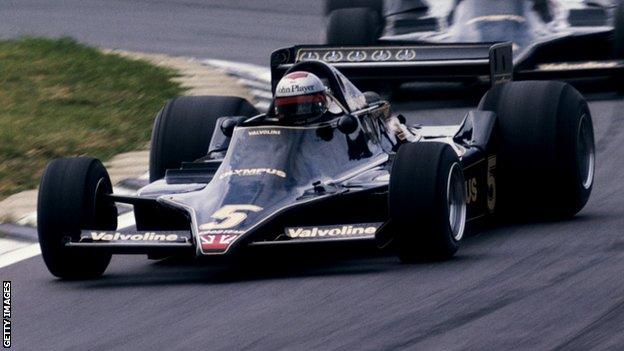 The Italian-born American is a motorsport icon who has always lived his life on the edge. His racing career lasted 35 years. He won championships in Formula 1, IndyCar and USAC dirt cars. He also tasted victory in Nascar and World Sports Cars. The man exists to race.
And to win... six times in F1 during 1978, when driving the Lotus 79 with its 'ground effect' aerodynamics - a design concept that used the pressured air underneath the car to increase downforce.
His domination of races that year draws parallels with Lewis Hamilton's current supremacy at the wheel of his Mercedes, thanks to yet more innovative interpretations of modern Formula 1 design regulations.
Andretti loved racing so much that he competed in Formula 1 and American equivalent IndyCar simultaneously for a period, flying backwards and forwards from his base in Europe to the United States.
"Jet-lag wasn't a problem," remembers Andretti, who quit single-seater racing 20 years ago, aged 54. "I got over it. I wanted to drive. I probably would have driven for nothing. Fortunately, I didn't have to."
But when he hung up his helmet in 1994 - having partnered Nigel Mansell in the Newman-Haas IndyCar team during 1993 - Andretti knew he would need to make adjustments.
"It's because I've been on the other side," he told BBC Sport. "Travelling to a motor race as a spectator just doesn't do anything for me. I do go to races, but only because my son has a team, or my grandson is driving. Or I may go to an F1 race because I have a business reason to go there."
Fearful he would struggle to fill the void left by motorsport, the 1978 F1 world champion made a plan to cope with life after racing.
"I enjoyed my driving so much throughout my career," said Andretti, who raced for iconic teams such as Ferrari, Lotus and Williams. "So I was very concerned about how I could find something that would be close enough to replace the satisfactions that I derived from driving when I retired.
"I thought my life would be very, very empty after that. I just didn't know how I could replace that. I knew there had to be an end, though, so after racing I pursued ventures which were challenging."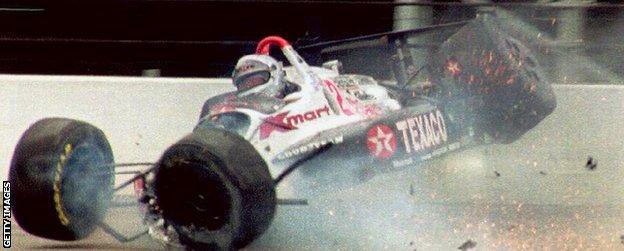 Having fled his hometown of Montona in Italy following the end of World War II - emigrating to the town of Nazareth in the United States - and spent a life in the cockpit of racing cars, Andretti was well prepared for challenging ventures.
He now owns a chain of more than 50 petrol stations, a car dealership, a clothing line, car washes, go-kart tracks, a gaming facility and his own winery. He also provided the voice for the role of himself in the Pixar animation movie Cars.
"I'm flat-out," Andretti added. "There are months in my calendar where every single day is taken up. Some of it is a bit overwhelming but things keep coming my way."
Does he have plans to ease off the gas and slow down? "No and I'll tell you why," said the American, who remains the only man to have won the Daytona 500, the Indy 500 and the Formula 1 World Championship. "When I have a lull, like a week or so, I get antsy. I have to stay active.
"I have a property 70 miles from my home where we have lots of toys like snowmobiles and boats. It's also got tennis courts, as I love playing tennis. I love water-skiing, too. But after a few days there, I get bored. I want to go back to work."
His desire to find that next thrill does not stop at skydiving. If he hadn't become a racing driver, Andretti says he would have been a fighter pilot, so he jumped at the chance to fly a F-15 fighter plane. "It was fabulous," he said. "Just supersonic." Another thing ticked off the list.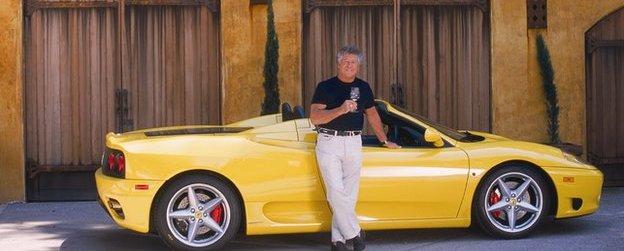 Andretti still gets behind the wheel by giving rides to competition winners in a two-seater IndyCar during the build-up to races. "It's not the real thing, but it is something at this stage of my life which is very enjoyable," he said.
The fight to fill the void continues, though. "I was given the opportunity to take it to the limit in Formula 1 and I'm always thinking about how I am going to replace it," he said.
Will he do another skydive again? "No, probably not," said Andretti, who only decided to do it after noticing the nearby skydiving centre while on site to film a commercial. "I've already done that now.
"There are so many forms to fill in beforehand and so many disclaimers. If you paid a lot of attention, you probably wouldn't jump, so you have to let go and just do it."