Bernie Ecclestone: Formula 1 boss reportedly facing charges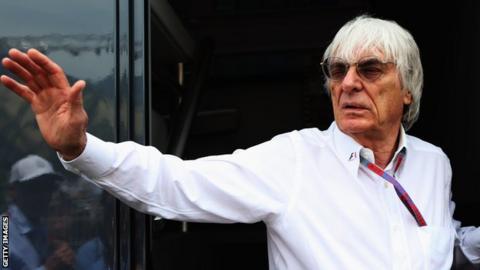 Formula 1 boss Bernie Ecclestone says he is "100%" relaxed despite reports in Germany that he faces charges relating to a bribery case.
Former banker Gerhard Gribkowsky was jailed in 2012 for taking £28m in what he said were bribes from Ecclestone.
The 82-year-old Ecclestone has long denied any wrongdoing, saying he was a victim of coercion by Gribkowsky.
Asked whether he was relaxed about the situation, Ecclestone said: "Absolutely. 100%."
He added: "Sooner or later somebody will look into it, which they have, and then they will have to make a decision on what they decide."
Germany's Suddeutsche Zeitung newspaper reported on Wednesday that Ecclestone had been charged with two financial offences by the prosecutor's office in Munich following a two-year investigation into his involvement with Gribkowsky.
In 2006, Gribkowsky, 54, was in charge of managing the sale of regional bank BayernLB's 48% stake in Formula 1 to private equity firm CVC Capital Partners, which owns most of the sport.
In evidence to a Munich court in June last year, Gribkowsky admitted that prosecution claims he had corruptly received $41.4m (£26.6m) in bank commissions, and a large payment via a family trust from Ecclestone, were "essentially true".
In his testimony, Ecclestone had said that he had been worried that if he had not paid the money, Gribkowsky would have alerted the UK tax authorities to "things" that might have led to a tax inquiry.
"The only alternative was that the British tax authorities followed a case that would have been very expensive for me," said Ecclestone at the time.
"The tax risk would have exceeded £2bn. I paid him to keep calm and not to do silly things."
According to the newspaper, the charge sheet, which is still to be translated into English, will be submitted next month.
"They haven't told me [about the charges], that's the only problem," added Ecclestone.
"I suppose they will eventually - they're going to have to, obviously.
"To be quite honest with you I haven't done anything about any of these things. If I have to get bothered, then I'll get bothered."