Ferrari column ridicules Formula 1 tyre critics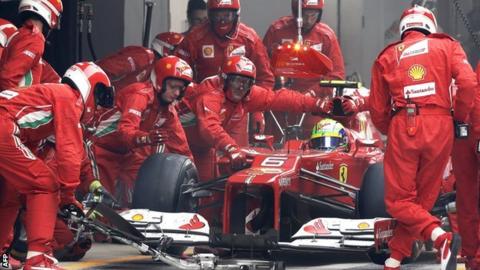 Ferrari have ridiculed critics of the tyres in Formula 1 in what amounts to a veiled attack on champions Red Bull.
Red Bull said tyre strategy meant F1 was "not racing anymore" and the number of pit stops in the Spanish Grand Prix made it "confusing for the fans".
Ferrari's satirical 'Horse Whisperer' column said these were "difficult times for those with poor memories".
It mentioned Red Bull wins featuring the same number of stops Ferrari's Fernando Alonso made in his Spain win.
Alonso made four pit stops on his way to victory at Barcelona's Circuit de Catalunya, exactly the same number as Red Bull's Sebastian Vettel made in finishing fourth.
Vettel also made four stops on his way to victory at the same track in 2011, when Red Bull did not make an issue of tyre strategy.
Alonso's victory meant he closed his deficit to championship leader Vettel after five races to 17 points, despite crashing out of the Malaysian race in March and finishing only eighth in Bahrain.
Red Bull have been lobbying tyre supplier Pirelli to make more durable tyres, feeling the need look after the rubber is preventing them unleashing the full potential of their car.
The Italian company announced this week that it would change the tyres from next month's Canadian Grand Prix "in the interests of the sport".
It said it recognised that four stops was too many and it would try to ensure there were between two and three at each race for the rest of the season.
The Horse Whisperer said: "Maybe it's because of the huge amount of information available today that people are too quick to talk, forgetting things that happened pretty much in the recent past.
"Or maybe the brain cells that control memory only operate selectively, depending on the results achieved on track by their owners.
"A classic example of this is the current saga regarding the number of pit stops. Voices have been raised to underline the fact that various teams, some of whom got to the podium and others who were quite a way off, made four pit stops in the recent Spanish Grand Prix, making the race hard to follow.
"It's a shame that these worthy souls kept quiet two years ago when, at the very same Catalunya Circuit and on the Istanbul track, five of the six drivers who got to those two podiums made exactly the same number of pit stops as did Alonso and (Ferrari's second driver) Massa last Sunday in the Spanish Grand Prix.
"In fact, there's nothing new about winning a race making so many pit stops, even discounting those where it was down to changeable weather.
"One only has to look back to 2004, when Michael Schumacher won the French Grand Prix thanks to what was a three-stop strategy, later changed to a four stopper.
"That was the key which allowed the multiple champion's F2004 to get ahead of the then Renault driver, Fernando Alonso, who made three stops. And on that day and we remember it well, our strategy and the tyre supplier were showered with praise for allowing us to get the most out of the car.
"Today however, it seems one must almost feel ashamed for choosing a strategy that, as always for that matter, is aimed at getting the most out of the package one has available.
"On top of that, if this choice emerges right from the Friday, because all the simulations are unanimous in selecting it, then why on earth should one feel embarrassed when compared to those who have gone for a different choice, only to regret it during the race itself."
Ferrari's remarks come a day after Lotus team principal Eric Boullier expressed his frustration at Pirelli's decision.
The Frenchman, whose driver Kimi Raikkonen is four points behind Vettel in the championship, said: "There aren't many sports where there are such fundamental changes to an essential ingredient part-way through a season.
"Just imagine for a moment that, because a football team can't run as fast as its opponent, the dimensions of the pitch are changed at half time.
"That there are changes to come can be seen as somewhat frustrating, and I hope they are not too extreme. It's clear that Pirelli have found themselves in a difficult situation and under pressure from different quarters."
Pirelli has yet to reveal in what way it plans to change the tyres, beyond saying it wants to try to prevent the dramatic delamination failures that have happened to several drivers in the last two races.