McLaren 'probably' diverted fewer resources to 2014 than planned
By Lawrence Barretto
BBC Sport
Last updated on .From the section Formula 1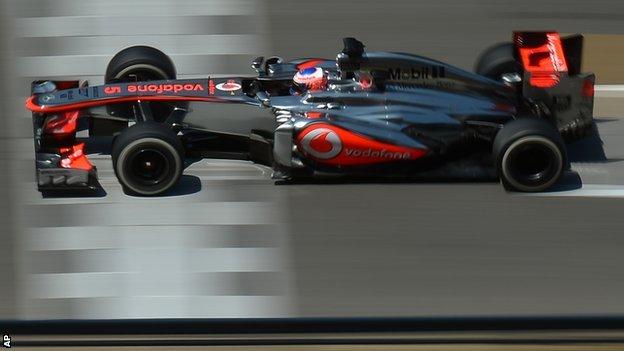 McLaren say they have "probably" diverted fewer resources from this year to 2014 and 2015 than originally planned in a bid to salvage their current car.
The team have been off the pace in the opening five races and are sixth in the constructors' standings, 102 points behind leaders Red Bull.
McLaren boss Martin Whitmarsh said: "It's probably less resources than we planned because we've got to try harder with this year's car.
"You have to. We're not giving up."
There will be a major change to the engine regulations in 2014 with a move to turbo units and, as a result, several teams are diverting resources to develop their new-look car.
McLaren have had a slow start to the season - their best finish so far is Jenson Button's fifth place in China - with Button adding that the team's current form is embarrassing, raising questions as to whether they would shift focus to next season.
The Woking-based team will also face a big challenge when they switch from Mercedes to Honda engines in 2015, however Whitmarsh says it's too early to write off the current campaign.
"Some resources have been diverted [to 2014 and 2015]," said Whitmarsh. "Every year, you have that dilemma: when do you deploy resources that you have?
"We are not giving up on this year and there's a big effort to develop this year's car and restore McLaren's competitiveness to a level we expect of ourselves.
"It's still early enough in the season. We've got to believe we can get some good results - sometimes it's a weakness in us.
"We'll take stock of it later in the year, but at the moment we're very determined to make our car competitive."
Ahead of this weekend's Monaco Grand Prix, Whitmarsh added that the team's switch from Mercedes to Honda engines is part of the plan to enable them to consistently challenge for the title in the future.
"There is a lot of work to do for 2014 and 2015 undeniably and moving from 2014 to 2015 will be a big challenge for the team," he said.
"But I think what is very clear is that McLaren needs to be supported and teamed in a full works effort with a major automotive manufacturer.
"We've had a fantastic relationship with Mercedes-Benz - and we still have a great technical relationship.
"We're going to do everything we can to win races with Mercedes this year and next. But, inevitably, moving to Honda puts us in a position to be one of the big teams and ensures that, in the long term, we've got the resources and the correct structure to be successful.
"We'd like to win this weekend and a bit more next year but in the long term, after 182 grand prix victories, we know we've got to put together a programme and business structure that provides us with a platform to be successful every year for the foreseeable future."