Monaco GP: Fernando Alonso says Red Bull have lost dominance

By Andrew Benson
Chief F1 writer
Last updated on .From the section Formula 1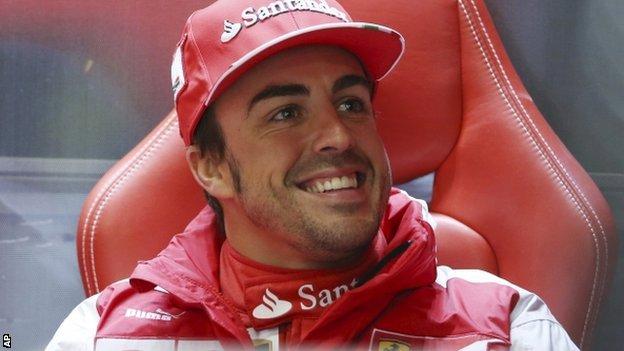 Ferrari's Fernando Alonso has said Red Bull are complaining about the tyres in Formula 1 because they have lost their dominant position.
Alonso said: "Sometimes, when you win too easy for some years, it is difficult to lose some races afterwards."
Red Bull say the pace of their car is being held back by the need to care for the tyres.
Vettel, who has won the title for the last three years, is leading this year's championship, from Lotus's Kimi Raikkonen and Alonso.
But Alonso, who won the last race in Spain, has beaten Vettel in all three races this season in which the Spaniard has had no problems.
Alonso said: "Some of these competitors, they claim to have a super car, but the last three pole positions were for the Mercedes when the tyres are new."
Red Bull's Mark Webber, one of the drivers who has been most critical of the current state of F1, said he was concerned about the path the sport was taking.
The Australian believes it is wrong for drivers to be racing within themselves simply because of the need to eke out the life of the tyres and keep pit stops to a minimum.
"I don't think there is anyone who is comfortable with these tyres," Webber said.
"Ferrari have had a couple of good results, which is great.
"I think in general whether you talk about whether the tyres should be changed now or later, that's another scenario.
"But in terms of whether we have cars racing each other, racing hard and racing for position, constantly pressuring each other in that format - compared to a bit more entertainment, let's say - I think we need to continue to fine-tune things."
Pirelli entered F1 with a remit to produce tyres that forced drivers to make at least two stops per race, after a season in 2010 that saw many one-stop races.
But Webber pointed out that 2010 was one of the closest seasons F1 had ever had - with five drivers, including himself, fighting for the title until almost the end of the season, and four still in contention at the final race.
"There is no perfect era," he said.
"I was talking to someone the other day about 2010, and, yeah it was conservative on the tyres, but I don't recall it as a boring championship. It was probably up there with '86.
"You ask any grand prix driver; yes it's frustrating to sit behind someone for a full distance. I've been there and it's not much fun.
"But also my race in Shanghai in 2011, I'm arriving on guys like Fernando and Lewis Hamilton and creaming through them at 2.5 seconds a lap because I'd saved tyres from qualifying. That's also not right either.
"Lewis Hamilton, he was with eventual winner Fernando Alonso on lap five or six in Barcelona two weeks ago and then got lapped. That's not right.
Hamilton added: "I definitely don't think you should be able to be second on the grid [as Hamilton was in Spain] and then get lapped. But that's the name of the game at the moment. The tyres are controlling everyone and making it really hard to control."
Red Bull's Sebastian Vettel said: "In the media, it looks like Red Bull is complaining, but I hear the drivers' voices in the meetings we have together, and if you pinpoint Lotus and say they have the best car for these tyres, still their drivers complain.
"They have the same problem as us but to a lesser extent."