Monaco Grand Prix: Paul Di Resta relishes challenge close to home
Last updated on .From the section Formula 1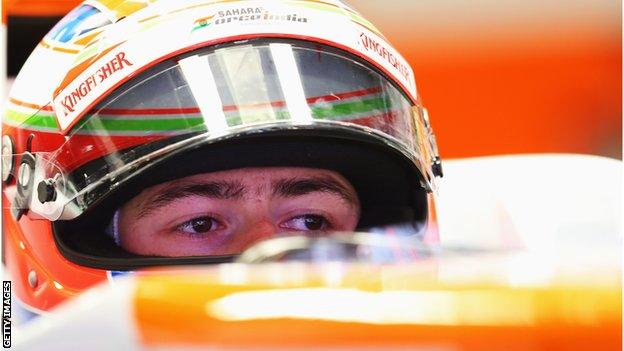 Scotland's Paul Di Resta says he enjoys the Monaco Grand Prix more than any other race on the Formula 1 circuit, as it takes place on his doorstep.
As a Monaco resident, the 26-year-old is near to the race's harbour paddock, surrounded by luxury yachts.
"It's very close, and it's nice," said Di Resta. "The biggest highlight for me is I've not had to pack a bag.
"I didn't have to worry about it. I just grab my stuff out of the cupboard and go."
For the Scot, Monaco represents an ideal place to escape after each gruelling race, allowing him to prepare for each new challenge in a warm climate.
"It's definitely easier being here," said Di Resta. "It's good to be in your own space when you can be, but also a little strange.
"At the same time, racing around here is one of the highlights of the season."
The annual race on the city-state is one of the most famous in the calendar and ranks alongside Le Mans and the Indy 500 in terms of global prestige.
And Di Resta agrees that, even though the hairpin track is not the ideal environment for racing cars at high speed, he would not exchange the excitement it brings.
"It's different," added Di Resta.
"You can't compare it, even to the other street tracks we have these days. It's so small, so delicate.
"If ever there was a track where these cars were designed not to go around, then this is it.
"You design a car to do 18 races, and then you come here and hope it all works, that you get tuned in as best as you can.
"Obviously, I enjoy driving the track. There's nobody who can't enjoy this track.
"In terms of a race, though, would you say it's a great one? Probably it's not one of the races that has me on the edge, certainly not so far.
"I do enjoy building up to qualifying and getting the car tuned in because to do a good qualifying lap here can mean the difference between two or three grid positions.
"It's all about building confidence throughout the weekend to ensure you can do that."