Monaco GP: Mercedes Nico Rosberg heads Lewis Hamilton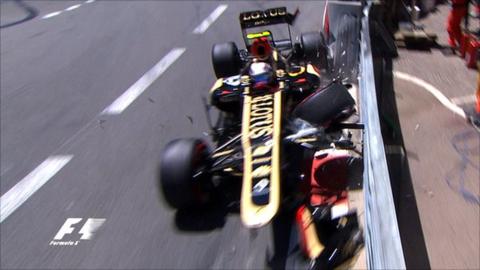 Nico Rosberg headed Mercedes team-mate Lewis Hamilton and the two Ferraris to set the pace in second practice at the Monaco Grand Prix.
Rosberg was 0.318 seconds quicker than Hamilton as the two silver cars established themselves as favourites to set pole position in qualifying on Saturday.
Ferrari's Fernando Alonso was third fastest 0.437secs behind Rosberg and 0.082secs ahead of team-mate Felipe Massa.
Red Bull's Mark Webber was fifth, ahead of Lotus driver Kimi Raikkonen.
The Finn's team-mate Romain Grosjean was fifth fastest before crashing at the Sainte Devote corner and slipping down to seventh.
Grosjean misjudged the entry and hit the barrier on the exit, wiping off his car's front left corner.
The crash meant the Frenchman not only failed to complete a flying lap on the 'super-soft' tyres that will be used in qualifying but also did not do any running on race-type fuel.
"Generally I'm pleased with today," said Rosberg. "It was a good day, going in the right direction, felt comfortable in the car.
"The thing is of course we don't know how much fuel others had, we know we're in the hunt for a good result in qualifying and our long run pace is still a concern.
"We are starting to understand it a bit better but there are still some issues we haven't fully understood so that's still going to be a problem."
McLaren's Jenson Button was eighth fastest, ahead of world champion Sebastian Vettel's Red Bull and the Force Indias of Paul di Resta and Adrian Sutil.
"It was OK," said Vettel. "Unfortunately, we had a big change and we lost quite a bit of time in the afternoon. Not completely ideal. We'd like to be a little bit more competitive in low-fuel configuration so we need to find some more lap time there.
"My short run on super-soft was very poor. We need to understand why I wasn't able to improve which you should be able to quite easily.
"After that we did a long run on super-soft and it seemed quite OK."
BBC 5 live analyst and former F1 driver Allan McNish said: "Clearly the Mercedes are very fast on one lap and they look a little bit better than they have done on the longer runs.
"It's too close to call in my opinion. Ferrari look strong and Red Bull look a little bit off but Lotus appear that if they can get up close to the front they will be very strong in the race."
Raikkonen looked slightly off the pace on one flying lap but was impressive during the race-simulation runs later in the session, when the teams run with more fuel on board.
Of the two Mercedes drivers, Rosberg appeared able to keep his tyres in good shape longer than Hamilton in the second session, although the picture was reversed in the first session in the morning, when the German was again the fastest over one lap, by just 0.087secs from Alonso.
The session was run in blazing sunshine under bright blue skies, but cooler weather and perhaps the occasional shower of rain is forecast for qualifying on Saturday.
Second Practice result:
1. Nico Rosberg - Mercedes - 1:14.759
2. Lewis Hamilton - Mercedes - 1:15.077
3. Fernando Alonso - Ferrari - 1:15.196
4. Felipe Massa - Ferrari - 1:15.278
5. Mark Webber - Red Bull - 1:15.404
6. Kimi Raikkonen - Lotus - 1:15.511
7. Romain Grosjean - Lotus - 1:15.718
8. Jenson Button - McLaren - 1:15.959
9. Sebastian Vettel - Red Bull - 1:16.014
10. Paul di Resta - Force India - 1:16.046
11. Adrian Sutil - Force India - 1:16.349
12. Sergio Perez - McLaren - 1:16.434
13. Nico Hulkenberg - Sauber - 1:16.823
14. Pastor Maldonado - Williams - 1:16.857
15. Esteban Gutierrez - Sauber - 1:16.935
16. Daniel Ricciardo - Toro Rosso -1:17.145
17. Jean-Eric Vergne - Toro Rosso - 1:17.184
18. Valtteri Bottas - Williams - 1:17.264
19. Jules Bianchi - Marussia - 1:17.892
20. Charles Pic - Caterham - 1:18.212
21. Max Chilton - Marussia - 1:18.784
22. Giedo van der Garde - Caterham - 1:19.031
Monaco Grand Prix, day two
Saturday, 25 May:

Third practice: Live text and audio commentary on the BBC Sport website. Qualifying: BBC Radio 5 live 13:00 BST, live text commentary on the BBC Sport website. TV highlights 17:35 BST, BBC One
Monaco Grand Prix, day three
Sunday, 26 May:

Race: Coverage on BBC Radio 5 live from 13:00 BST and live text commentary on the BBC Sport website from 12:00. TV highlights 17:35 BST, BBC One