Lewis Hamilton on Monaco, MotoGP & new helmet designs
Last updated on .From the section Formula 1173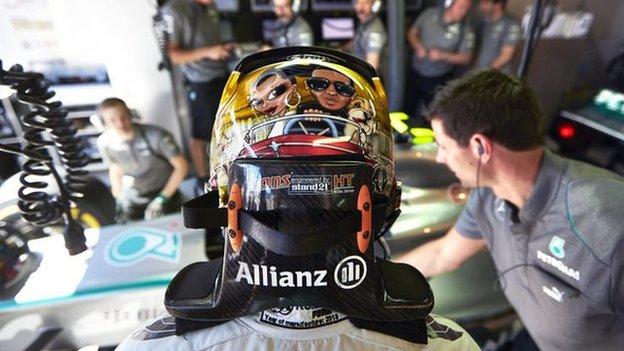 In his latest column for BBC Sport, Lewis Hamilton talks about his passion for Monaco, helmet designs and his love of motorbikes.
The whole event is unique - the setting and the surroundings are obvious, but it's driving the car that is truly special.
The track is unlike any other in the world, like a dance of man and machine.
Driving there is surreal, as if you're in a completely different world.
It's almost like you're driving a spaceship around the track: it's so fast and things are coming past so quickly.
You need to make sure you have a clear mind, a kind of tunnel vision. You have to be so quick in reacting to things.
When you're driving on a normal track you can see the braking point from 500m away. Here, you just arrive and see it for a split second in the corner of your eye, then you have to brake.
You can't see the corners, so you have to anticipate every move.
Precision is everything and you can't afford to have any hiccups. There is no room for error: there is you, the track and the barriers.
You need to have a car that is on the nose, that will turn when you want it to turn, not where you think about it and it turns a couple of metres later.
It needs to be very responsive, and generally that means you have more of a nervous rear. It is difficult to drive this track fast with an understeering car.
You need the car dancing around a little bit but you have to look after the rear tyres as well, so you're combating both.
When I think about this race, I think about the greats - Ayrton Senna, Alain Prost, the uniquely talented individuals. It's a track where the cream rises to the top.
Since the Formula 3 days, I felt if I was going to be the best driver in the world I've got to win here, I've got to shine. I managed to do that in F3 and GP2.
I've managed to win here once in F1, in 2008. I've not had the end result I wanted since then and every year you only have that one shot at it. I hope I have a better shot this year but we know it will be a tough challenge.
I moved to Monaco last year and love living here, knowing I am right next to the track.
I get to go on the track every day, whether it's on my motorbike or my car or going running.
The race is a great spectacle, with the glitz, glamour and harbour adding to it all. It's a grand prix every driver dreams of winning.
A special helmet for a special race
People might not know, but F1 drivers have new helmets made throughout the season. Usually, the design is the same, but I like to do something special for Monaco.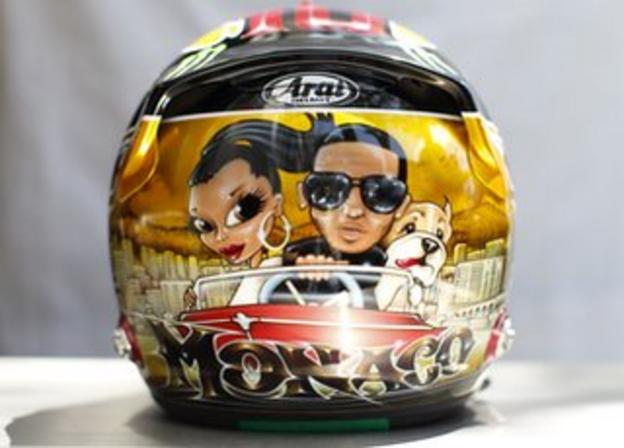 A guy called Jason at JLF Designs has been doing my designs since I was in karts. We come up with lots of different concepts. This year I took an idea from the guy who did one of my tattoos.
He painted an ice cream truck with a design depicting life on the streets in candy apple red, which is one of my favourite colours.
So from that idea I thought: 'Let's do the streets of Monaco.' It is also my five-year anniversary with Nicole this weekend. She's here for the race and I wanted to do something special for her.
So he has airbrushed that idea and the helmet has got me, Nicole and cruising in an old convertible.
Off-track fun
While driving is what Monaco is all about, there is some fun off-track stuff as well.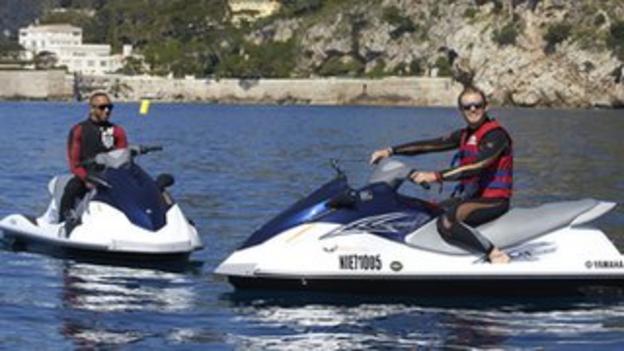 On Wednesday, my team-mate Nico Rosberg and I went out filming on jet-skis near Monaco, which ended up as a good laugh. It's fun to do stuff like that together as we're both naturally competitive and know each other well.
Meanwhile, one of the highlights of this race for me is that every year I get to meet kids from the Starlight Foundation, which is a charity that helps provide entertainment, education and activities for seriously ill children and their families.
They get to come to the race for the weekend and Formula 1 comes together to create a fantastic experience for them. I'll be showing the kids around our team garage and my car on Friday afternoon.
When it comes to doing charity work, I love working with kids because they are the future, and if you can do something positive to change their lives it can help change the world.
My secret love
I am a motorbike fanatic - always have been. It's actually what I wanted to do before I got into motor racing.
When I was a kid and Christmas was coming up, my dad would ask me what I wanted and I always said a motorbike. I kept asking for one and he said it was too dangerous and bought me a go-kart instead. But motorbikes have remained my passion.
I often go to Colorado when I have free time. I have a couple of bikes out there and go dirt biking and so on - things I was not allowed to do when I was younger.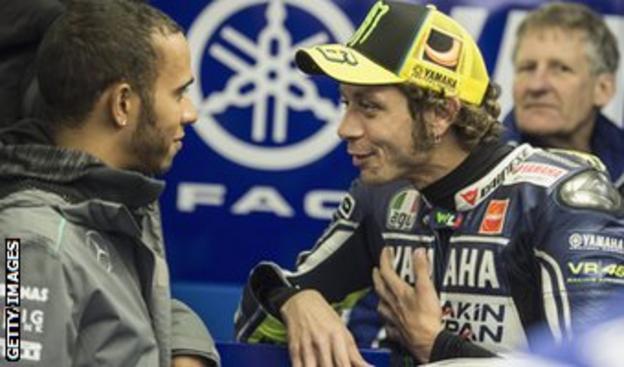 So it was a great thrill for me to go to a MotoGP race for the first time last weekend.
I've never had the chance before and have been dying to go. It was an incredible experience.
I got to meet Valentino Rossi and Jorge Lorenzo, who for me are the most amazing riders.
Since I started watching MotoGP, Rossi was the man, so to finally meet him was great. The charisma and personality he has when you're watching on TV was exactly the same when I met him. I was overwhelmed.
Randy Mamola, who was a mean bike racer himself in his day, took me around on a scooter to all the corners, showing me all the things I perhaps wasn't aware of. It was just so cool to see a different world.