Monaco GP: Victory is unlikely says Ferrari's Fernando Alonso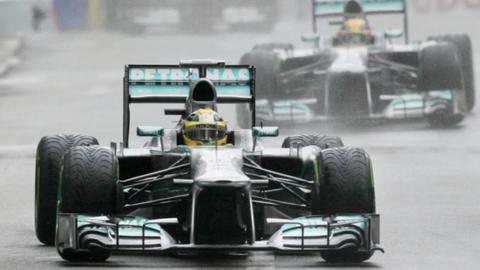 Fernando Alonso effectively ruled out any hopes of winning the Monaco Grand Prix after qualifying sixth.
The Ferrari driver starts behind both title rivals, Sebastian Vettel and Kimi Raikkonen. The Mercedes of Nico Rosberg and Lewis Hamilton took the front row.
Alonso said: "We are not totally happy with our performance. We were not competitive enough.
"Obviously in F1 nothing is impossible but it is very unlikely we will fight for a victory starting sixth."
Overtaking is notoriously difficult on the tight street track in the Mediterranean principality and Ferrari's traditional fast starts are unlikely to be much help on the claustrophobic run to the first corner.
Alonso finished third from fifth on the grid last year, and narrowly missed a chance to win on strategy, and said the unpredictability of grands prix in Monaco was his best hope.
"We will see. A difficult start, a difficult race," he said. "We know there are safety car possibilities here any lap.
"So there are many tactics that can be wrong.
"It was a difficult qualifying. Difficult to interpret which tyres to put on. We know Mercedes, Lotus, Red Bull, McLaren, Ferrari were competitive.
"We saw Paul di Resta was out in Q1 in a very competitive weekend. We saw Romain Grosjean out in Q2 in a very competitive weekend. So there were many possibilities to get it wrong today. And there will be not many possibilities to get it right tomorrow.
"There is nothing to do with the strategy and the pace, but there are many things that can go wrong, and we need to avoid that."
Championship leader Vettel of Red Bull, who is 17 points ahead of Alonso, starts third, while Raikkonen, four points behind Vettel, is fifth on the grid.
Alonso is normally strong in Monaco and he said he did not know why Ferrari had been uncompetitive after he won in Spain two weeks ago with team-mate Felipe Massa third.
"I think we need to understand a bit better because on Thursday we were not the fastest but we were not as bad as today," he said. "We were a little bit more competitive.
"Today we lost some ground. Maybe it was the temperature or whatever happened but we felt less competitive.
"This morning in final practice we had a different set-up and just to have no doubts we came back to the Thursday set-up for qualifying and we were still not very competitive.
"So we need to understand it. As you said, we were both cars on the podium in Barcelona and this morning before the problem with Felipe we were P9 and P11 so definitely we were not at our best.
"It's a very unique track here. You need to have a completely different set-up, different dry tyres, different suspension geometry, rate to be more direct on the steering.
"Everything changes in the car for Monaco so it doesn't mean that the car that is competitive during the season will be competitive here.
"There are always some good surprises and some bad surprises. Maybe this year we did not interpret good enough what was required here at Monaco with these 2013 tyres or whatever."
Monaco Grand Prix, day two
Saturday, 25 May:

TV highlights 17:35 BST, BBC One
Monaco Grand Prix, day three
Sunday, 26 May:

Race: Coverage on BBC Radio 5 live from 13:00 BST and live text commentary on the BBC Sport website from 12:00. TV highlights 17:35 BST, BBC One