Monaco Grand Prix: Pastor Maldonado unharmed after crash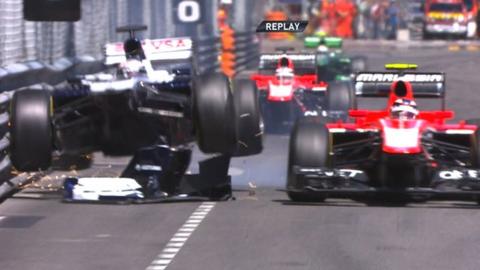 In this weekend's round-up, Pastor Maldonado insists he was not harmed by his big Monaco crash, Adrian Sutil looks back on his overtaking, Paul di Resta rues his misfortune while the improving Jean-Eric Vergne was delighted with his performance.
Venezuelan Maldonado insisted he is fine despite a dramatic collision with Max Chilton.
The Williams driver was hit by the Marussia man, forcing the race to be stopped on lap 46 after barriers at Tabac corner were damaged.
"It was scary," said Maldonado. "I didn't expect Chilton to cross my line. It is very dangerous and a very quick corner on the track. It was an unfortunate incident and the impact was quite big.
"Fortunately I am ok and the stewards took immediate action. We need to move on from a disappointing weekend but I'm looking forward to the next race in Canada, where we will be continuing to demonstrate the improvements in the car."
Chilton said: "I was aware that someone was behind me but not alongside me. The stewards determined a drive-through penalty for me and I accept that decision. After the race I went to see Pastor to check he was OK."
Force India driver Adrian Sutil proved overtaking was possible on the Monte Carlo circuit with audacious manoeuvres on Jenson Button and Fernando Alonso to finish in a top five position.
"Fifth place feels fantastic," said the German. "It's just the result we needed and I'm very happy right now.
"The car felt very good and we made the most of the chances that came our way. It was difficult to move forward in the first half of the race when I was stuck in the train of cars, but the red flag opened up some more opportunities.
"It meant that everybody was on the same sprint strategy until the end of the race.
"I noticed that the hairpin was an area where there was a chance to overtake so I tried it with Jenson and it worked. Then I did the same with Fernando and it worked once again. So I think I showed that overtaking is possible in Monaco.
"The team did an excellent job all weekend and we definitely deserved this result."
Sutil's team-mate Paul di Resta, who qualified in 17th place, was able to finish in the top 10 too and the Briton feels he could have achieved more if factors did not work against him.
"Given where we started we went with an aggressive strategy and it probably would have paid off without the safety cars," he said. "The pace was strong, but I was stuck behind lots of traffic in the early part of the race. I managed to pass a few cars going into turn one, but towards the end of the race the cars were more bunched up and it was not so easy.
"I was stuck behind Jean-Eric Vergne after the restart and I had one good chance to overtake, but the Toro Rosso driver defended very well.
"Fortunately with the cars ahead battling and making contact I made up some positions and scored a couple of points. So after the disappointment of yesterday, the boys did a great job and it's good to continue my run of finishes in the points."
Frenchman Vergne built on his fine performance in qualifying by claiming eight place.
"In some ways, it was rather a boring race, as I never had a clear track ahead of me," he said. "All the same, it's always exciting to race at Monaco, especially when you score points.
"In the closing stages, Sutil did a good job in front of me passing Jenson and Fernando at the hairpin, but I was coming up behind and couldn't get past as of course they blocked me.
"It was a good race of course, finishing eighth and picking up four more points. After some unfortunate races earlier this season, I said good luck and bad luck come round in equal measure and today everything went well for us.
"On top of that, it was clear that our car was very strong and in fact I set my best lap really early on with a lot of fuel, as the rest of the time I was in the middle of the pack which was frustrating, as my car was faster than those ahead of me. I'm pleased to be eighth, but I am looking forward to doing better in the coming races."