Pirelli confirm modified tyres will be tested in Canada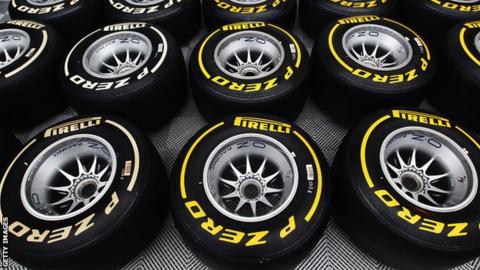 Formula 1 teams will not race with modified 2013 rear tyres at next week's Canadian Grand Prix, but will test them in Friday's practice sessions.
Suppliers Pirelli want to restructure the tyres following a number of disintegrations this season, as well as complaints tyre-management has become too much of a factor.
If used, Pirelli hope their redesigned tyres would bring an end to drivers having to stop more than three times. They could be introduced at the British GP.
"The aim of the new tyre is to prevent any instances of the tread detaching itself from the structure," Pirelli said in a statement.
"However, the performance and wear characteristics of the new tyre will not be significantly different, with the aim of keeping up the spectacle and retaining a strategic element to all the races."
Mercedes driver Lewis Hamilton and Force India's Paul Di Resta have suffered from 'delaminations' this season. This is where the tread disintegrates and comes away from the belt of the tyre.
Pirelli hopes the new design will eliminate this problem.
However any change would have to be approved by all the teams, unless governing body International Automobile Federation (FIA) orders it on safety grounds.
The FIA has previously rejected a proposal by Pirelli to return to using last season's tyre specification, saying it would be a breach of the rules.
Only changes to prevent the series of recent failures will be allowed.