Williams to use Mercedes engines from 2014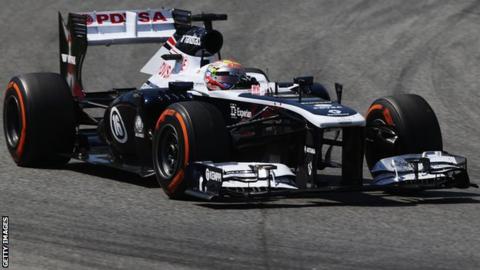 Williams have confirmed a "long-term" partnership with Mercedes to supply their engines from the 2014 Formula 1 season onwards.
The former champions are currently powered by Renault engines.
But with new engine regulations to be introduced next year, they have decided to make the switch.
"Mercedes-Benz has been one of the sport's most successful engine suppliers," said team principal Frank Williams.
"We believe that they will have an extremely competitive engine package."
The partnership also means Mercedes will supply engines to four of the 11 teams on the grid next season, negating the loss of McLaren, who recently confirmed they would be returning to Honda power from 2015.
Formula 1 cars are to change from 2.4-litre V8 engines to more efficient 1.6-litre turbo-charged V6s from next season.
Mercedes are to provide all associated energy recovery systems for the power unit for Williams, who will continue to design and produce their own transmission.
Mercedes motorsport boss Toto Wolff said: "The proud heritage of Williams and the company's commitment to technological excellence make it a perfect long-term partner for Mercedes-Benz under the new powertrain regulations.
"We look forward to enjoying much success together over the coming years."
Renault, meanwhile, are expected to supply engines to at least three teams next season.
They currently power four teams: Williams, Red Bull, Lotus and Caterham.
Red Bull are to stay with Renault next season, while sister team Toro Rosso recently ended their association with Ferrari to sign a three-year deal with the French firm. Caterham, meanwhile, are expected to renew their existing deal.