Canadian GP: McLaren's Sergio Perez is ruffling feathers in F1

By Andrew Benson
Chief F1 writer
Last updated on .From the section Formula 1341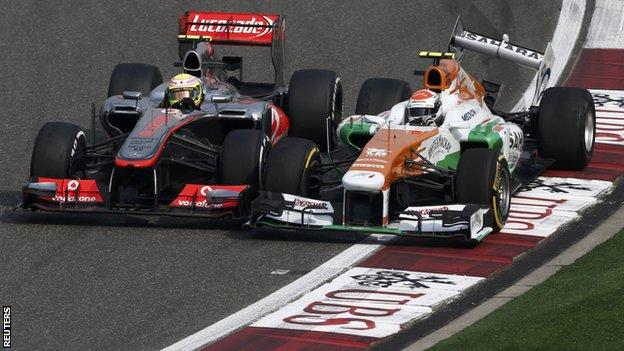 Sergio Perez is not winning many friends in Formula 1 at the moment - at least not with the established stars among his fellow drivers - but he is certainly making an impression.
The 23-year-old Mexican, the man McLaren chose to replace Lewis Hamilton, has attracted the disapproval of all F1's former world champions bar one with some robust driving in recent races and he seems not remotely bothered about it.
Perez's tactics were the subject of discussion at the drivers' briefing in Bahrain following incidents in China and in Spain following more in Bahrain. He may well be brought up again this weekend in Canada after Lotus's Kimi Raikkonen said following the Monaco Grand Prix that "someone should punch him in the face".
That remark was most unusual from a man who is notorious for keeping his thoughts to himself in the presence of the media and it made clear just how angry Raikkonen was about what had happened in the race.
The two drivers collided when Perez tried to overtake Raikkonen's Lotus on the run to the chicane late in the race, the same place he had previously passed his team-mate Jenson Button and had been involved in a mildly controversial incident with Ferrari's Fernando Alonso.
Unlike Button and Alonso, Raikkonen refused to yield, the two cars touched and both were damaged.
Raikkonen got a puncture that demoted him from fifth to finish an eventual 10th - at the cost of nine valuable championship points. Perez soon retired with overheating brakes, caused by a lack of airflow into the ducts as a result of damage caused in the collision with the Lotus.
Whether Raikkonen's remarks were motivated by what sources say is his personal dislike of Perez, his frustration at losing ground in the championship, annoyance with himself for allowing the accident to happen or a feeling that his rival had gone beyond the pale, he may or may not elaborate in Canada this weekend.
What is certain is that Perez had already crossed swords with Raikkonen once this season - when the two collided after the McLaren moved over on the Lotus, forcing Raikkonen on to the grass as he was trying to pass around the outside into Turn Six in China.
In that race, Perez had also appeared to weave slightly when defending in front of Alonso - something Lewis Hamilton commented on, but which Alonso did not.
Then, in Bahrain, there was a contretemps with Button - who complained on the radio to the team after the two banged wheels on the straight and Perez hit the back of his car at Turn Four - and Alonso, who Perez legitimately ran out of road on the exit of the same corner.
After a quiet but effective race to ninth place behind Button in Spain, came Monaco.
Perez made most of his overtaking manoeuvres into the chicane - not a new move, but one in which a driver has to commit fully and that requires the co-operation of the opponent.
The first was on Button, who gave his team-mate the space he needed.
A couple of laps later came a more marginal move on Alonso, who fought a bit harder but, mindful of the championship, cut the second part of the chicane to avoid an accident, keeping his position.
Strictly speaking, that is against the rules, and Alonso was duly told by the stewards to let Perez by once the race was re-started after the red-flag period that followed shortly afterwards because of a sizeable crash for Williams' Pastor Maldonado, who had been hit by Max Chilton's Marussia.
More than one insider I have spoken to feels Alonso was perhaps a little hard done by.
On a normal track, Perez would almost certainly not have made the pass stick - Alonso would have had the line for the second part of the chicane and Perez would have had to cede.
But space is tightly restricted at Monaco, and had Alonso tried to sit it out side-by-side with Perez in the second part of the chicane he risked a collision that could damage his car and force him out of the race. So he cut the chicane instead.
The rights and wrongs of that are less clear than the stewards' literal application of the rule forbidding "going off the track to gain an advantage" would suggest.
After all, did Alonso "gain an advantage" by cutting the inside kerb of the second part of the chicane? Or by doing so did he keep a position that Perez had not rightfully earned, and at the same time avoid a collision when causing one also carries a penalty?
The stewards made the call they did because they have to judge each incident on its own merits - and at Monaco, if a driver makes it to the first apex of the chicane on the inside, he has won the corner, simply because the other driver has nowhere to go.
What is clear is that for all Perez's burgeoning reputation as a man who tries kamikaze moves and relies on others to get out of the way, more calculation went into his driving in Monaco - and elsewhere - than was at first apparent.
The identity of the drivers who have been subjected to Perez's aggression is no accident.
He has not pulled his moves on inexperienced or unpredictable rivals who have as little to lose and as much to gain as he has.
He has pulled them on the very best. Drivers like Button, who is a champion and a gentleman. Or like Raikkonen and Alonso, world-class, fair, probably tougher than Button, but who - importantly - have a world championship to think about.
In other words, Perez had calculated in Monaco that, on the balance of probabilities, although the moves were on the edge, he would, given who he was trying them on, get away with it.
Which, until Raikkonen decided he had had enough, was working. Instead, as Alonso put it, Perez's McLaren ended Monaco "parked at Rascasse" rather than scoring 12 points for himself and his team.
"It's always a balance," says McLaren sporting director Sam Michael. "Ultimately you want him to be able to race and push as hard as he can. It's not a lot different to how some of the great racers of the last 20 years have driven.
"You are playing a numbers game but I'd rather he did that than be criticised for sitting there when he could have had a go. He's stamping his authority on the sport and showing he has the ability to do that. It's not always going to come off, just as it hasn't with other people.
"Of course you can argue he lost a fifth place, but once he'd committed to that move, Kimi threw it away as well as him. Kimi always had the option to turn away from the corner."
All of these incidents have happened since team principal Martin Whitmarsh, concerned at Perez's lacklustre and meek first two races, told his charge to "get his elbows out on track".
Perez has taken the advice on board and in the process demonstrated that he means to make the most of what he has described as his "dream" opportunity.
He has also laid down a marker to his rivals that he is no respecter of reputations - in fact, that he is prepared to use other people's standing and position to his own advantage. And that he is prepared to try manoeuvres that are right on the edge to gain a position.
Both of which traits are exactly the sort of ruthlessness a driver needs to succeed in F1.
Perez has some way to go before it's clear he will do that. But his rivals now know for sure he is no soft touch - and that if they are to win the title, they will have to do so by keeping one eye on the McLaren with the yellow helmet in their mirrors.