Fernando Alonso: Ferrari driver seeks consistency in title bid

By Andrew Benson
Chief F1 writer in Montreal
Last updated on .From the section Formula 1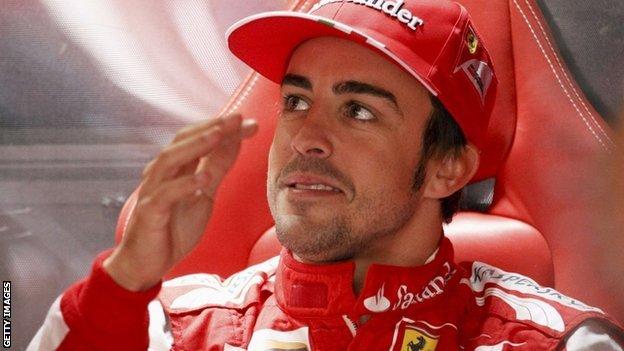 Ferrari's Fernando Alonso says it is vital he scores big points consistently to revive his title campaign.
Ahead of Sunday's Canadian GP, he said: "We were hoping for some consistent results after the Bahrain problems and in Monaco we did not score many points.
"So we need four or five consecutive races on the podium to recover some of the points we are missing."
Like Vettel, Alonso has won two races this season, and the Spaniard was also second in the season opener in Australia.
But he crashed out in Malaysia after damaging his front wing in a collision with Vettel at the first corner, was eighth after problems with his DRS overtaking aid in Bahrain and an uncompetitive seventh in Monaco.
He said: "It has been very unlucky situations we faced this year.
"We saw many people touch in the first corner. Last time in Barcelona (Lewis) Hamilton and Vettel touched front wing and rear wheel of Vettel in turn one, and nothing happened to both. I touch in Malaysia and we were out of the race - very unlucky situation.
"DRS not opening sometimes happens, but it not closing never happens, so I think a little bit unlucky there as well.
"Monaco we didn't have the pace, so even with that six points is not great, but good enough to keep scoring points.
"We have two points more than last year ahead of this race and we were leading the championship last year. So in a way we are doing better than last year.
"What is a little bit out of normality is the points Sebastian has scored in these six races. It is a lot, and we need to try to finish in front of him.
"Unlucky races will come to everyone, they will come to him as well. They came to Kimi (Raikkonen of Lotus) in Monaco with the accident and we are very close, only five points behind him. And they will come to Sebastian and in that race we need to maximise."
Mixed weather is predicted in Montreal through practice on Friday and qualifying on Saturday and Alonso expects a difficult weekend.
"This weekend will be another tricky one with the weather conditions, etc. Anything can happen, especially in the wet," he said.
"We saw in Monaco how chaotic was the qualifying when it started raining. We saw (Force India's Paul) Di Resta going out of Q1 with good pace all weekend, etc.
"If we are not in the last lap of these qualifyings where the circuit is a little quicker and you have yellow flag or whatever, you are out.
"So it will be maximum concentration to do well here, Silverstone, Germany, Hungary. So every Thursday will be more or less the same thing - this weekend we must score good points."
Vettel added: "I like coming here. It's a great grand prix, fantastic atmosphere, one of the best we have all year. Really looking forward (to it). The car should be fine. It's difficult to predict what's going to happen."