Marshal dies at Canadian GP after accident involving recovery truck
Last updated on .From the section Formula 1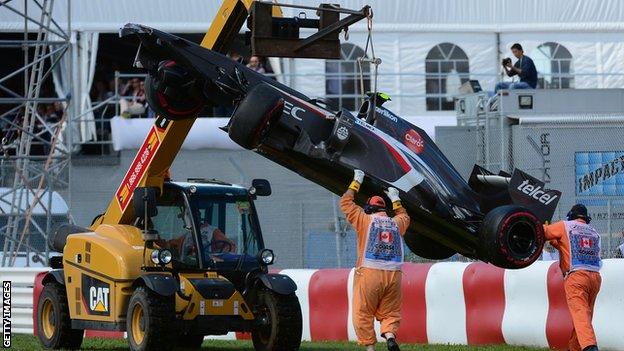 A 38-year-old marshal was killed at the end of the Canadian Grand Prix after being hit by a recovery truck.
The accident happened while Esteban Gutierrez's stricken Sauber was being removed from the Montreal circuit.
The International Automobile Federation said the man, who has yet to be named, had stumbled after dropping his radio.
"My dearest condolences to the family of the marshal who lost his life today, our prayers for him and his family. RIP," said Gutierrez on Twitter.
The FIA said the marshal stumbled while attempting to pick up his radio as workers used a mobile crane to lift Gutierrez's car and return it to the pits.
He was run over by the recovery vehicle, whose driver could not see him, added the FIA.
Medics stabilised the victim at the track before he was airlifted to hospital where he later died.
Dr Jacques Bouchard, the Grand Prix's chief medical officer, said the marshal "suffered major trauma with multiple fractures and a serious abdominal contusion".
The FIA have yet to release any details about an investigation.
"I am very, very sad to hear this news and my thoughts are with his family and friends," said Sebastian Vettel, who won the race for Red Bull.
"The work of marshals is not always seen but it is vital to our sport and without their commitment, time and dedication there would be no motorsport," added the three-time world champion.
Ferrari driver Fernando Alonso, who finished second, said the man's death was "terrible news".
"Today there is nothing to celebrate," added the Spaniard on Twitter.
This was the first marshal fatality since 2001 when Graham Beveridge was fatally injured by a loose wheel from Jacques Villeneuve's BAR-Honda at the Australian Grand Prix.
At the previous year's Italian Grand Prix, volunteer firefighter Paolo Ghislimberti died from head and chest injuries after being hit by a loose wheel from Heinz-Harald Frentzen's Jordan.