Mercedes have confidence in Lewis Hamilton's abilities
Last updated on .From the section Formula 1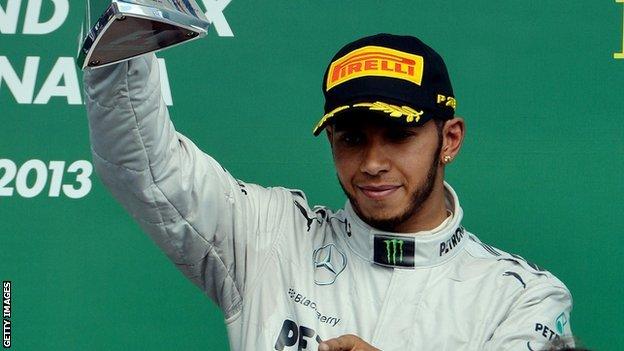 Mercedes have told Lewis Hamilton they have trust in his abilities, after the Briton suggested he needed to regain his team's confidence.
But Mercedes motorsport chief Toto Wolff said: "I don't have that feeling we lack confidence in him.
"I think we will see great races from Lewis. I've no doubt about that."
Hamilton has out-qualified Rosberg four times in seven races this season, but has scored one pole position to the German's three.
Rosberg has also secured the team's only victory - at Monaco - while Hamilton has failed to finish higher than third. However, he does lead Rosberg by 20 points in the drivers' championship.
The 28-year-old former world champion has admitted he has not yet mastered driving his new Mercedes, following his move from McLaren, adding that he has lacked comfort in the car, particularly on the brakes.
"Maybe he has been surprised with Nico's pace," added Wolff, adding that Rosberg's pace had not necessarily been so evident in earlier stints with Williams and alongside Michael Schumacher at Mercedes.
"Now he has proven he is really quick and this came as a surprise for Lewis, but I don't think it's a real problem.
"We saw he was very strong in Canada where he was on course for pole before he missed his braking in the last sector, which was really wet."
Hamilton has been given more freedom since he moved to Mercedes, but Wolff denies that his new-found independence is having a negative impact on his driving.
"For sure, it's different here to McLaren," added Wolff. "We're trying to give him freedom, but I don't think it's the reason why he hasn't performed up to his expectations, although he has performed up to ours.
"Nico obviously had a great run. He showed he is a top guy and a top driver, and it's been the best situation for our team.
"But I don't think there is any specific reason at this stage to say he has a problem or is struggling severely.
"It is also still early in the season for him and he is just beginning with the team, whereas Nico has been here for a couple of years."
With the British Grand Prix approaching on the weekend of 28-30 June, team principal Ross Brawn added that the team were doing everything they could to help Hamilton get over his issues with the brakes.
"There is quite a lot of intricacy with brake cooling these days because not only are you working at cooling the brakes, you're also trying to stop any heat from going into the wheels or the tyres," he said.
"There is a complexity around the brake systems, so we are working on that. It's all pretty simple, straightforward things.
"It is pretty subtle, I think. The brakes work well, but he is not exactly getting the right feel that he wants from them."