Mercedes and Pirelli to face FIA hearing over tyre testing

By Andrew Benson
Chief F1 writer
Last updated on .From the section Formula 1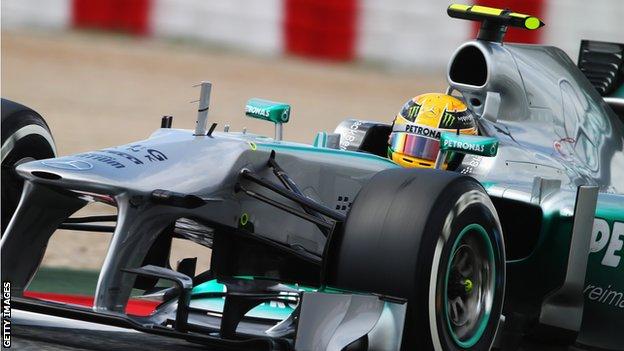 Mercedes and tyre supplier Pirelli face disciplinary charges on Thursday on what promises to be a dramatic day that could have major repercussions.
Pirelli is considering suing F1's governing body the FIA if the company is hit with a heavy penalty.
And Mercedes may feel it would have to consider its F1 future if the company's integrity is impugned in any way.
Mercedes and Pirelli are the first participants to face the new international tribunal of the FIA, F1's governing body. The hearing started at 08:30 BST at the FIA headquarters in Place de la Concorde, Paris.
Senior figures from rival teams have said they cannot see how Mercedes can escape punishment for their actions after using a current car to conduct a three-day, 1,000km tyre test at Pirelli's request at Barcelona's Circuit de Catalunya on 15-17 May.
But team principal Ross Brawn told BBC Sport at the Canadian Grand Prix earlier this month: "Sporting integrity is vital to Mercedes. It would be easy for me to challenge that.
"When we get to the international tribunal and everything's explained, people can make a judgement when they know the facts. I'm not going to pre-empt those facts. It's unfortunate to be making judgements before the facts are known."
Brawn has made it clear that taking part in the test was his decision.
The 58-year-old is expected to step down from his position in the short to medium term, perhaps even at the end of the year, and any punishment could potentially bring that day forward.
Mercedes have said they are confident they will be cleared once the truth comes out in the hearing.
Toto Wolff, the head of Mercedes motorsport and executive chairman (business) of the F1 team, said: "We have prepared our documents; we can do no more.
"On Thursday the judgement comes and we will see whether we can live with it.
"We have no feelings, neither a positive nor a negative. Our belief is we have done nothing wrong."
The Mercedes case will be argued by Paul Harris, the same QC who represented Brawn in 2009, when the team that became Mercedes successfully argued at a previous FIA hearing that a controversial aerodynamic part known as a "double diffuser" was legal.
The key charge is that the team used a current car to conduct the test, when article 22 of the sporting regulations, as well as other contracts and agreements between the teams dictate that is not allowed.
A potentially vital part of the evidence will be whether Mercedes and Pirelli received any form of communication from the FIA saying that the test would be allowed.
Some sources say the team have an email from the FIA race director Charlie Whiting saying that in his view they would be allowed to use a current car.
Others say this is irrelevant as Whiting is only in a position to offer an opinion, and that it is up to others to decide whether it reflects the regulations.
Pirelli, which has a contract with the FIA allowing it to do limited tyre testing, is also under scrutiny.
The tyre company's contract with F1 expires this year but it wants to continue on the right terms.
The evidence will be watched closely for information about what exactly Pirelli asked the FIA in terms of what was allowed.
An important distinction could be whether Pirelli merely asked the FIA a general question about whether it was possible to run a 2013 car in such circumstances - which it is accepted it did - or whether the tyre supplier went back to ask for specific permission for this test.
Some sources say it did not ask for specific permission for that test and nor did it inform the other teams - and that its failure to do both those things could leave it in breach of contract with the FIA.
The other teams did not know about the test - details emerged at the Monaco Grand Prix last month, when Red Bull and Ferrari lodged an official protest against Mercedes accusing them of breaking the rules involving testing.
The FIA said it was "unlikely" that there would be a verdict on Thursday.
A wide range of penalties are open to the tribunal, from exclusion from the championship, through race bans to fines. They could also choose to acquit either or both parties.