Mercedes and Pirelli await verdict in 'illegal tyre test' case

By Andrew Benson
Chief F1 writer
Last updated on .From the section Formula 1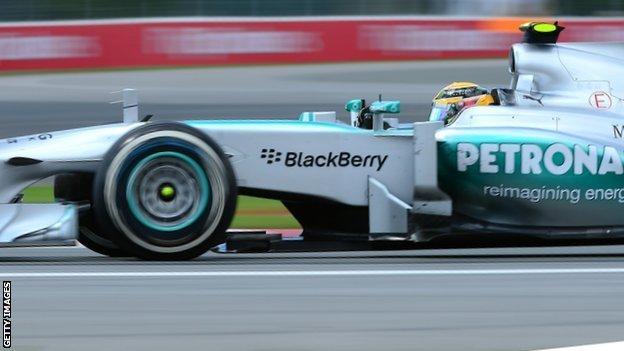 A verdict is expected on Friday into whether Mercedes and Pirelli broke Formula 1's rules with a unauthorised tyre test.
A hearing took place on Thursday at the FIA's headquarters in Paris.
The governing body's international tribunal was told Mercedes did not get permission to take part in the three-day 1,000km tyre test last month.
But Mercedes said they could not have broken the rules because Pirelli conducted the test.
A guilty verdict for Mercedes or Pirelli could have far-reaching consequences.
Pirelli is considering suing F1's governing body the FIA if the company is hit with a heavy penalty.
And Mercedes may feel it would have to consider its F1 future if the company's integrity is impugned in any way.
FIA counsel Mark Howard said Mercedes did ask in general terms about using a 2013 car at the test.
But he said any permission given was conditional on the other teams being informed, which they were not.
Howard said: "There was no attempt whatsoever by Mercedes to involve the other teams in order to ensure that no perception of an advantage was obtained."
But Mercedes' counsel Paul Harris said Mercedes could not have broken the rules because they did not conduct the test.
He added: "The Pirelli test was not a test undertaken by Mercedes. It is irrefutable it is a test undertaken by Pirelli."
Pirelli's counsel Dominique Dumas argued that as a supplier the company was not subject to the FIA's authority or jurisdiction.
The FIA said the evidence would be re-read on Thursday before the publishing of the verdict on Friday.
The tribunal heard that Mercedes sporting director Ron Meadows spoke to FIA race director Charlie Whiting on 2 May to ask whether testing with a 2013 car was permissible. Team principal Ross Brawn then made a similar enquiry in a telephone call later that day.
Howard, for the FIA, said: "Whiting was asked a general and non-specific question - the general question on the permissibility of using a 2013 car.
"His preliminary response was that such a test would comply with article 22 [of the sporting regulations] providing the purpose was for Pirelli to test its tyre and he would check."
Whiting's advice from the FIA legal department was that it could be possible to allow a team to use a 2013 car to test, but it would be subject to Pirelli inviting all the other teams to test and to demonstrate it had done so. This did not happen.
Howard said Whiting told Brawn about the FIA's legal position but added that it was not binding.
Howard added: "What is very odd about all of this is that, on the basis of the telephone calls, both Mercedes and Pirelli went ahead without getting back to Mr Whiting and making clear precisely ultimately what they were intending to do."
He added: "Without the knowledge, consent and participation of other competitors, Mercedes and Pirelli may have engaged in activity that was prejudicial to the competition."
Howard also said that Mercedes could not prove their claims they did not gain an advantage from the test.
Brawn insisted that while it was "inevitable" Mercedes would have gained some knowledge from the test it would not have been a competitive advantage because they did not know what tyres they were testing.
"We didn't know what the tyres were; we didn't know what the detail objectives were of what Pirelli were doing," he said.
Mercedes argued that if their test was illegal so was one done a few weeks previously by Ferrari with a 2011 car.
Harris, for Mercedes, said: "We argue their [Ferrari] car followed substantially with the regulations...
"There was only half [a second] difference between the 2011 cars and 2013 [Ferrari] cars, showing the changes between 2011 and 2013 are minuscule in terms of performance."
Mercedes said it regretted - and apologised for - the decision to have race drivers Lewis Hamilton and Nico Rosberg wear plain black helmets at the test.
"We had our reasons," said Harris. "It was about the lack of bodyguard and security personnel. We do acknowledge that this part of the test aroused suspicions and it is regrettable."
Pirelli cited the case against former Renault team boss Flavio Briatore - whose FIA ban from motorsport for fixing the 2008 Singapore Grand Prix was overturned by the French courts - as evidence that as a supplier/third party they cannot be subject to the regulations.
Harris later added: "We acted in good faith. If there is to be any sanction it has to be a minor one taking that into consideration."‬
The FIA said in response that Pirelli's contract with the governing body made it clear it was bound by the F1 regulations.