Formula 1: Force India 'won't stand' in Paul Di Resta's way
Last updated on .From the section Formula 15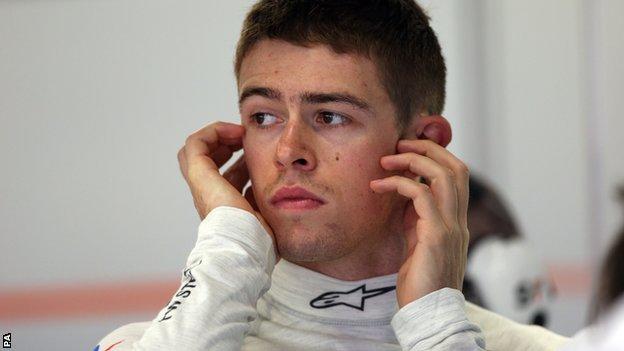 Force India will not stand in Paul Di Resta's way, should the Scot wish to join another Formula 1 team.
Deputy team principal Bob Fernley said: "We wouldn't stand in his way, that's not our policy."
The Scot, contracted to Force India until 2014, is eighth in the drivers' championship standings.
Fernley added: "Paul is contracted to us anyway for next season, so the question is whether somebody else comes in, so it won't be our decision.
"Whether Paul has to be released, or whatever, that can only come from him.
"But we wouldn't stand in his way. That's not our policy. If a driver feels he is better somewhere else, what would be the point in keeping him?
"We proved that at the end of last year with Nico Hulkenberg (who joined Sauber). Did we want to lose Nico? Not at all.
"He was a great member of our team, but we didn't get in the way of that particular move.
"We then proved by bringing in Adrian (Sutil) we are capable of recovering from such a situation and carrying on as normal.
"Maybe Nico is asking a few questions himself today, although last year it didn't look such a bad option."
Fernley is convinced the team can continue its run of form on Sunday at Silverstone which has propelled them to fifth in the constructors' championship, even ahead of under-performing McLaren.
"I don't think we should be frightened of anything," added Fernley.
"We've been on every variation of track over the seven races so far and we've performed well at all of them.
"I think we can hold our top-10 qualifying position - assuming we can get that bit right - and it will all fall out in the race again.
"But we are genuinely the fifth quickest team out there at the moment. I don't think there is any doubt about that."