Mark Webber: F1's 'proper bloke' will be sorely missed

By Andrew Benson
Chief F1 writer
Last updated on .From the section Formula 1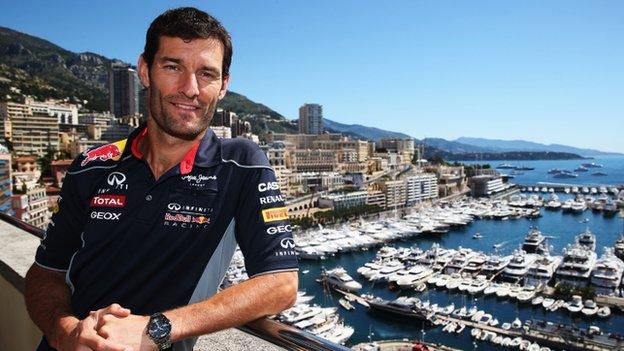 Mark Webber's decision to leave Formula 1 at the end of the season puts an already endangered species on the critical list. He is a top grand prix driver who is prepared to say what he thinks.
As Lewis Hamilton puts it: "What I like about Mark is he says a lot of things that are true and he's very blunt and he says it regardless."
F1 is also losing a man who is "super-quick, one of the quickest guys on the grid", a tribute paid by McLaren sporting director Sam Michael, who worked with Webber at Williams and has since had experience of, among others, Hamilton.
Webber's combination of race-winning pace and forthright manner has made him a central figure in F1 over the last decade and, particularly, the last few years.
The 36-year-old Australian is what is known in his home country as "a proper bloke".
He makes time for journalists he respects, yet happily admits to an impatience with PR work in general.
He is a proud and committed Aussie who lives in the English home counties, eschewing various tax havens, because it has come to feel like home.
And he sees top-level sport in simple terms - as a medium for the best in the world to test themselves against each other, competing with respect, determination, integrity and total commitment.
The respect goes both ways. That is clear in his relationship with Ferrari's Fernando Alonso, who Webber considers the best driver in the world, and in the trust they have put in each other in any number of on-the-limit racing situations over the years, most notably Webber's breathtaking pass of the Ferrari driver at Spa's Eau Rouge in 2011.
Webber has won nine grands prix and is particularly proud of the four victories shared equally between Monaco and Silverstone, among F1's classic venues.
But perhaps the best of all was his first, winning the 2009 German Grand Prix despite a drive-through penalty for causing a collision at the start.
The pace he showed that day in making up the lost time, pushing to the limit throughout, is what he misses about F1 in the current Pirelli/DRS era, in which he believes rapidly degrading tyres and the artificiality of some of the overtaking moves have diluted the sport's purity.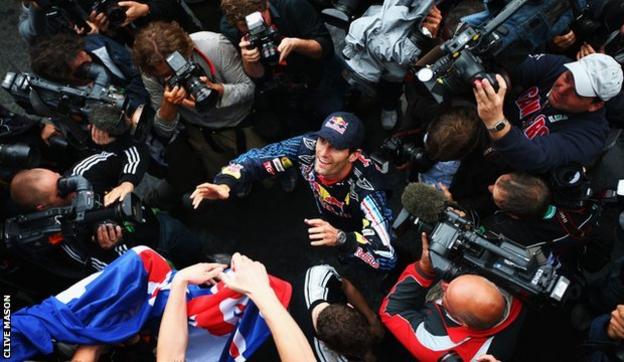 This partly explains his decision to spearhead Porsche's return to closed-wheel sportscar racing next season, with the particular target of winning Le Mans. Despite the longer races, the drivers can push hard pretty much throughout.
Webber got his hands on front-running machinery only late in his career, at Red Bull in 2009, when he was already 32. The seven years leading up to that were a battle in a succession of uncompetitive cars from Minardi, Jaguar, Williams and, initially, at Red Bull too.
It was remarkable he even got that far. Webber was raised the son of a motorcycle dealer in Queanbeyan near Canberra in New South Wales.
"We grew up in the same area," says Sam Michael. "He's quite a lot younger than me, so I didn't know him in Australia, but I do know how difficult it would have been just to get to Europe to be a driver. That's a huge deal in Australia.
"He didn't grow up on the karting tracks of Europe, pounding around since he was four years old competing against the cutting edge of everyone. You can't do that in Australia.
"So to get into sportscars, Formula 3000 and then the bottom rung of F1 and work your way up the grid to win grands prix is a phenomenal effort."
The road to F1 was arduous. Via two horrendous aerial crashes at Le Mans in 1999, he made it finally at the age of 25 in 2002, driving a lowly Minardi for team boss Paul Stoddart, a fellow Australian, for whom Webber had driven in Formula 3000.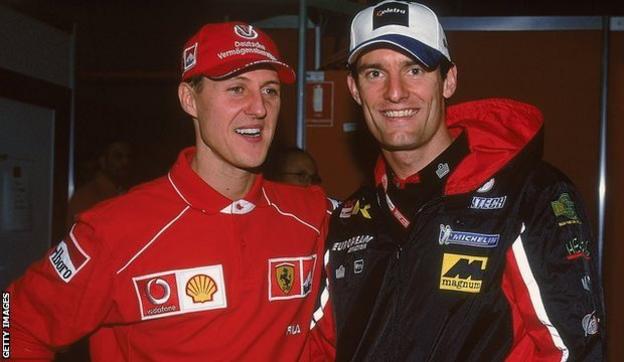 Like Alonso in the same team the previous year, Webber did enough in a back-of-the-grid car to convince he had potential.
A three-year deal with Jaguar was wasted by the team's appalling underachievement and he then made what turned out to be a terrible decision to join Williams rather than Renault in 2005.
It made sense at the time. Williams were BMW's partner and had been one of the closest challengers to dominant Ferrari for the previous three years. And Webber was attracted by the chance to drive for a once-great team and perhaps revive their glory days.
But Renault were heading into two years at the very top, both of which their lead driver Alonso ended as world champion. Williams were on the decline, and Webber did not win a race.
Although Webber's two years at Williams were frustrating, they did give him the chance to shine on a few occasions. Among them was being a victory contender at Monaco in 2006 against Alonso and Kimi Raikkonen's McLaren before a wiring loom burnt out.
Webber moved to Red Bull in the hope of benefiting when their feted designer Adrian Newey came good. So it was his bad luck to be joined at the team by a phenomenon - Vettel - just as that happened.
Undoubtedly, Vettel has emerged as the superior driver, but the margins have generally been small and it says a lot for Webber's single-mindedness and mental fortitude that he has been able to continually keep the pressure on the German - and sometimes beat him fair and square - despite knowing exactly where the team's priorities lie.
It is generally in the slow corners where Vettel ekes out his advantage, a unique technique making superb use of the unconventional aerodynamics of the cars that have raced since 2011. In the fast corners, Webber often has the edge.
Webber and Vettel have done little to hide the tension between them and the series of flashpoints in their relationship has formed a central part of the F1 narrative over the last few years. None of them would have happened had Webber not been such a strong and determined competitor.
Despite fame and fortune, he has remained true to himself. He is unimpressed with the trappings of F1 and its supposed glamour. And his willingness to follow his own mind is intact.
One of the best examples was in China in 2012, when F1 was a week away from going back to Bahrain after the previous year's race had been cancelled following civil unrest.
Nearly all the drivers fell back on bland statements about trusting the authorities, about only being here to race and so on.
Not Webber. His views on Bahrain were well known so his pre-race media briefing was packed with journalists expecting he would say something interesting.
The Red Bull press officers suspected what might be coming, and had said to him beforehand that he should stick to the party line and not talk in depth about Bahrain.
Webber walked in, looked at the assembled throng, and said: "So. Bahrain?"
Over the next 15 minutes, he talked about nothing else. Judging the situation perfectly, he picked his words with care, making it clear he was uncomfortable about the position the sport and himself were in and why, but not saying a single thing that could be construed as offensive or overtly critical.
It was a profoundly impressive moment - and he went on to produce one of his best races, out-qualifying Vettel on a tough weekend for the team and passing him for fourth place between the penultimate and final corners of the last lap.
In the car and out of it, F1 is going to miss him.