British Grand Prix 2013: Max Chilton on wet practice session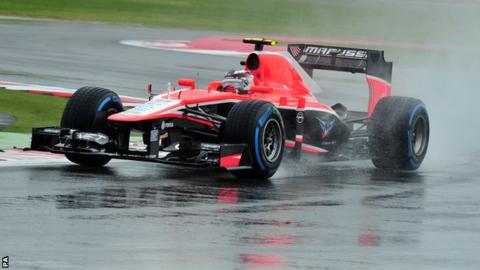 My first British Grand Prix practice session at Silverstone on Friday was such a great experience - it's just a shame it was so wet. I really felt for the fans who stuck it out in the grandstands all day.
We went out on track and did an installation lap and then we all had to just stand around and wait because it was a risk to go out in those conditions. But it was amazing to see such great support from the crowd. They stayed in high spirits despite the rain, performing Mexican waves as the rain kept falling. I went over to the pit wall and gave them a wave, which they responded to with a cheer.
After the disappointment of the morning it was brilliant to get out on a drying track in the second session and get some laps on the board. We did a couple of short runs on new tyres and then a long run on both the option (medium) and the prime (hard) tyre.
I had a few problems with the balance of the car in the second session. I wasn't comfortable with the feel, but that's what practice is for and I'm hopeful we'll sort it out before qualifying. The forecast for the rest of the weekend looks pretty good, but you never know with the British weather.
Sleeping on the doorstep
It was really nice to have such a short journey at the end of the day from the paddock to my motorhome, which is located inside the track. I had a really nice evening and had the heating on so it was nice and toasty.
I went out for dinner with my parents, girlfriend and trainer in Buckingham. We always go to the same Italian restaurant every year and this year was no different. The food was great and then it was back to the motorhome and in bed pretty early. I think that was the longest night's sleep I've had in a long time.
It's great to have my family here this weekend. They've been in the paddock but my schedule being so hectic, with it being a home race, I've struggled to see them. But the beauty of staying so close to the track is that I have more time in the evenings to spend with them.
The schedule
I'll arrive at the circuit at 08:00 BST on Saturday and one of the first things on the list is breakfast. Today, that'll be a bowl of porridge with Manuka honey and strawberries if I'm lucky.
Next up is a massage. I have one before every session of the day to make sure there are no niggles before I get in the car. Then after a briefing, I'll have lunch. I like to have it as early as possible so it's fully digested before I get in the car. Normally, that'll be a chicken breast or a piece of salmon with couscous and probably some carrots.
Then it's into my pre-session preparations. I've not got many superstitions but before every session I always touch my toes and get in on the same side of the car - nothing too different from any other driver I think. I'm really looking forward to getting out there in qualifying and hopefully we can put in a good performance to set ourselves up for the main event on Sunday.
Max Chilton was talking to BBC Sport's Lawrence Barretto