Formula 1: McLaren turn their attentions to 2014
By Lawrence Barretto
BBC Sport at Silverstone
Last updated on .From the section Formula 1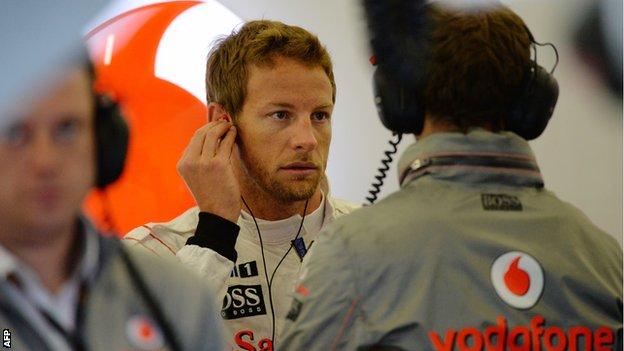 McLaren are switching attention to next season's car - but will continue to develop areas on this year's car that could help in 2014.
The team are heading for their first year without a win since 2006, with Jenson Button's fifth in China their best in 2013.
"We have got to ensure we are in a competitive situation next year," said McLaren team boss Martin Whitmarsh.
"We are putting more effort into next year's programme, earlier than usual."
Button could only manage 11th on the grid for Sunday's British Grand Prix, while team-mate Sergio Perez was 14th.
McLaren, whose last of eight constructors' championships came in 1998, ended last year with the fastest car as Button claimed victory in Brazil.
But rather than produce an evolution of the car for this season, like many of their rivals, the team chose to change the design radically. Since then, they have struggled to understand the car and have fallen behind their rivals.
The team are sixth in the constructors' championship, 164 points behind leaders Red Bull.
Button is 10th in the drivers' standings, 107 points adrift of Red Bull's Sebastian Vettel, with Perez a further 13 points behind.
The next two seasons will represent huge change for McLaren. Next year, the engine regulations will change with a switch to 1.6-litre V6 turbo engines.
While in 2015, the team will swap Mercedes for Honda power units.
Whitmarsh added: "We're racers, so we're not giving up on this season. We'll be pushing hard, but we've got to be realistic about what is achievable and what our priorities are.
"We are only going to apply ourselves to areas of development on this year's car which gives us the opportunity to learn lessons and help for next year.
"We have a big few years ahead of us. We are strengthening the team and recruiting quite strongly in the technical organisation to meet the challenge of 2014 and also the exciting challenge of 2015.
"We are determined that next year will be a competitive situation."
Button, the 2009 world champion, agreed with the decision to push resources to next year.
"I think it's great that we've got more people working on next year's car," said the 33-year-old. "We want to win grand prix, but we also want to win the World Championship, and that is not something we can do this year.
"I don't think many teams can this year, so I think it's a good idea that we're concentrating a bit more on next year."
The Briton, who has never finished on the podium at Silverstone in 13 attempts, tried to stay positive ahead of his home race on Sunday.
"It's not great, but it's less bad," said Button. "I'm higher on the grid than we expected me to be. We changed a few things for qualifying and it felt much better.
"We're still not quick, but we are a second slower than the quick cars in qualifying, which means we gained the half-a-second we had hoped to.
"It's been fun driving the car, and that's the important thing at the moment. All I want to do is a good job in front of the home fans."