Lewis Hamilton admits he still has 'concerns' over tyres
Last updated on .From the section Formula 1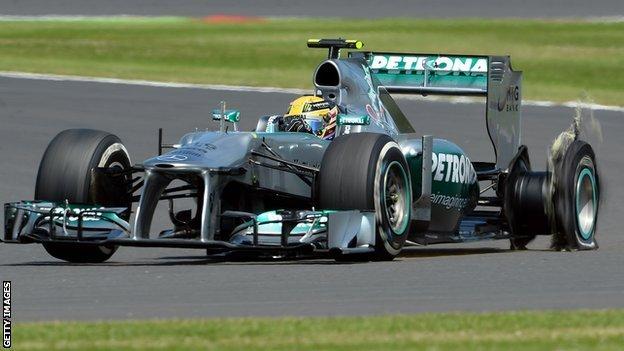 Lewis Hamilton still has concerns over tyres despite being satisfied with changes announced by Pirelli.
He was one of five drivers who suffered a high-speed rear-tyre blowout during Sunday's British Grand Prix.
The Mercedes driver was leading at the time before battling his way back from last place to finish fourth.
"It's still a concern. We'll see how the weekend goes but I'm sure they've taken the right steps to make it safe," he said ahead of the German Grand Prix.
"I am satisfied, but only when we get there [Germany] will we have a better idea how it is for us,'' Hamilton said. "Everyone is in the same boat, but I'm glad action has been taken."
Hamilton was particularly scathing of the tyres following Sunday's race, at Silverstone, after what he described as "dangerous" tyre failures.
"It needs to be done straight away - it's obviously an issue," he said Hamilton.
"It was the first time in my career I've ever felt it was dangerous."
On Tuesday Pirelli bowed to pressure, revealing that the rear tyres' internal belt will be made of Kevlar at the Nurburgring this weekend rather than the steel that has been used during the 2013 season.
Then for the Hungarian Grand Prix at the end of July, they will revert to the 2012 specification of the tyres, which is different to that used this year.
Despite agreeing to make the changes the tyre manufacturers blamed the Formula 1 teams for recent problems with tyres.
Pirelli attributed blame to the teams mounting the rear tyres the wrong way around, running low tyre pressures, using extreme cambers - the angle at which the wheel is mounted on the suspension - and what it described as "high kerbs" at Silverstone.
Mercedes director of motorsport Toto Wolff refused to be drawn on the subject.
"I don't think you can expect any tyre supplier in the world to say their tyres are not safe," he added.