Mercedes: Holiday's over for Lewis Hamilton's new boss Paddy Lowe

By Andrew Benson
Chief F1 writer
Last updated on .From the section Formula 130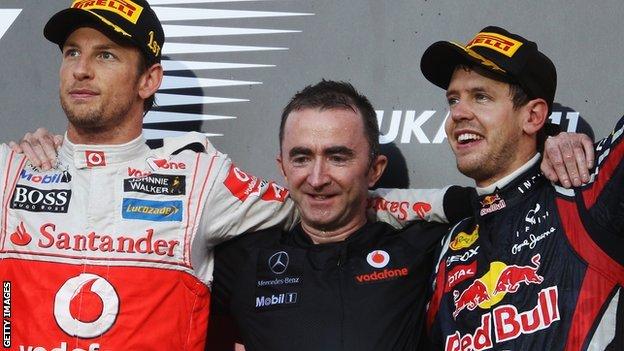 Paddy Lowe was just beginning to really settle into what he expected to be a year off from Formula 1 after 28 years of hard labour when he got the call to tell him his free time was over.
The newest member of the senior management team at Mercedes - who ahead of this weekend's German Grand Prix are beginning to look as if they may be title contenders with Lewis Hamilton and Nico Rosberg - was poached from McLaren over the winter but was originally being held to his contract and was not expected to join his new team until 2014.
Lowe, now 51, treated himself to a bespoke road bike - the same brand as used by Bradley Wiggins - and made a long list of other stuff to do as well.
Then Niki Lauda, Mercedes' non-executive director, brokered a deal with McLaren for Lowe's early release from his contract and, just like that, it was holiday over.
"I just got a phone call," Lowe says, referring to the day Mercedes' director of motorsport Toto Wolff broke the news.
"Toto phoned me up and I had to sound pleased on the phone. We had a laugh about it. It did take me about four days to get over it. Now I'm doing it, it's great, genuinely, but at the time it was…" He doesn't need to finish the sentence.
In the subsequent month or so since he started work, there has been no time for the new bike, lovely as it doubtless is.
"Within two days in my job I could already not find the hours in my day to do what I could see needed doing," Lowe says. "And that's how it should be."
Lowe had been at McLaren, where he was technical director, "for three weeks short of 20 years, which they enjoyed a lot at the leaving do, saying I'd saved them the gold watch". But last winter he found himself courted by two teams for more senior roles.
Williams wanted him to run the sporting and technical sides of the team - a desire that continued after Wolff left his position as de facto boss there to join Mercedes.
Then - and Mercedes say their interest pre-dated Wolff's arrival - Mercedes approached him for a similar role, too.
"I didn't want to work in one place for almost my whole career," Lowe says. "I would like to see something else, different place. Looking ahead, [aged] 51, how much longer have I got? It was the right point to look for a change. Then the opportunity arose, so I took it."
In doing so, he increased the general perception that Mercedes have too many chiefs; with Lowe's arrival, there are now five senior engineers there who have all been technical director at other teams.
"If people think there are too many technical directors in Mercedes, then it does seem to be working for them because I think they have made fantastic progress over the last 12 months, so my first answer would be, what's wrong with that?" Lowe says.
"The second is that, actually, it's not as though there are a whole load of cooks trying to do the same job.
"There is just a huge amount of work to do in this business if you want to be successful.
"So even though we have a wide range of senior people at Mercedes, we are all gainfully employed and we all respect each other's talents, we all play to our strengths and work together. There has been a very good division of effort between the different players and I'm fitting into that.
"It works really well. You need that strength in depth to put the attention on all the different things. I would almost say other teams may be weak in that respect rather than saying that's an anomaly of Mercedes."
A quietly spoken man, Lowe was a low-key figure in his former role at McLaren, but that is now going to change.
At some undefined point in the future, Mercedes team principal Ross Brawn will move aside and Lowe - as executive director (technical) - will jointly run the team with Wolff, the executive director (business).
Brawn knows the original intention was for Lowe to replace him, but Mercedes have now made it clear they are expecting the three men to work out how and when the transition will take place. Those decisions will be made over the next few weeks.
If there is any awkwardness between Lowe and Brawn, they are doing a good job of hiding it. They are all smiles when together in the Mercedes motorhome and Lowe says it has been a genuine pleasure working with a man he has admired for the last two decades.
Lowe is now charged with further boosting the performance of the team that is already the most improved of the year.
After an already promising start following a dismal end to 2012, Hamilton and Rosberg have taken pole position in five of the last six races and Rosberg has won two of the last three.
As it happens, Lowe arrived in his new post in the middle of the controversy over Mercedes' 'secret' Pirelli test, which has subsequently been declared illegal and the team handed a punishment.
Lowe light-heartedly refers to the illegal test as "the episode we don't mention", but it has been an issue of great controversy in F1, not least because Mercedes' rivals believe the team gained a huge advantage from it.
Mercedes have struggled since 2011 with heavy rear tyre usage, but since the test they have made dramatic progress, winning twice and taking a third place in Canada.
Only on Sunday, Red Bull team principal Christian Horner was pushing that subject again. Asked whether he felt it was a coincidence that Mercedes had won two of the three races since the test, Horner said: "That's for you to judge. How many had they won before?" The answer is one - in China more than a year ago.
But Lowe - who had not started working for Mercedes at the time of the test and was not involved in any way - insists that a coincidence is what it was.
"Some really decent progress has been made over the last two months - and I say this honestly - it's nothing to do with the episode we don't mention because there was nothing to learn from that because we were just testing blindly tyres that were put in front of us, despite what some others may be saying to the media," he says.
"So some steps have been made and people will connect those, and that's fine if people choose to do that, but to my knowledge that's not the case."
Lowe, some people have said, was an odd choice for a future team boss of Mercedes. Some have questioned whether he has what it takes to swim safely in F1's notoriously shark-infested waters.
But in the course of half an hour discussing sensitive subjects such as these, that was far from the impression he left.
Quite the opposite, in fact. His technical expertise is not in doubt; it was his ability to handle all the other aspects of the role some have questioned.
But, at least judging by his ability to handle questions on any manner of difficult subjects, so far it looks like he might make rather a good team boss.