Fernando Alonso says Pirelli's tyre changes are not bad for Ferrari

By Andrew Benson
Chief F1 writer
Last updated on .From the section Formula 1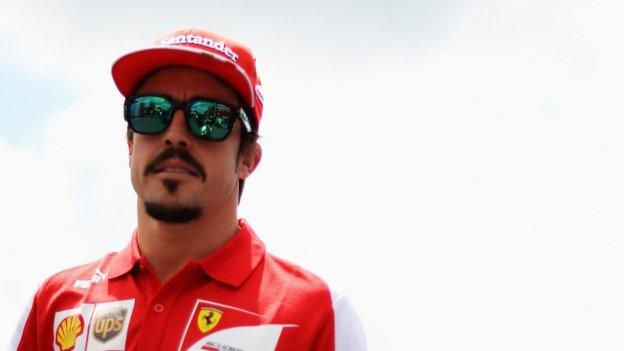 Fernando Alonso believes Ferrari will not be adversely affected by the decision to change the tyres following the crisis at the British Grand Prix.
"We should be not too worried, because the tyres should be good for us or not worse than on any other car," he said.
"Performance is the second priority. What we need are tyres that last the race and don't endanger anyone and you are able to go home on Sunday night."
Alonso heads into Sunday's race in Germany in second place in the championship, 21 points behind leader Sebastian Vettel of Red Bull.
As well as his own failure, Alonso narrowly avoided running into the back of Sergio Perez's McLaren at 180mph when the Mexican suffered his second tyre failure of the weekend.
"It was a dangerous situation," Alonso said. "I didn't think anything special [of it], I was just trying to overtake people six laps from the end, so concentrating on performance.
"I committed to overtake Sergio on the left. I was lucky because maybe if I chose the right everything will hit my helmet.
"There are pieces of steel coming at 300km/h so it would be like a bullet or a knife so probably it will enter in the helmet and hit the outside of the helmet so it is not nice.
"Pirelli made some changes, we trust them, we think they have solved the problem.
"They probably know how to sort it. We will hopefully not have any more of these problems that are not any good for the sport."
Ferrari could potentially be adversely affected by the decision to change the tyres because their car has had trouble heating them up sufficiently for optimum performance in qualifying - and the new tyres run cooler than the previous ones.
But Alonso said: "We need to wait and see. This is the third or fourth change in the season already, some were hurting us and some were good for us.
"This is a question mark we need to see about. They changed only the rear tyres, which is less problematic for us. Normally we suffer with the front so maybe it is not affecting us so much."
Alonso said Ferrari had tried to work out why they were so far off the pace at Silverstone - he could qualify only 10th, although he recovered to finish third in the race.
"We went very deep in the analysis of Silverstone," he said, "knowing that we were not competitive and we saw some issues with the car in terms of aerodynamic characteristics in Silverstone, in set-up, maybe things that we can do better, so we will try to improve here.
Anyway I think here and Hungary [at the end of the month] will be dominated by how the tyres perform on each car.
"With the set-up we win one or two tenths, with the characteristics of aerodynamics and tyres you can lose seconds, so we need to adapt to the tyres quicker than the other teams and we will put a lot of effort into that."
Kimi Raikkonen, third in the championship, said he was hopeful his Lotus team would not be affected by the tyres.
"They have to do some changes and that's what has been decided. If it's a similar tyre to what we tried in Canada [in free practice] it actually felt better," the Finn said. "I have no concerns."