German Grand Prix: Drivers won't rush into boycott

By Andrew Benson
Chief F1 writer
Last updated on .From the section Formula 1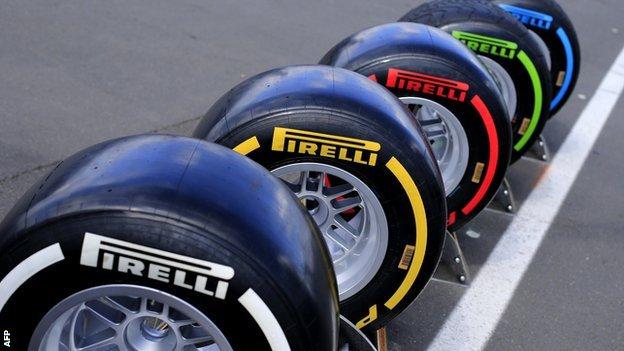 Formula 1 drivers have made it clear they will not rush into a boycott of the German Grand Prix if there is a tyre failure at the event.
said they would "withdraw immediately" if there was a repeat of the
GPDA chairman Pedro De La Rosa said on Friday if blow-outs occurred they would "look at the specific case and decide".
"It's about being sensible and analysing what happens," he added.
It is understood that should there be further problems in Friday's practice or qualifying on Saturday, the drivers will hold further discussions, and one option will be to boycott Sunday's race.
De La Rosa said drivers believed the new tyre brought to this race by Pirelli - strengthened with Kevlar instead of steel - was "safe".
And he stressed that they were not trying to make a political point.
"We are talking about safety," said De La Rosa, the Ferrari development driver and a former racer with Arrows, Jaguar, McLaren, Sauber and HRT.
"There was not one driver against what was decided. Safety is first and if there is any issue with blowouts this weekend we have to think about our own lives, the marshals and the fans.
"It was the first time in a GPDA meeting I have ever been to in my life where absolutely all - not one - showed any doubt.
"It is not worth taking any more risks. Boycotting is not the word at all: it is about being safe."
The GPDA does not represent Lotus driver Kimi Raikkonen, Force India's Adrian Sutil and Williams's Valtteri Bottas. Bottas told BBC Sport on Friday: "I'm racing."
Last weekend at Silverstone six drivers suffered on-track failures.
The drivers have been concerned about tyre safety for some weeks, following a series of failures at the earlier races in Malaysia, Bahrain and Spain, and following Silverstone governing body the FIA has stepped in to ensure changes are made.
De La Rosa said that should problems arise in the race, it would be FIA race director Charlie Whiting's decision as to whether it should be stopped.
Pirelli motorsport director Paul Hembery said he found the GPDA statement "a little strange" but admitted on Friday that the company had made some errors in how it allowed the teams to run their tyres.
Earlier this week Pirelli had for the series of tyre failures.
Teams have been swapping rear tyres to the opposite side of the car because they found a performance advantage, and Pirelli sanctioned the practice.
"Fortunately we were able to understand very quickly we had allowed the teams - and it is our responsibility - to invert the tyres," he said.
"But with the cars going much more quickly this year that creates a weak point. Combined with a number of factors that were secondary, the primary factor was that. We have now stopped that."
Hembery added that Pirelli remained committed to F1 despite the image problems the situation had created. The company is out of contract at the end of this season.