Lewis Hamilton column: Tyres were wake-up call for F1
Last updated on .From the section Formula 1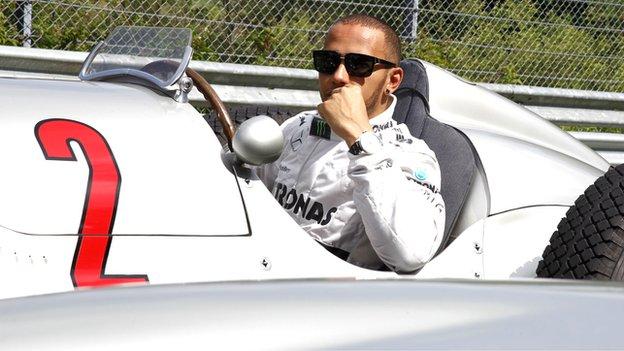 In his latest column for BBC Sport, Lewis Hamilton talks about tyres, his love of the Nurburgring and racing for the Silver Arrows.
There has obviously been a lot of talk over the last few days about all the tyre failures at the British Grand Prix. From my personal perspective, last Sunday was a race win lost.
For those watching it must have been pretty spectacular, but at the time, all you're thinking about in the cockpit is how it has impacted on your own race.
When the tyre first goes, the first reaction is: "I just can't believe it." You see your hopes and dreams slip through your fingers; there's nothing you can do.
To win the British Grand Prix in front of your home crowd - the dream has been building up since my victory in 2008. So when I was in the lead I felt like I was on my way to achieving that dream.
When the tyre blew, it devastated me for a split second, but you just have to overcome it and keep your head together.
The first thing I did was alter the differential settings so I could look after my gearbox because, when you have one wheel driving and the other spinning up more, it is easy to burn the diff out.
Then I just had to drive back as fast as I could, to lose as little time as possible, but as easily as possible to look after the gearbox.
After that, I was driving around in last place, and you feel like you're racing on your own. It's a horrible feeling driving at the back, not seeing anyone for ages and knowing you're so far behind the leaders.
I was aware that there were other tyre failures happening, and that I had to be careful not to put too much load on the left rear tyre in a couple of corners, but I was just concentrating on making up ground.
I could see on the big screens around the track that when I was going through Turn One, the other guys were going into Copse, for example, so I knew it was impossible to catch that gap up.
But I never gave up, just kept pushing and pushing. Sometimes you do that and you still finish at the back; at others you keep hoping and something positive happens, and it did.
The safety car came out, and brought me back into contention. I pulled a couple of decent moves. Then the safety car came out again and in the end I was able to finish fourth.
So I'd rather see the glass as half-full rather than half-empty. I'm so grateful I got the 12 points I did.
One more lap and I'd have been on Fernando Alonso's Ferrari for third. That's two races now he has finished ahead of me, but it felt good that I had the pace on him, especially as I had a damaged car.
The punctured tyre had broken quite a crucial part of the floor, where the exhaust blows on it to create downforce. The fact I was able to overtake all those people despite having that damage was a real positive.
High hopes for the weekend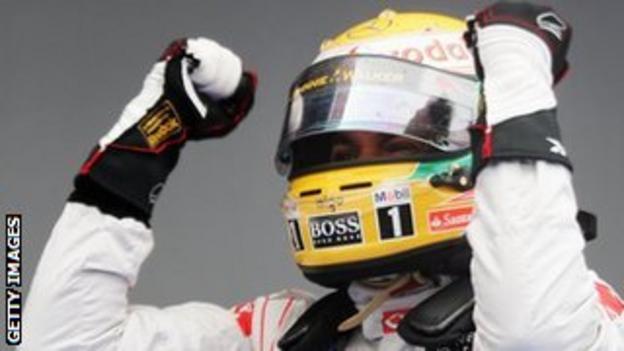 There will be a lot of focus here on the new tyres Pirelli are supplying for the German Grand Prix this weekend.
I said my bit after the race at Silverstone, which I don't often do, and all of the drivers share the same concerns. As a sport, everyone involved is responsible for ensuring the highest standards of safety.
I have had a lot of tyre problems in my career for some reason but as a driver, I have to have 100% confidence in my team and my car, knowing that when I drive flat out the car is safe.
My guys do an incredible job so there has been never a single doubt in my mind about my team.
Safety is taken extremely seriously by the teams and the FIA and sometimes we all need a wake-up call to remember that we have to pay attention to everything to ensure F1 is as safe as it can be.
I just hope the car feels as good here on the revised tyres as it did at Silverstone because if that's the case I know we can compete with Red Bull.
My Mercedes team's form has really come on in the last few races. Silverstone was obviously disappointing, but I believe things happen for a reason and I'm sure that lots of positives are coming my way at some stage.
I really like the Nurburgring, the track we are racing on this weekend. Germany's Grand Prix is swapped between it and Hockenheim, and I much prefer the Nurburgring. It's a nice flowing track, a lot more like Spa in Belgium.
It's got great history, it's where the Mercedes Silver Arrows began and it's an important race for the team.
I want to do them proud and it would be a real highlight in my career if I was able to get a win for the team this weekend.
Combining work and fun
I was lucky enough to drive a Mercedes W154, a Grand Prix car from 1938-39, on the old Nurburgring Nordschleife on Thursday. And my team-mate Nico Rosberg was in the 1954 W196.
I know the Nordschleife really well now - I first drove it eight years ago in a Smart car. I really love that track.
As some of you will know, it's the most incredible 14 miles of twists and turns, rises and dips, crests and compressions through the Eifel mountains.
We did a whole lap. We weren't flat out - we had a cameraman in front of us - but I pushed on a couple of corners and it did not feel safe compared to what we are used to.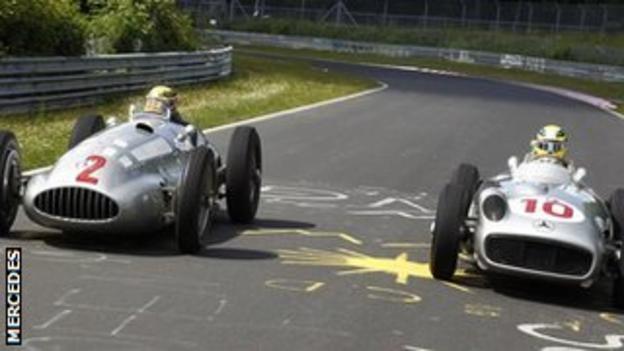 The German Grand Prix was held on the Nordschleife most years between 1931 and 1976. It's considered too dangerous for modern F1 but I think it would be incredible to take a current car around there. I would love to do it and I've already told the team that next time they have an event there I want to drive it. I'd be flat out the whole lap.
It's a hardcore track with lots of bumps and places where you take off, but I think in an F1 car you might be able to keep it on the ground.
I might do a race there one day, too, a sports car race or something like that.
I also spent some time at Mercedes's R&D centre at Sindelfingen on Wednesday. There are 36,000 Mercedes employees working on road cars there and it was great to have the chance to meet the team who are part of our team.
I'd love to win this weekend for them.
And good luck to Andy Murray at Wimbledon today and the British and Irish Lions on Saturday, fingers crossed.