German GP: Sebastian Vettel top in practice with Hamilton seventh

By Andrew Benson
Chief F1 writer at the Nurburgring
Last updated on .From the section Formula 1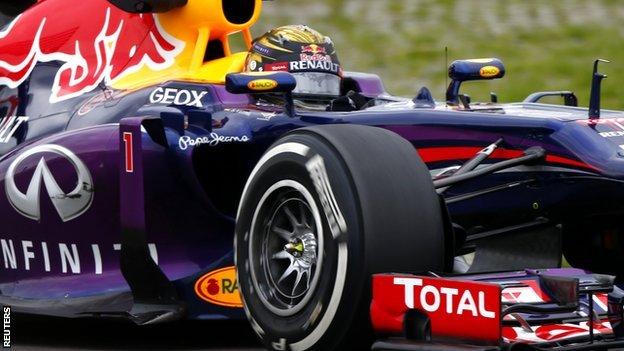 Red Bull's Sebastian Vettel set a stunning pace in final practice at the German Grand Prix.
Red Bull's Mark Webber was third ahead of Ferrari's Fernando Alonso and Felipe Massa, as Lewis Hamilton struggled with his Mercedes to take seventh.
There were no problems with the new tyres Pirelli have brought to Germany.
The company rushed out a batch of tyres with a new construction after six drivers suffered failures during the British Grand Prix.
The drivers threatened to boycott this race if there were further problems but there has been no sign of any difficulties on this track, which is less demanding of the tyres than Silverstone.
Pirelli have set a series of parameters within which teams have to operate the tyres, including minimum pressures and maximum camber - the amount the tyre leans away from vertical.
Vettel's pace will raise eyebrows among Red Bull's rivals.
Mercedes have been on pole at five of the last six races, with only Vettel's fastest qualifying time in Canada breaking a pattern that goes back to the Chinese Grand Prix in April.
The triple world champion qualified third behind both Mercedes at Silverstone a week ago.
Vettel, who has beaten beaten by Webber in qualifying and race in both their previous races on this track, was 0.694secs ahead of his team-mate.
Alonso, who is 21 points behind Vettel in the championship, showed improved form in the Ferrari after a difficult race at Silverstone but was still 1.104secs slower than Vettel.
Only 0.05secs separated Alonso, team-mate Felipe Massa in fifth and Raikkonen.
Hamilton, who took pole by more than half a second at Silverstone, was struggling with oversteer, saying at one point in the session: "I can't drive the car."
The team made a set-up change before he ran on the faster 'soft' tyre in the final part of the session, but he remained the same half-second margin behind Rosberg.
Raikkonen's team-mate Romain Grosjean was eighth, ahead of Sauber's Nico Hulkenberg and Force India's Adrian Sutil, who was three places ahead of team-mate Paul Di Resta.
Jenson Button was 11th in the McLaren, with team-mate Sergio Perez 15th.