Lewis Hamilton: Mercedes wins are a long way off

By Andrew Benson
Chief F1 writer
Last updated on .From the section Formula 1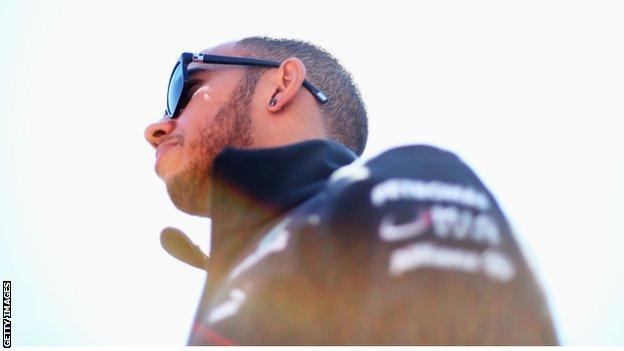 Lewis Hamilton feels his first win for his new Mercedes team is still a long way off after struggling to finish fifth at the German Grand Prix.
Hamilton was hit by the same heavy tyre usage problems that have plagued Mercedes for most of the year as he slipped back after starting from pole.
"It would be good to get a win but at the moment it really doesn't feel like it's going to happen," Hamilton said.
"Luck is definitely not with me but who knows? At some stage it's got to come."
The 2008 world champion lost a potential win at the British Grand Prix eight days ago when he suffered a tyre failure.
His team-mate Nico Rosberg ended up winning at Silverstone after Red Bull's Sebastian Vettel, who was second behind Hamilton at the time of his tyre failure, retired with a clutch-shaft failure.
Rosberg has won twice for Mercedes this year - the other time at Monaco when he controlled the race from pole.
The German had at that point out-qualified Hamilton three times in a row, but the Englishman - in his first year with Mercedes since moving from McLaren - has since turned the tables and has started in front of Rosberg for the last three races.
Rosberg finished ninth in Germany but Hamilton denied getting the better of his team-mate softened the pain of his own struggles.
"I don't feel like it's a boost or anything like that," he said. "Having the edge on him; everyone expects that.
"It doesn't make any difference to me at the moment, especially as I'm not getting the most out of the car. When I get the most out of the car, then it will be a lot easier."
Hamilton has fallen to 58 points behind championship leader Vettel, whose victory in Germany moved him 34 points clear of Ferrari's Fernando Alonso and a further seven ahead of Lotus's Kimi Raikkonen after nine of the 19 races.
Hamilton said winning the title was a distant prospect.
"I'm not even thinking about the championship," he said. "There's no point when he's almost 60 points ahead.
"It's going to take a lot of good opportunities to come my way. We're going to need a lot of hard work, a little bit of luck on our side, a bit of elbow grease and we might be able to do it. But who knows?"
Asked if world champion Vettel's sizeable lead and impressive consistency meant the title was effectively already all over for everyone else, Hamilton said: "Definitely not for Fernando. Fernando's definitely within shooting range."
There is now a three-week gap before the Hungarian Grand Prix at the end of the month, punctuated by a 'young driver' test at Silverstone on 17-19 July.
Race drivers are allowed to drive for one day at the test to try out a new Pirelli tyre, being introduced to try to prevent the multiple failures seen at Silverstone.
Mercedes are banned from that test for breaking the rules in running their 2013 car at a Pirelli tyre test in Spain in May.
Hamilton added: "I don't know if people fully appreciate how big a negative it is for us not to do the test.
"We are going to go to Hungary when other people have gone and tested [the new tyres with] different ride-heights, different pressures, got their car ready for a long run so they arrive ready.
"When we get there we're going to go into it blind. We shouldn't be in this position in sport, but that's the way it is."