Gary Anderson says F1 pit stops should be slowed down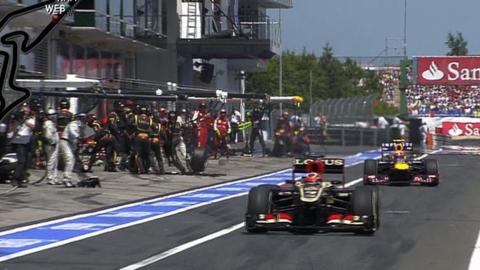 The lesson of the German Grand Prix, in which a cameraman in the pits was injured by an errant wheel from Mark Webber's Red Bull, is that Formula 1 pit stops need to be slowed down.
They have got so fast - the top teams are routinely changing four wheels in 2.5 seconds - that it has gone too far.
They are lovely to watch, but you can't see what's going on.
I would suggest reducing the number of people allowed to work on the pit stop to two on each wheel, a front and rear jack, and the 'lollipop' man who controls the driver.
That would be 10 people who touch the car, plus one.
At the moment, there are about 20 - three on each wheel, two jacks, two spare jacks, two car steadiers and two pit-lane watchers.
In Webber's stop, the lollipop man could not see what was going on with the right rear wheel. He thought it was on; it looked on. If there were fewer people, there would be less confusion.
Do that, and the pit stop would take in the region of four seconds, which is still fast, but enough time to react to problems. In 2.5secs it is difficult to make decisions based on what you see, as opposed to what you think you're seeing.
F1 was lucky on Sunday because the injuries sustained were far less bad than they could have been. If nothing happens, someone is going to get seriously hurt.
Perhaps it is time for the drivers to get involved. They were very outspoken ahead of Germany on the safety aspect of the tyres, threatening to boycott the race, and they could say that the risk of a wheel hitting them - or anyone else - on the head is something that needs to be taken more seriously.
Or maybe the teams' association Fota should take the lead.
Other than at the pit stop, Red Bull showed in Germany that no matter what you throw at them they are pretty good at responding.
Vettel drove a very good race. He was very aggressive at the start, and he made good use of the fact that Red Bull have a good balance between their qualifying and race performance.
That's the opposite of Mercedes, who after another poor race now must accept that they have to wind off some of their qualifying performance to help their tyre usage in the race.
The Red Bull is a very good car, and Vettel now has 157 points, which is 47 more than he had this time last year. That is not a good omen for his challengers.
LOTUS BACK ON FORM
Lotus have had a bad run of races, but they found some improved pace in qualifying in Germany and that made the difference.
They have always had a very good car on race day; starting further forward gives them a chance to fight for the win.
But I think a bit of indecision at the end of the race possibly cost them the win.
When Romain Grosjean made his final stop on lap 40, forcing Vettel to come in the following lap, I'm sure they were committed to Kimi Raikkonen going to the end without stopping.
It was a great dummy, because they had both bases covered. They had Grosjean challenging Vettel on fresh tyres and Raikkonen out front on used tyres with the potential to go all the way.
But then eight laps later they pitted Raikkonen, and I think they convinced themselves during those eight laps that they weren't going to make it.
But his lap times were good, consistently in the mid-1:35s, and nothing indicated he needed to pit.
Yes, Raikkonen went a bit faster on the soft tyre, but he had had a 15-second lead over Vettel with 11 laps to go and the Red Bull was only going 0.5secs a lap faster. I think he could have survived that and come home with a win.
Lotus were obviously concerned about a repeat of China last year, when Raikkonen dropped from second to 11th when his tyres went off. But if you're going to win races and titles you have to make these decisions.
And if you change them, it has to be for the right reasons.
FERRARI
You could level the same observation at Ferrari. There was nothing wrong with their decision to qualify on the medium tyre so they could start on it - it meant they qualified seventh and eighth rather than a couple of places higher up and it gave them a good option on strategy.
But, having made the decision, they didn't commit to it. They brought Fernando Alonso in for his fist stop on lap 12. McLaren's Jenson Button, on the same strategy, ran for another nine laps.
If that strategy was going to work, your whole philosophy had to be to get beyond lap 20.
Ferrari technical director Pat Fry said after the race that they did that because Alonso's pace was dropping away, but it wasn't. He was consistently in the low 1:38s and his final lap before his stop was only 0.058secs slower than the previous one.
Yes, he was losing time to Vettel, but when Alonso came out he was only going about 0.7secs a lap faster. At that margin, it is going to take 20 laps to make up the time he lost in the stop. That's a whole stop lost. And he didn't make up the time because after about seven laps he was in the low 1:38s again.
Alonso's team-mate Felipe Massa had another nightmare weekend. After crashing during free practice in Monaco, Canada and Silverstone, he simply lost it braking for Turn One on lap four.
That's a basic error a driver of his calibre should not be making and it came at a very bad time.
The summer is the time the teams make their decisions on their future driver line-ups.
If I was Ferrari, I would take someone else to partner Alonso next year. They need two drivers scoring consistent points in the constructors' championship, which is where the money gets paid.
They need someone more consistent, even if he is not quite as quick as Massa can be when he is on form.
I would go for Marussia's Jules Bianchi, who is part of Ferrari's young driver scheme.
Alonso is their main man until at least the end of his contract, which they say runs through 2016. And they seem to have lined up Vettel to replace him. So the lead driver position is sorted. They need a decent back-up driver, a good number two.
Someone like Nico Hulkenberg of Sauber probably has more pace right now, but he's going to want to be winning races sooner rather than later. Bianchi has talent and would accept a support role, which is what Ferrari need.
TYRE CHANGES MAKE A BIG DIFFERENCE
Tyres were the major talking point going into Germany after the series of dramatic failures at Silverstone.
Pirelli took a revised tyre to the Nurburgring race, replacing the steel construction with a Kevlar one, and they laid down operating procedures for the tyres. These included minimum pressures, maximum cambers - the amount the tyre leans away from vertical - and forbidding switching the tyres from side to side.
These have been designed all year, but the teams have not been paying attention, which is fair enough. They were allowed freedom. Now they're not.
The reason Pirelli did that is not because they know for certain that that is the acceptable working range for their tyre, but because it means they have a set of defined parameters to work from if something goes wrong.
Before, it was impossible to be sure about the cause of the failure - on one car it might be because the camber was too big; on another because the pressures were too low. Pirelli was getting a random set of information.
I would expect Pirelli to continue with this approach when it introduces yet another new tyre design for the Hungarian Grand Prix at the end of the month.
Germany was a one-off race, because only the design of the rear tyres was changed. The smaller contact patch that design gives meant the rear tyre was a bit more critical than the front.
Take Paul Di Resta, for example: he tried to do a long stint from the safety car intervention until the end of the race, the sort of strategy he has tried many times before, and it did not work for him. The rear tyres dropped off too much and he had to stop again.
I think that will fix itself for Hungary, when another new design is introduced front and rear, but that will probably mean the tyre's potential life is not as good.
Gary Anderson is the former technical director of the Jordan, Stewart and Jaguar teams. He was talking to BBC Sport's Andrew Benson