Pirelli will take softer tyres to Hungarian Grand Prix

By Andrew Benson
Chief F1 writer
Last updated on .From the section Formula 1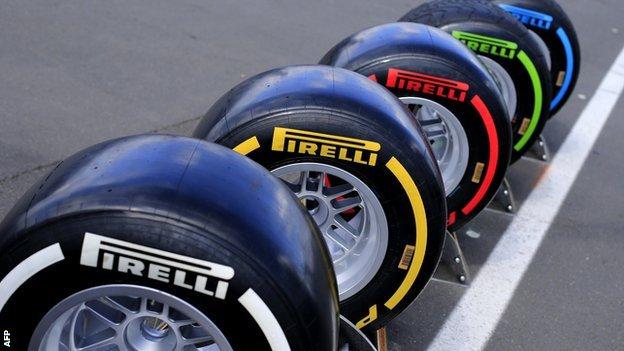 Pirelli has decided to take softer tyres to the forthcoming Hungarian Grand Prix than it initially planned.
Lotus criticised the initial choice of the 'hard' and 'medium' tyres as "very conservative".
BBC Sport has learned this has been revised to 'soft' and 'medium' for the race on 28 July.
Pirelli said its decision to change the construction of the tyres following the multiple failures at the British Grand Prix meant softer rubber could be used.
Pirelli has reverted to the construction used in 2012 following the blow-ups.
The company discovered while investigating the British Grand Prix problems that its 2013 construction had a weakness if used in certain ways. Pirelli was allowed to revert to the former design on safety grounds by governing body the FIA.
A Pirelli spokeswoman said: "The change to the 2012 construction means that Hungary doesn't require such a hard compound now."
The new choices now mirror those used in Hungary last year, but because Pirelli is using softer rubber compounds across its tyre range this season, the tyres used at the Hungaroring in 2013 will effectively be one grade softer than last year.
The durability of the rubber compounds used this year had become a controversial issue long before the blow-outs at Silverstone, which were caused by a series of different issues that had nothing to do with the durability of the rubber used on the tyre.
Red Bull and Mercedes have lobbied for harder compounds to be used.
Red Bull complained earlier this season that the tyres were too soft and were preventing drivers from pushing to the limit in races.
Mercedes, who are struggling with excessive tyre usage, have also lobbied for more conservative choices.
Lotus, Ferrari and Force India, whose cars are among the easiest on tyres, feel there was never anything wrong with the compound choices Pirelli was making.