Sebastian Vettel: What is it like to be the German's team-mate?
By Lawrence Barretto
BBC Sport
Last updated on .From the section Formula 1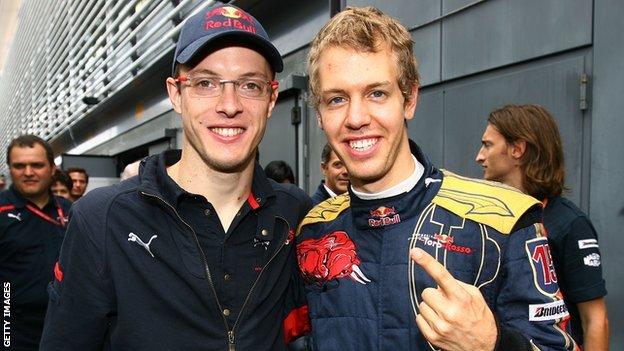 When Mark Webber announced his retirement in June, it presented drivers with a very rare opportunity: the chance of a seat in the best Formula 1 car on the grid - Red Bull.
However, there's a drawback: they must drive alongside Sebastian Vettel, the four-time world champion.
That opportunity has fallen to Toro Rosso's Daniel Ricciardo. So what can he expect?
Sebastien Bourdais, 34, should know. The Frenchman, who arrived in Formula 1 to partner Vettel at Toro Rosso back in 2008, is the only man other than Webber to occupy the opposite side of the garage to Vettel for at least a full season.
"You could tell he had his feet on the ground and was ready to do anything he had to do to get to the top," Bourdais told BBC Sport.
"He had the talent to do it and the back-up from Red Bull so things looked pretty good for him straight off. But he created his own luck.
"His main strength is he is naturally gifted and has awesome car control and that allows him to drive a car on the limit with oversteer (when the front of the car has more grip than the rear) all the time - and that tends to be the quickest way in Formula 1."
After winning four titles in the United States single-seater Champ Car series, big things were expected of Bourdais. Beating a young upstart who had just eight races under his belt was supposed to be a given. Only things didn't quite turn out that way.
A seventh place should have been fourth on his debut in Australia but for an engine problem. And that ultimately turned out to be his best result.
While Vettel spent the first five races crashing, everything turned around at the Turkish Grand Prix when the team introduced their 'B' spec car. Vettel went on to score nine points finishes in a midfield car, Bourdais managed just one points finish.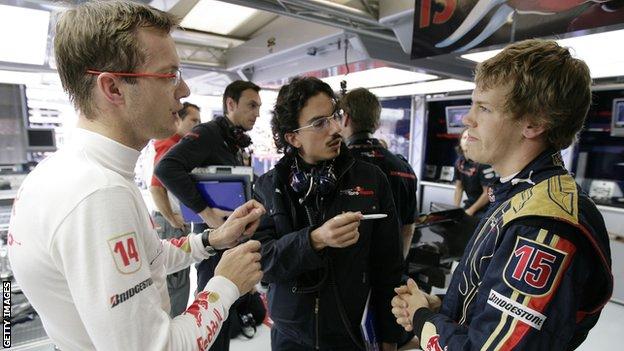 Vettel then went on to gain the team's first victory at the Italian Grand Prix to become the youngest race winner at 21 years and 73 days. So what was the German like to work with during this early part of his career?
"With the old car [before the B spec], we were matched really closely," says Bourdais, who was sacked halfway through the 2009 season. "Then we got the new car and I couldn't drive it but he was happy, like a fish in water. My life became pretty difficult.
"At the time, I didn't think he was mentally super strong. When we were closely matched, people were starting to question whether he was any good. He was starting to look like any other driver trying to make it and it felt like it was slipping away.
"He's human, too. Things didn't go his way and he was getting frustrated. He was making mistakes but that didn't last very long."
While Bourdais's career took a nosedive, Vettel's stock began to rise. "He was a very young, talented driver," said Bourdais. "You could see he was on his way up. He was obviously very fast and a fine chap to work with. Absolutely, we got on."
Nevertheless, Bourdais had to watch as a young, inexperienced driver drove the wheels of a car, while he - a four-time champion in another series - looked like he was the rookie.
But on occasions Vettel has shown signs of being fallible. In the 2011 Canadian Grand Prix, he was caught out by the tricky conditions and relinquished victory on the last lap to McLaren's Jenson Button. Then last year, in Italy, he forced Ferrari's Fernando Alonso onto the grass at 180mph.
And when he sniffs victory, he's not afraid to do anything to take it whether it's making contact with his team-mate - see Turkey 2010 - or disobeying team orders - see Malaysia 2013. It's a trait Bourdais is not surprised by.
"He was clearly very motivated, young, full of energy, never leaving anything undone," said the Frenchman, who is currently driving for Dragon Racing in the American IndyCar series with a best finish of second so far this season. "In the race, he was always very aggressive, even with his team-mate.
"But if you see an opportunity and you know you can make it stick, you've got to go for it, that's why you're getting paid. You have to try and finish as high as you can.
"If it turns out to be a disaster, and big carnage, that's different, but as long as you can make it work, it's worth the risk. So I'm not surprised that he always goes for it. He's wants to win. That's what makes him a champion."
Bourdais was dismantled by Vettel over the course of one-and-a-half seasons. Ricciardo will hope he doesn't go the same way.