Formula 1: Daniel Ricciardo will test for Red Bull at Silverstone

By Andrew Benson
Chief F1 writer
Last updated on .From the section Formula 1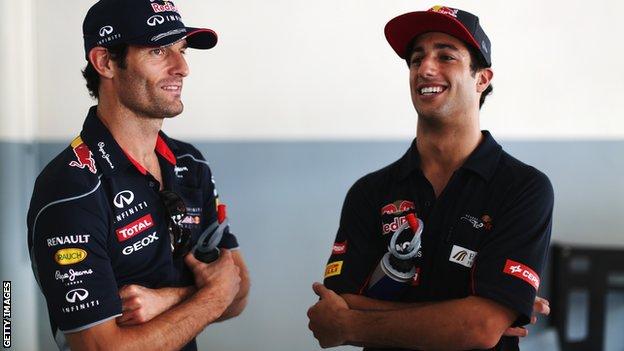 Australian Daniel Ricciardo has a chance to stake his claim for a Red Bull seat next year at this week's 'young driver' test at Silverstone.
Ricciardo, who races for Toro Rosso, will drive for Red Bull on Thursday as part of a tyre-testing programme.
He and Lotus driver Kimi Raikkonen are vying for the seat left vacant by Mark Webber's decision to leave Formula 1 at the end of the season.
If Ricciardo makes a good impression, it could swing the decision his way.
The team know Raikkonen, a former world champion and 20-time race winner, would be a strong replacement for Webber, but there is some pressure within Red Bull to prove that their young driver programme can work.
So far, in Red Bull's nine seasons in F1, only one driver has graduated from the scheme to a seat at the senior team - Sebastian Vettel.
The test will not be enough on its own to secure the seat for Ricciardo, but if he integrates well with the team and does an effective job, it will help his case.
Ricciardo had originally been scheduled to drive on Wednesday, with Webber on Thursday, but on Wednesday morning the 24-year-old Australian tweeted that he would now be driving on Thursday.
The team have not yet said how the change in scheduling will affect the rest of Red Bull's programme, and particularly whether Webber will now drive at all.
Ricciardo and the other race drivers are allowed to take part this week because rules forcing teams to run inexperienced drivers at the test have been relaxed so Pirelli can solve problems that led to a series of tyre failures at last month's British Grand Prix.
Race drivers have been allowed to take part so they can help the teams evaluate, under restricted conditions, a new design of tyre that Pirelli plans to run for the rest of the season, which has a different construction from the tyres used so far this year.
But not all the teams have taken up the opportunity to run their race drivers.
While Red Bull and Lotus will both use title contenders Sebastian Vettel and Kimi Raikkonen, Ferrari have decided not to call up Fernando Alonso, who is second in the world championship, behind Vettel and ahead of Raikkonen.
Ferrari believe the tight restrictions on what teams can do with the tyres mean there is no more than half a day's work to be done for one driver.
Alonso's team-mate Felipe Massa will drive on Friday morning after test driver Davide Rigon runs on the first two days of the test.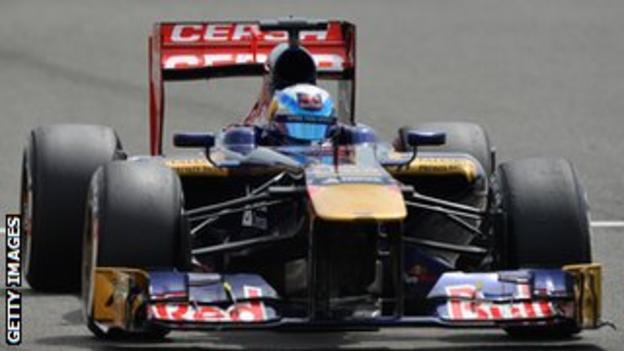 A Ferrari spokesman said the team were not concerned that Alonso missing the test could put them at a disadvantage over the rest of the season.
"The tyres are more or less the same [as before], the top drivers are very good at adapting and Massa is very good at testing," the spokesman said.
"And one of the two compounds we're using at the next race in Hungary is not even being run at Silverstone."
The team have decided to give Massa time in the car because of his struggles in recent races - out of the last four grands prix, the Brazilian has crashed in free practice in three of them and spun out of the race in the other.
"We chose to do it with Felipe to give him some time in the car, to get back a bit of feeling and confidence," the spokesman said.
McLaren are also not using their race drivers at all, preferring to split their test between Dane Kevin Magnussen and Englishmen Oliver Turvey and Gary Paffett.
Williams will run Scot Susie Wolff on Friday for her first full test in an F1 car.
The tyres the race drivers will have available are the new 'medium' and 'hard' compounds, as well as a prototype even harder tyre that is not part of this year's race range and which has already been tried in Friday practice at the Spanish and British Grands Prix.