Hungarian GP: 'Hungaroring leaves little room for mistakes'
Last updated on .From the section Formula 1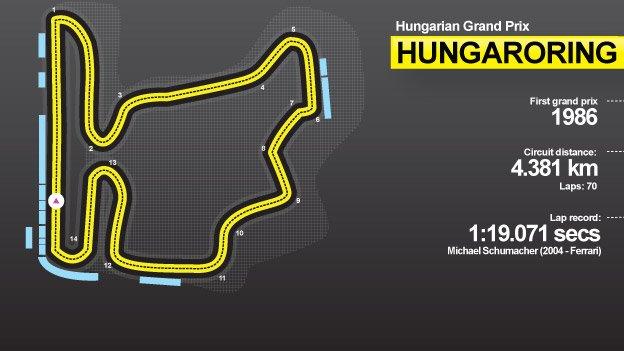 The Formula 1 circus reconvenes at the Hungaroring this weekend, after a three-week break, with the sweltering temperatures that have hit Europe over the last few weeks showing no signs of abating.
Some weather forecasters are predicting temperatures to peak at 40C on Sunday, with track temperatures hovering around 50C. That'll put Pirelli's softer specification of tyres, which are introduced this weekend, under the spotlight once more.
Reigning world champion Sebastian Vettel is the man in form, having won two of the last three races to extend his championship lead to 34 points.
The Red Bull driver has never won in Hungary, although that was the case in Germany last time out and the 26-year-old promptly put that record to bed.
Can Lewis Hamilton, Fernando Alonso and co stop the German securing his fifth win of the year before Formula 1 heads into the summer break at the midway point of the season?
The track
Narrow, twisty and bumpy best describes the Hungaroring circuit, which can sometimes produce fairly processional races.
The 4.381km circuit is rarely used at other times of the year, which means that the surface is very dirty off the racing line and thus makes overtaking more challenging.
Passing is rare but not impossible. In 1989, Nigel Mansell started 12th on the grid but fought his way through the pack, passing Ayrton Senna to take the lead and ultimately the race victory.
The most obvious overtaking opportunity is down the start-finish straight into Turn One; Rubens Barrichello, in a Williams, managed to avoid being slammed into the wall by Michael Schumacher in the Mercedes in 2010 to make the pass.
Pit strategy is key, as Ferrari showed in 1998 when Michael Schumacher changed tact mid-race and took an extra stop, completing a number of qualifying-style laps beforehand to build a lead big enough to pit and rejoin in front of the faster McLarens of David Coulthard and Mika Hakkinen.
The venue
The Hungaroring, located just outside the country's capital Budapest, first held a Formula 1 race in 1986 in what was a major coup for F1 boss Bernie Ecclestone as it was the first grand prix to take place behind the Iron Curtain.
Though a little rough around the edges, the venue has been a permanent fixture on the calendar ever since - and has a contract until at least 2016.
Usually held in July, at the height of central European summer, the venue is renowned for its hot and dry conditions. That means Ferrari, Force India and Lotus, who are more gentle on their tyres, should benefit from the warmer temperatures.
The track lies in a valley which creates an amphitheatre-like setting. At certain viewing areas, fans can see as much as 80% of the circuit. The first race attracted 200,000 people, and attendances have since been strong, with the Finns always turning out in force.
If the temperatures get too hot, fans and drivers can always head to the water park located at the track and plunge down one of its numerous water slides.
What the drivers say
Red Bull's Sebastian Vettel: "Hungary has some interesting memories for me. It was my first F1 race with the Red Bull family so let's hope I can add to my memories by winning there for the first time before I go on holiday."
Williams' Pastor Maldonado: "There will be new tyres from Pirelli this weekend that combine last year's construction with this year's compounds, so understanding how these will perform will be a primary focus for the teams as we prepare for this race."
Sauber's Nico Hulkenberg: "Budapest is a city with a great atmosphere and a lot of beautiful old buildings. The circuit is technically challenging and leaves little room for mistakes. If you get off the racing line there, the whole sector is ruined."
Lotus' Kimi Raikkonen: "It's such a slow, twisty circuit, so two things are really important there; good turn-in and good traction. Many times Hungary has been called as the Grand Prix of Finland. A lot of Finns go to this race every year and it is always nice to see the blue and white flags waving."
Ferrari's Felipe Massa: "The Hungarian Grand Prix is a very special event for me, that brings back a lot of memories. Naturally, there are some negative memories from my accident [in 2009], but also positive ones in that I am here today, getting ready for Budapest, healthy and still racing."
A classic Hungarian GP
Jenson Button had a long wait for his first Formula 1 victory but at the 113th time of asking, he finally tasted success in the 2006 Hungarian Grand Prix.
The Briton, driving a Honda, fought his way through the field from 14th to first, with some classy overtaking moves to finish ahead of Pedro De La Rosa and Nick Heidfeld.
Kimi Raikkonen looked to be in control of the race, having led away from pole, but he crashed into the back of Vitantonio Liuzzi which allowed Fernando Alonso to take the lead.
Alonso then retired when his right wheel nut came loose after he rejoined the track, which promoted Button to P1.
The drivers had to contend with tricky conditions as heavy rain was followed by bright sunshine which gradually dried the track.
Button and Honda got their strategy and tyre changes just right to secure victory and give Honda their first success as a constructor since 1967.