Formula 1 gossip and rumours from international media
Last updated on .From the section Formula 1
FRIDAY 13 SEPTEMBER
Kimi Raikkonen's move to Ferrari will be a huge positive for Fernando Alonso, says his on-track rival Mark Webber.
David Coulthard has warned Ferrari's rivals to expect an even better Fernando Alonso next season as Kimi Raikkonen will force him to raise his game.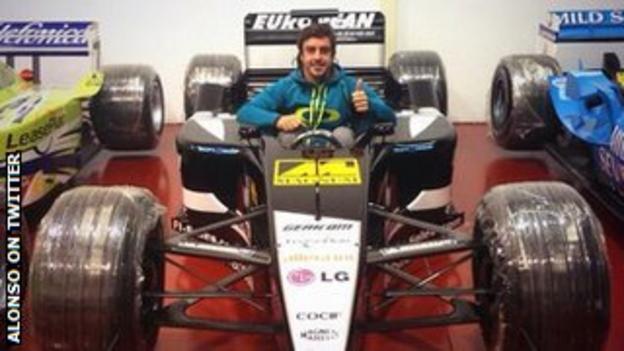 Former Ferrari sporting director Cesare Fiorio doubts Kimi Raikkonen was the best signing for Ferrari and questions how Raikkonen's approach is right for the team.
The Singapore Grand Prix will run on an updated circuit next weekend after track modifications were made at Turn 10.
The 2014 Formula 1 Bahrain Grand Prix will be a night race, run under floodlights, the state-owned venue operator has confirmed.
"At an exhibition in Madrid - there will also be all the cars in my career, as my first F1!"
THURSDAY 12 SEPTEMBER
Nco Hulkenberg is favourite to replace Kimi Raikkonen at Lotus after the Finn confirms his switch to Ferrari.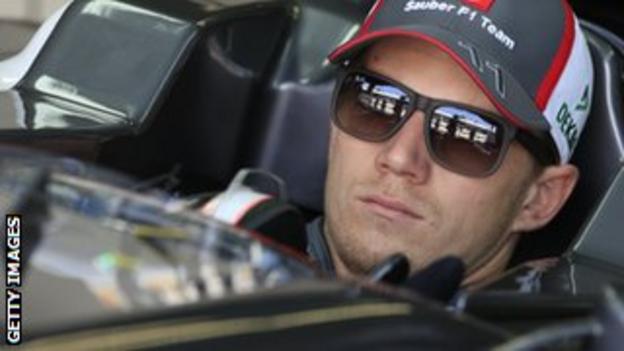 Former F1 racer Johnny Herbert has warned Sebastian Vettel's rivals that he believes the German's best years are still ahead of him.
Full story: The Sun (subscription required)
The FIA has warned Formula 1 teams that it is ready to get tough on much-needed cost cuts.
Sebastian Vettel believes Daniel Ricciardo will do his best to give him a "hard time" when the two team up next season.
SUNDAY 8 SEPTEMBER
Rumours and speculation in and around the Monza paddock on Sunday were that Mercedes team principal Ross Brawn could be set to invest in Williams.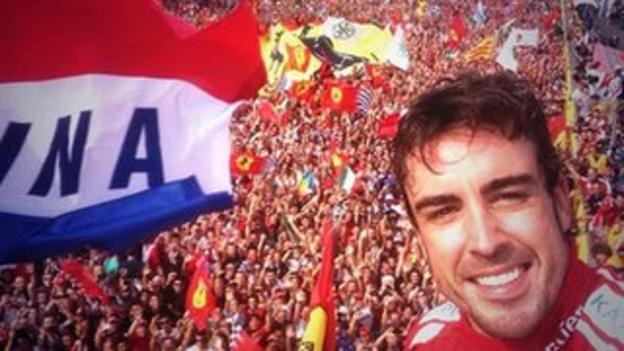 "Fantástico Fantástico Fantástico FantásticoFantástico Fantástico Fantástico Fantástico Fantástico Fantástico!!"
Fernando Alonso celebrates coming second at Monza on Twitter
Nico Hulkenberg does not think his result in Italy will help sway Ferrari as they make their decision on drivers for next season.
THURSDAY 5 SEPTEMBER
Jenson Button claims there is a passion burning deep inside McLaren to return to the top in Formula 1.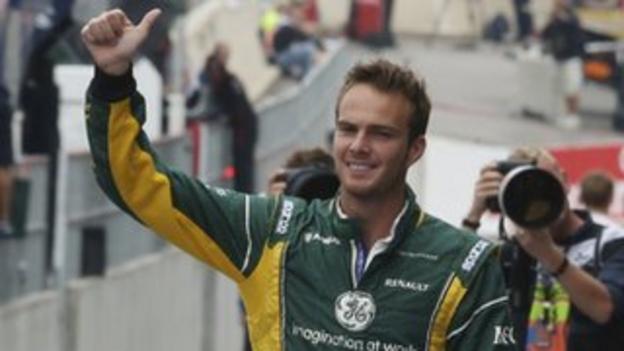 Giedo van der Garde is happy for new Red Bull signing Daniel Ricciardo because his promotion proves that if drivers do well then they can advance.
Jochen Rindt was killed 33 years today on a qualifying lap at Monza, his team-mate on the day Emmerson Fittipaldi remembers.
TUESDAY 3 SEPTEMBER
New Red Bull driver Daniel Ricciardo will be expected to start putting pressure on team-mate Sebastian Vettel as early as the middle of the 2014 Formula 1 season, says his new team.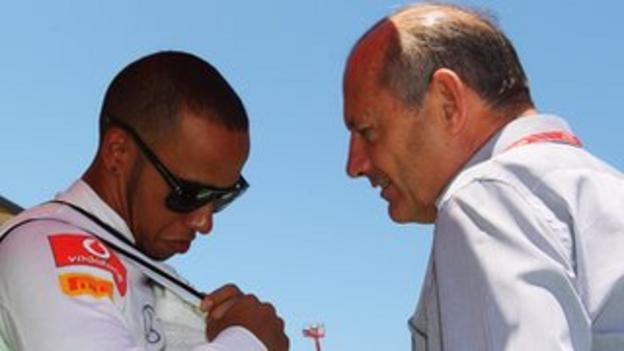 McLaren chairman Ron Dennis has revealed he never tried to stop driver Lewis Hamilton from leaving the team at the end of last season when he moved to Mercedes.
McLaren's sporting director Sam Michael is confident the team will return to race-winning form next season after a disappointing 2013 campaign so far.
But McLaren now believe that Formula 1 podium finishes on merit are unlikely for the remainder of the season following the Belgian Grand Prix result.
Jenson Button has no plans to become a team principal when he finishes driving because of the stress that comes with the job.
MONDAY 2 SEPTEMBER
Championship leader Sebastian Vettel says Fernando Alonso, Lewis Hamilton and Kimi Raikkonen - currently second, third and fourth - still have a chance to wipe out his 46-point lead.
Ferrari driver Alonso has become a team owner in international cycling after agreeing to purchase the company that owns the Euskaltel Euskadi team.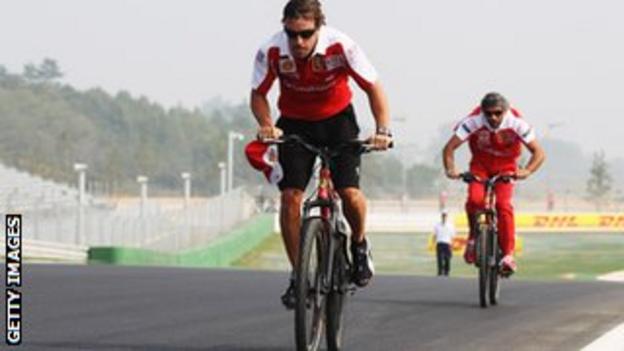 Full story: Fernando Alonso on Twitter
Alonso's team-mate, Felipe Massa, is not letting rumours about his future get to him, saying he has a "strong chance" of securing another season with Ferrari.
As teams face an uncertain future financially, Max Mosley has blamed his successor as FIA president for failing to take a stronger stance against over-spending in F1.
McLaren executive chairman Ron Dennis says he did not try to stop Lewis Hamilton leaving for the Mercedes Formula 1 team last winter.
SUNDAY 1 SEPTEMBER
Ferrari has taken the unusual step of announcing that it will not be making a driver announcement at the upcoming Italian Grand Prix.
Daniel Ricciardo admits it might be a tight squeeze for him to fit in a Red Bull car next season.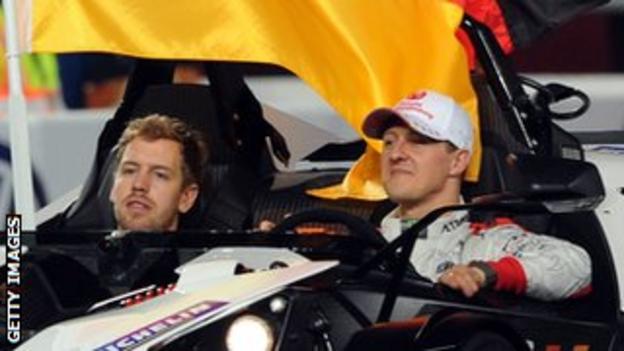 Lotus team owner Gerard Lopez believes Kimi Raikkonen will put performance ahead of money when deciding his future.
Michael Schumacher sees no reason why Sebastian Vettel cannot match or surpass his haul of championship titles.
Ferrari team principal Stefano Domenicali has predicted "huge surprises" in 2014 thanks to Formula 1 switching to the new 1.6-litre turbocharged V6 engines.
Force India team principal Vijay Mallya has no doubts that the long-term future of his home grand prix is safe, despite it being dropped from next year's calendar.
SUNDAY 25 AUGUST
Formula 1 boss Bernie Ecclestone says that the inaugural Grand Prix of America in New Jersey will not take place next year because the organisers "haven't got any money".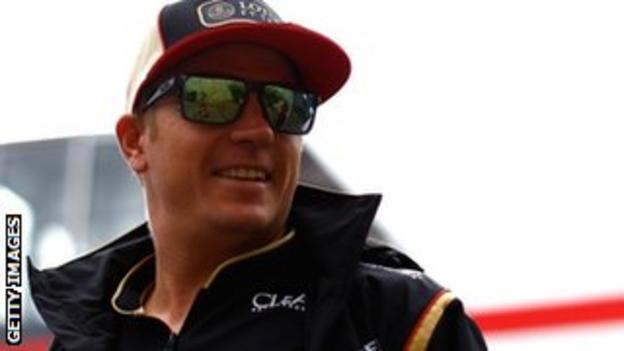 Mark Webber has revealed that the decision has already been taken to replace him at Red Bull with Daniel Ricciardo.
Mexico is poised to make a surprise return to the Formula 1 calendar in 2014, after high level sources revealed that it is to be awarded a provisional slot in next year's schedule.
Lotus team owner Gerard Lopez is hopeful Kimi Raikkonen will soon sign a new deal to stay at the team in 2014.
Mercedes team principal Ross Brawn says his Mercedes team will not compromise 2014 by chasing after the title this year.
Mercedes' Lewis Hamilton has revealed he is refusing to wear Mercedes' team cap and would like to help design the range of team clothing because he doesn't "totally like what we have at the moment".
THURSDAY 22 AUGUST
Finn Kimi Raikkonen, 33, will commit to a fresh deal at Lotus if the team provides him with the assurances he is seeking about their future.
Brazilian Felipe Massa, 32, has two races to save his Ferrari seat, with the Italian team set to decide their 2014 line-up after the Italian Grand Prix.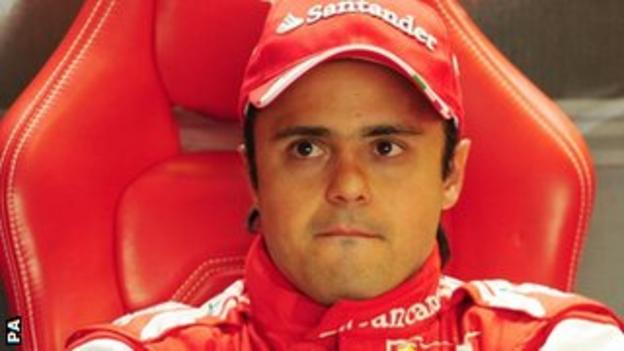 Mercedes' Lewis Hamilton, 28, has been told by the team's executive director Toto Wolff not to get his hopes up over the championship. Hamilton won his first race of the season last time out at the Hungarian Grand Prix to keep him in contention for the title.
Russian driver Sergey Sirotkin, 17, will make his Formula 1 debut next month when he drives a Sauber at a demonstration event to be held at his home country's new Sochi circuit.
Finnish driver Heikki Kovalainen, 31, will drive Charles Pic's Caterham in first practice for the Belgian Grand Prix on Friday.
Full story: Caterham on Twitter
Indian Grand Prix organisers want the government to help them fund the race. The event will not take place next year but it is scheduled to take an earlier slot in the calendar in 2015.
Pat Symonds, 60, is targeting a big push on the development of Williams' 2014 car as he begins work with the team this week in his new role as technical director.
German Nico Hulkenberg, 26, says he is using his difficult 2013 Formula 1 season with Sauber as a chance to prove his character, rather than bemoaning the decision to leave Force India for the Swiss team this season.
Seven-time world champion Michael Schumacher, 44, will compete at the Race of Champions in Bangkok in December.
MONDAY 19 AUGUST
Kimi Raikkonen is no longer in the running for the vacant seat at Red Bull, according to his manager Steve Robertson.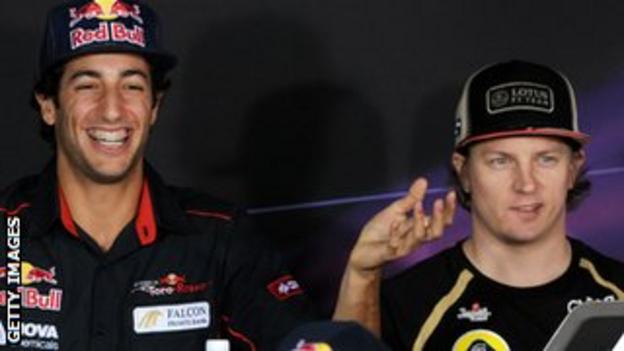 Instead, Red Bull will announce 24-year-old Daniel Ricciardo of Toro Rosso as Mark Webber's successor in the Red Bull car at the Belgian Grand Prix in Spa on 25 August.
"The Warrior that uses the sword when is insulted can not be considered brave, brave man does not flinch, because he has higher goals.."
Force India team principal Vijay Mallya is confident his team can overcome any disadvantage caused by the change to Formula 1's control tyres.
Luiz Razia has admitted that what happens in the next few weeks could determine whether he abandons his dream to race in F1.
Jenson Button has ruled out McLaren challenging for the victory at this weekend's Belgian Grand Prix, saying the team just doesn't have the package.
MONDAY 12 AUGUST
Valencia will not hold another grand prix. The city, which had agreed to alternate the Spanish Grand Prix with Barcelona, is in negotiations to end its contract with Formula 1.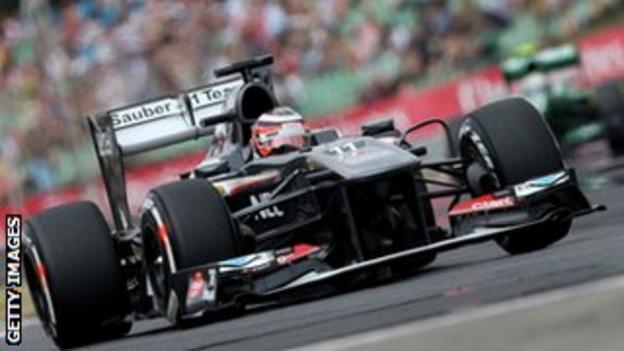 Full story: Diario Sport (in Spanish)
Lotus team chairman Gerard Lopez has hit out at reports that his team is in financial trouble.
Sauber has 80m euros of debt, including 35m short-term liabilities with sponsors, and there are question marks over the new Russian investment the team announced last month.
Full story: Bild Am Sonntag (in German)
Britain's Lewis Hamilton is certain Mercedes will have one of the strongest packages on the grid next year as F1 shifts to smaller capacity turbocharged engines.
India will suffer from not having a grand prix in 2014, according to three-time F1 champion Sir Jackie Stewart.
SUNDAY 4 AUGUST
Ferrari's Fernando Alonso will not quit Ferrari for Red Bull, says Flavio Briatore, the head of his management team.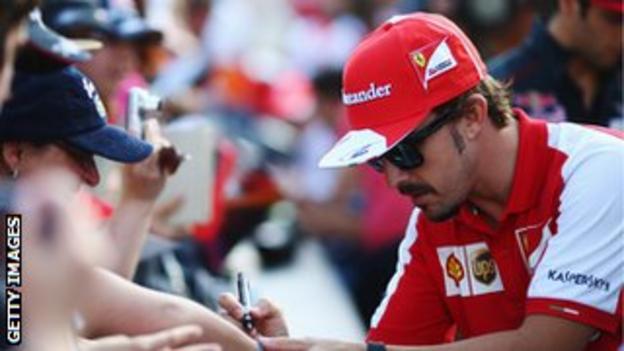 Mercedes executive director (technical) Paddy Lowe says the progress the team has made this season is "very promising" for the rest of the year.
Lotus team principal Eric Boullier has expressed his delight over Kimi Raikkonen's performances so far in 2013, saying that he would score the Finn's season at "10 out of 10."
The Mercedes Formula 1 team may have already served its punishment, but Ferrari chief Luca di Montezemolo has made it clear that he's still unhappy with the outcome of the 'Tyregate' saga.
THURSDAY 1 AUGUST
Ferrari have conducted another test with their 2011 car as they work on the data correlation problems that have plagued them in recent seasons. Only testing with current cars is forbidden under Formula 1′s rules.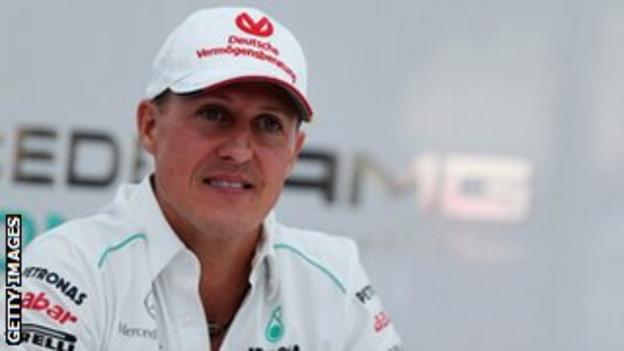 A disagreement between the Russian Automobile Federation and the promoter of the planned 2014 Russian Grand Prix is delaying progress at the Sochi Olympic Park.
Red Bull driver Mark Webber, 36, will appear on this Sunday's edition of Top Gear on BBC Two.
Full story: Mark Webber on Twitter
Britain's Lewis Hamilton has revealed he used to be so superstitious he relied on lucky boxer shorts - until his mother shrunk them.
Seven-time world champion Michael Schumacher says he did not expect his former team Mercedes to make such a leap forwards in 2013.
Spaniard Carlos Sainz Jr, 18, says he is in no hurry to secure a drive in F1, as he feels it is still too early for him despite impressing in his test with Red Bull and Toro Rosso.
Midfield teams say they have genuine concerns about the cost of competing in next year's championship as F1 prepares for the introduction of new engines and the return of in-season testing.
Sauber team principal Monisha Kaltenborn insists the team was not on the brink of going under before its deal with a trio of Russian companies.
WEDNESDAY, 31 JULY
Ferrari insists there is no breakdown in its relationship with Fernando Alonso - despite president Luca Di Montezemolo's unhappiness at comments made by the Spaniard.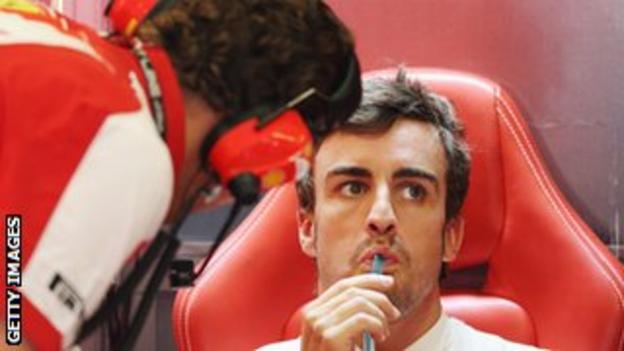 Lotus driver Kimi Raikkonen has been linked with a return to Ferrari - the team he won the world title with in 2007.
Indian Grand Prix organisers say they are comfortable with the race being moved to earlier in the year, even though it is not their preference.
Full story: London's Evening Standard
Toro Rosso team principal Franz Tost says Jean-Eric Vergne's future with the team is safe despite him missing out on the Red Bull drive.
TUESDAY, 30 JULY
Bernie Ecclestone has confirmed the Indian Grand Prix will be dropped from the 2014 calendar before returning in 2015 as an earlier round in the season.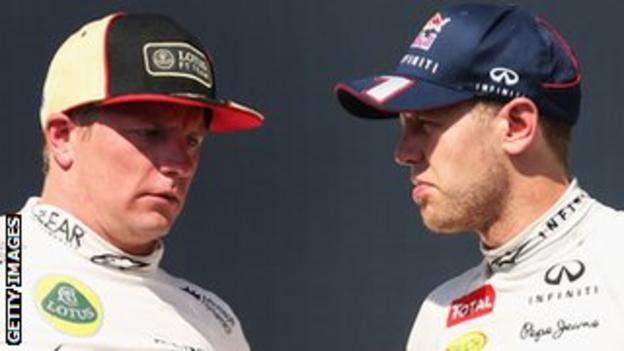 Sebastian Vettel has strongly signalled his preference for Kimi Raikkonen over Fernando Alonso as his new team-mate at Red Bull next season.
Lewis Hamilton will throw himself into a manic fitness programme over the next three weeks as the rest of Formula 1 put their feet up for a break.
Lotus boss Eric Boullier insists he has no qualms about Romain Grosjean's performance in an incident-filled Hungarian Grand Prix.
Jenson Button believes McLaren can improve significantly when Formula 1 returns after the summer.
Marussia team boss John Booth says he is hopeful of being able to field an unchanged driver line-up for the 2014 season.
MONDAY, 29 JULY
Lewis Hamilton will work through the summer with renewed focus after his first win for Mercedes fuelled thoughts of a revived challenge for the world title.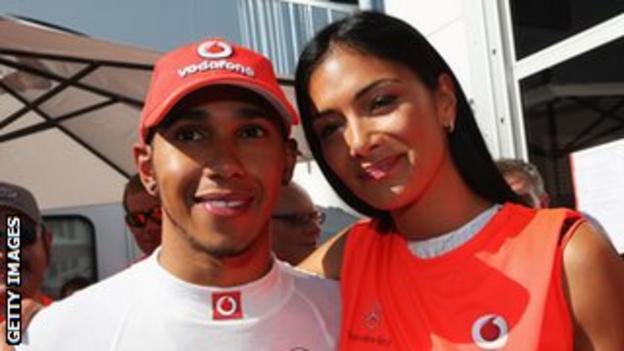 Hamilton dedicated his win in Hungary on Sunday to his ex-girlfriend Nicole Scherzinger.
Michelin has expressed an interest in returning to Formula 1, sources close to the FIA have confirmed to Autoweek.
Toro Rosso principal Franz Tost has admitted that his backing for more races on future F1 calendars is driven by the fact that they would provide more revenue for the teams.
Dubai Autodrome officials would welcome Formula 1 testing in January after being touted as the preferred venue to host pre-season trials in the Middle East.
THURSDAY, 25 JULY
Britain's Lewis Hamilton says Sunday's Hungarian Grand Prix is crucial to his season as Mercedes face some "extra homework" sifting through tyre data from the Silverstone test which they were banned from taking part in because they conducted a private test in Barcelona earlier this year.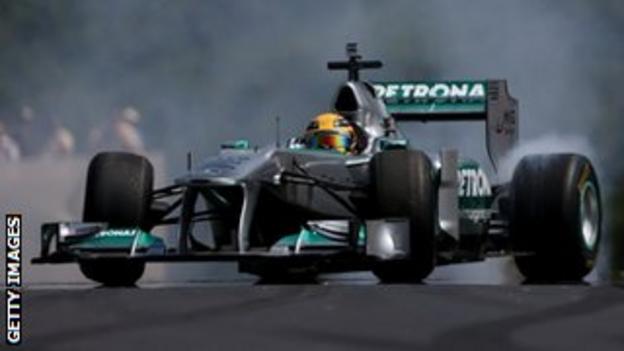 F1 boss Bernie Ecclestone says the Formula 1 calendar will not have more than 20 races despite the Austrian Grand Prix being added next season.
Full story: Kleine Zeitung (in German)
Mercedes non-executive director Niki Lauda has suggested that the New Jersey Grand Prix will not happen in 2014, especially in light of the announcement that F1 will return to Austria next year.
Toro Rosso's Daniel Ricciardo's hopes of landing the second seat at Red Bull next year have been boosted after team owner Dietrich Mateschitz admitted they were impressed with his recent speed when he drove for them at the Silverstone test.
Mercedes will have a "number of challenges to overcome" in this weekend's Hungarian Grand Prix because they did not attend the young driver test at Silverstone, according to the team's executive director Toto Wolff.
Dutchman Giedo van der Garde, driving in his debut season in F1, is confident he will see out the rest of the season with Caterham despite speculation linking Heikki Kovalainen to his race seat.
This weekend's Hungarian Grand Prix will be the 100th race in which Force India's Adrian Sutil has taken part. The German made his debut in 2007.
Force India boss Vijay Mallya says the team have exceeded expectations this year. They currently lie fifth in the constructors' standings, one place ahead of McLaren who have won eight constructors' titles.
Pirelli will take the medium and hard tyres to the Belgian and Italian Grands Prix and the medium and super-soft to the Singapore Grand Prix.