Lewis Hamilton column: Mercedes performance better than I expected
Last updated on .From the section Formula 1170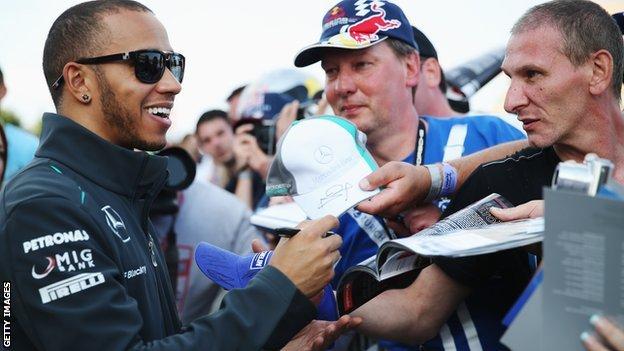 In his latest BBC Sport column, Lewis Hamilton takes the positives out of the first half of the season, talks about his relationship with team-mate Nico Rosberg and looks forward to the rest of the year and beyond.
This weekend's Hungarian Grand Prix marks the mid-point of the Formula 1 season, and it is also nearly six months since I first drove my new Mercedes car. So it is a good time to reflect on what we have achieved so far.
Overall, it has gone a lot better than I expected it would. Coming to the team, I remember the excitement of having something new and fresh, going to the factory, sitting in the mock-up of the car and making a few changes to the way the team went about things.
It was cool to put my mark on a few things. The team obviously have some incredible engineers, but there are always some things that people miss.
So I was able to help them modify and improve certain areas, mainly things that would help me in the car.
From the first race onwards, it has just been great to be up there in the mix at the front. I never expected to be ahead of McLaren, for example.
Before I drove the car, I thought it was going to be tough to be in the top 10. I honestly meant that when I said it over the winter - just because the team had had a really difficult end to last season.
I was thinking it was going to be a tough year.
I worked really hard to prepare myself for that because in every other season I have had a chance to win at least one race, and I really didn't think I was going to have a shot. That was difficult to swallow.
When I drove the car for the first time, I tried not to get too overwhelmed with how good it felt because you can easily be misled and then you get to the first race and you're miles off.
But I was taking it all in and then we had a relatively decent result at the first race, where I finished fifth after qualifying third, which was a really good foundation to start from.
The team has just got stronger and stronger since then. The car has improved a lot. In the past, this team have struggled to develop the car through the season, but now it is constantly getting better.
Mercedes are really beginning to look like a championship-winning team, which was my hope when I came here. And I really have high hopes moving forwards.
Coping with disappointment
We have had some difficult weekends where we have struggled with the tyres and gone backwards in the races after qualifying at the front, but those races are not as frustrating as you might think when you look back.
That's just the way it is. Falling back is not the greatest thing, but we get stronger towards the end of the races and we are still picking up decent points.
For me, the ones that are really difficult are the ones where the car was able to win but I missed out for whatever reason.
The obvious one was Silverstone, where I was leading comfortably until my tyre blew.
Of course, there have also been other times when I've missed out through my own fault, like in Monaco.
Those are the ones when I feel an opportunity was missed, and I don't like missing opportunities.
But the car is great to drive and I am looking forward to the team developing it further throughout the year. I am really confident there are going to be some races where we are going to be able to win.
In the title fight
Despite the difficulties, we are second in the constructors' championship and it is not impossible we could catch Red Bull, if Nico Rosberg and I can continue to get solid results as a team.
For us to be in that position is a really impressive achievement, considering where the team ended up at the end of 2012.
It is all down to the hard work of everyone at the factory, right up to the bosses - Ross Brawn, Toto Wolff and Niki Lauda - getting the right people in the right places.
The drivers' title is obviously a different issue. I am already a long way off Sebastian Vettel - 58 points - and he just keeps on racking up the first and second places, so beating him will be really difficult.
But we will give it everything we can, and next year is my real hope. That's when I believe I will have the chance to really compete for the championship.
Strong competition
I know people are enjoying my battle with Nico. I never thought he would be a walkover. I knew he was going to be quick.
My understanding and feeling for the car has been growing and I feel I'm getting stronger. It takes time.
People on the outside probably don't fully understand the difficulties in going to a new car, and the different requirements to put it on a knife-edge, get it in the zone and get those last tenths of a second out of the car that a good driver should be able to.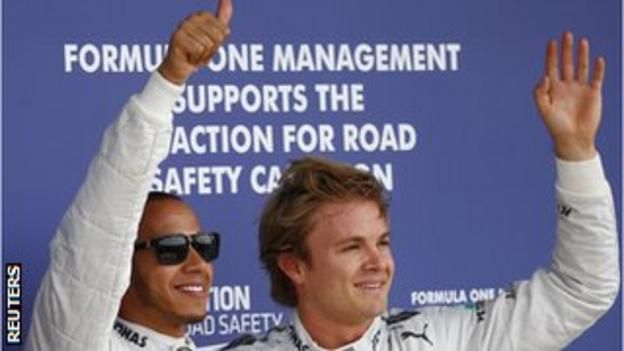 Some weekends we don't get it and some weekends we do, but there has never been a second's doubt in my mind about my ability.
So it doesn't bother me who I get compared with. I feel that when I am in the same car as anyone, I know I can compete with them and be ahead of them.
Qualifying has been going pretty well for the last few races, and so far this year I have been most proud of my pole lap at Silverstone.
I put my heart on the edge. I really wanted to do it for the fans - just like I do every year - but this was the one year I had a car that was in a strong position.
I still don't feel I have quite got the maximum out of the car. But that's a real positive sign for me, because I'm still getting poles even though I'm not at 100%.
I'm slowly changing things, like brakes and so on, and I'm sure I'll get more comfortable.
Looking forward to the weekend
I'm confident we can be competitive again in qualifying this weekend in Hungary. The race is a completely different question.
The tyres are new for this race and we are the only team who were not able to try them out, because we were not at the test at Silverstone last week.
There are also a lot of new rules governing how we can operate the tyres, and they all have an effect. And the fact is we do overheat our tyres in hot conditions, for a reason we have still not fully understood.
I've read some comments from people saying, "Oh, those Mercedes drivers are always making excuses". But there is nothing we can do from the cockpit when it happens.
The engineers have been working so hard back at the factory to understand it and there are lots of factors that contribute to the situation.
For example, the heat the brakes generate is incredible - 400-500C. To stop that going into the wheel and then the tyre is really difficult.
Some teams have got it right; others have been unfortunate and had to make changes. But we are improving and anyone who talks us down just needs to look at where the team was last year and see where we are now.
If you look up the word "progress", you will see a picture of our team. That's what we're all about.