Bernie Ecclestone says Indian GP will 'probably not' happen in 2014

By Andrew Benson
Chief F1 writer
Last updated on .From the section Formula 1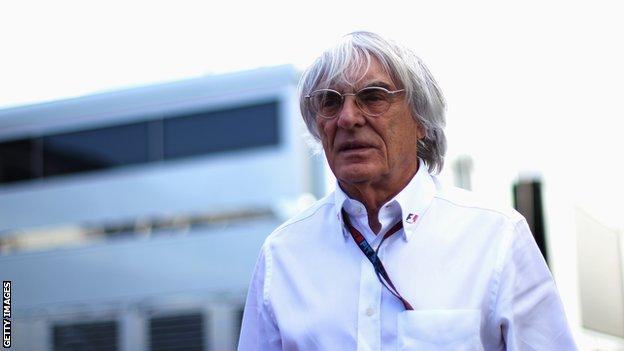 Formula 1 boss Bernie Ecclestone has said the Indian Grand Prix will "probably not" happen in 2014.
Ecclestone blamed "political" problems with the race, which has a contract to host a grand prix until 2015.
But Indian motorsport federation boss Vicky Chandhok told BBC Sport Ecclestone and organisers the Jaypee Group were trying to find a new date.
He said Ecclestone wanted India to be in the early part of the season rather than in its current October date.
"To have it in October 2014 and again in March or April 2015 would be impossible for us in terms of finances and resources," Chandhok said.
"Is India going to happen next year? Probably not," Ecclestone said.
Asked about the reason for his doubts, Ecclestone added: "Very political."
Chandhok would be not drawn on a potential solution but sources say the answer could be to extend the contract into 2016 so that instead of races in 2014 and 2015, India is skipped next year but then returns in an early-season date in 2015 and '16.
Ecclestone, who personally draws up the F1 calendar, is trying to shuffle a potential 22 grands prix into a schedule which the teams would prefer not to extend beyond 20 races.
That is because of mooted new races next year in Austria, New Jersey in the US and Russia, on top of this year's 19-race calendar.
Among the ideas he is considering is to start the season with a group of races in the Asian region - Australia, Malaysia, China and India.
There are also concerns over this year's Indian race because of a decision by the Indian government to try to tax the teams on their earnings in India on the basis of a proportion of their revenues rather than profit.
Chandhok said he was hopeful the issue would be solved, as was an earlier one over the previous two events in India concerning import tax.
"It took a lot of time and resources from F1 and the Jaypee Group to bring F1 to India. Everyone worked really hard to get the permissions for the event to run," he said.
"Much as some people complain about all the negatives to do with F1, the race has done for India what nothing else has done.
"We keep talking about ourselves as a high-tech country and this event proves it.
"It shows India is capable of holding an event of this magnitude, so it would be a shame if it was off the calendar. I hope whatever issues there are between the Jaypee Group and F1 are resolved soon."
Sauber's Indian-born team principal Monisha Kaltenborn said: "It would be a pity if for these [tax] reasons we don't go there.
"India is an important market for partners who are already in Formula 1 or who could get into Formula 1 because of that market, so it really would be a pity if we would not manage to sort out these problems."