Gary Anderson: Lewis Hamilton, Ferrari and scrapping DRS

By Gary Anderson
BBC F1 technical analyst
Last updated on .From the section Formula 1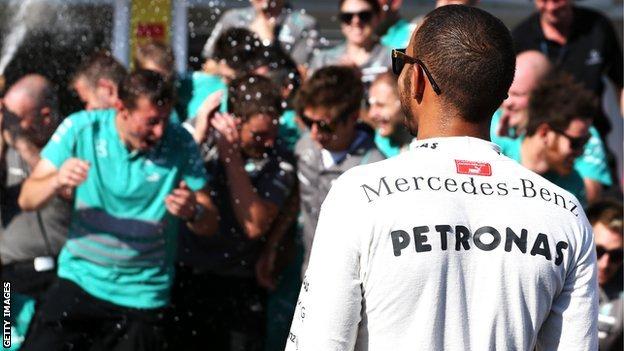 Lewis Hamilton put in a great drive to win the Hungarian Grand Prix. He did a fantastic job and deserves a lot of credit for the victory.
Other drivers sit back and moan about this and that, but Hamilton was confronted with the same set of problems and dealt with them better.
There was considerable surprise that Mercedes were able to run so competitively in the race despite the high temperatures, because they have been struggling to stop their rear tyres overheating all season.
But it's not that surprising, really.
Hungary is in some ways similar to Monaco. Although it was very hot, there are no fast corners with a high lateral load for a sustained period of time and the track surface is not very abrasive. So that in itself reduces the load on the tyres.
On top of that, the new construction of tyre - which uses Kevlar composite rather than steel - is better at dissipating heat in the tyre.
With these tyres, the heat from the track surface will pass from the compound into the carcass and then be dissipated, while with the previous design the heat would stay in the rubber compound.
That would help Mercedes keep temperatures under control in the race, and it was clear from Hamilton taking pole that they were able to keep their strong pace in qualifying.
Whether the new tyre will solve Mercedes' problems entirely we will have to wait and see - especially for the races in Belgium and Japan. If there are high temperatures there, combined with the high lateral forces put through the tyres by the corners on those tracks, it could be a different story.
So it would be wrong to make too many assumptions on the basis of Hungary.
Having said that, when Hamilton gets some momentum going, he is a hard bloke to beat.
If I was Sebastian Vettel I would be keeping an eye on the rear-view mirror in terms of the championship because Hamilton is going to be coming at him thick and fast.
FERRARI GOING BACKWARDS
The way things are going, Hamilton is more of a threat to Vettel in the championship than Ferrari's Fernando Alonso, who has been the Red Bull driver's leading pursuer for much of the season.
Ferrari have lost their way. In the last four races Alonso has had a second, third, fourth and fifth. That slide is going in the wrong direction.
They are bringing developments to the track - as they did with a new diffuser in Hungary - but they are not using them in races.
So all of that research and effort is not being turned into performance.
Caution can be a positive when it comes to engineering, but Ferrari are guilty of over-caution.
They spent Friday in Hungary trying to compare the new diffuser with the old one. But it is impossible to do so-called back-to-back runs on a part as influential as that with the track changing as quickly as it does in Hungary.
That's because you can never be sure what is influencing the changes in car behaviour and lap time - is it the track evolution, or the new parts?
Sometimes you simply have to have faith in your simulation data, put the part on the car and get on with it. Because Ferrari are not, they are effectively going backwards, because while they are standing still everyone else is going forwards.
Mercedes had new parts on the car. They had a new front wing and they just got on with it.
Ferrari are in a halfway house. They're neither optimising the car, nor benefiting from new parts. Mercedes, Red Bull and Lotus by contrast, tend to stick new parts on the car, believe in them, and get on with it.
This is why Ferrari badly need former Lotus technical director James Allison to start work in his new role. They need someone to stand up and make those decisions.
You have to make decisions. They might be wrong, but at least by committing to something you get the bits on the car and get the best out of it that weekend.
It might only be 95% of the total potential of the car, but at least you got that 95%. If you back-to-back things all weekend, you don't get the best out of the car either with or without the new parts, so your overall performance is worse.
RAIKKONEN LOOKING GOOD
Unlike Ferrari, Lotus are maximising their car's potential, with the proviso that had Kimi Raikkonen qualified in third, where his team-mate Romain Grosjean was, rather than sixth, he could have been a thorn in Hamilton's side in the race.
Even so, Raikkonen moved up to second in the championship by finishing second and is now 38 points behind Vettel. That is not an impossible gap to bridge by any means.
For Raikkonen - and the same applies to Ferrari if they can sort themselves out - it is good news that Mercedes are going well because they will take points off Vettel.
GROSJEAN HARD DONE BY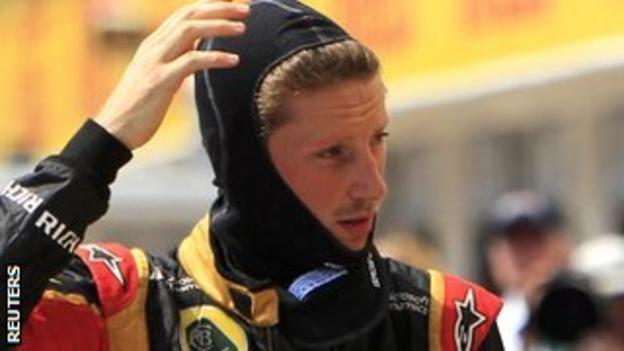 In one sense Grosjean threw away a potential win with the two penalties he earned for his collision with Jenson Button's McLaren and his overtaking move around the outside of Felipe Massa's Ferrari in Turn Four.
On the other hand, in my opinion both those penalties were unfair, especially the one for the move on Massa, which earned him a drive-through penalty.
That was a fantastic move - and even Massa did not think Grosjean should have been penalised, which is the last thing another racing driver would say if he thought there was any possibility that the move was on the edge.
The FIA has its priorities wrong in taking away the potential for drivers to do moves like that but giving them the ridiculous DRS overtaking aid to create artificial overtaking manoeuvres.
What is motor racing becoming? That was a great move by two good, aggressive drivers, and it was real. That's what it's all about.
Even with the Button move, OK, strictly speaking Grosjean broke the rules - he did not quite leave Button a car's width of space on the outside.
But sometimes drivers have to do what's called a 'block pass'.
I believe Grosjean would have made the chicane had Button's front wing not touched his left rear tyre.
Look back to what McLaren's Sergio Perez did at Monaco. He pulled lots of block passes into the chicane but he got away with it. Grosjean's pass on Button was no different.
DRS should be abandoned. It either doesn't work - as in Hungary - or it's of too big a benefit. But it's never exactly right.
MR CONSISTENCY
Vettel had a scrappy race, harming his chances of battling with Hamilton by damaging his car, but he keeps on racking up the points.
The Red Bull is quick. As Mark Webber showed by coming through from 10th to fourth, they have a car that is fast enough to finish in the top four no matter what.
For the sake of the championship, we have to hope other people get ahead of Vettel and deprive him of the big points.
Gary Anderson is the former technical director of the Jordan, Stewart and Jaguar teams. He was talking to BBC Sport's Andrew Benson