Fernando Alonso rebuked by Ferrari chief Di Montezemelo

By Andrew Benson
Chief F1 writer
Last updated on .From the section Formula 1616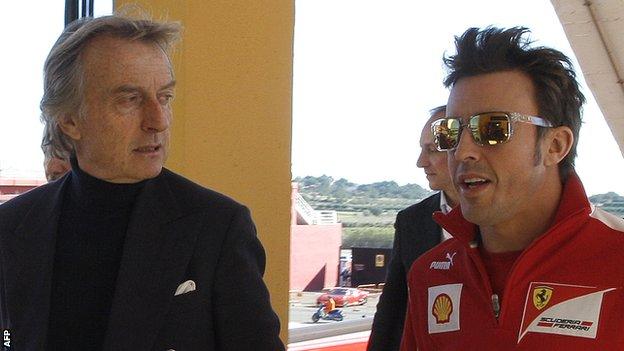 Ferrari have revealed that Fernando Alonso has been admonished by the company's president.
The team said Luca Di Montezemolo phoned the driver on Monday to wish him a happy birthday but also "tweaked his ear" for his "latest comments".
Ferrari have not revealed which remarks by Alonso, 32, upset Di Montezemolo.
But when he was asked what birthday present he would like after finishing fifth in Sunday's Hungarian Grand Prix, Alonso replied: "Someone else's car."
A Ferrari statement said Alonso was reminded by Di Montezemolo that "all the great champions who have driven for Ferrari have always been asked to put the interests of the team above their own".
According to the statement, Di Montezemolo also insisted that "this is the moment to stay calm, avoid polemics and show humility and determination in making one's own contribution, standing alongside the team and its people both at the track and outside it".
It also revealed that Di Montezemolo was referring to Alonso when he told a team meeting on Monday that "there is a need to close ranks, without giving in to rash outbursts that, while understandable in the immediate aftermath of a bad result, are no use to anyone".
It is highly unusual for Ferrari to reveal its internal dealings in such a manner and it emphasises Di Montezemolo's strength of feeling about the situation.
The statement comes a day after it emerged Alonso's manager had had a meeting with Red Bull team boss Christian Horner over the Hungarian GP weekend.
Sources say Alonso's manager, Luis Garcia Abad, told Horner that the Spaniard was potentially available to partner Sebastian Vettel at Red Bull next year and would like the opportunity to do so.
Alonso, who lies third in the drivers' championship, 39 points behind leader Vettel, insisted after the race that he was "very happy" at Ferrari.
Asked whether his representative had approached Red Bull, Alonso said: "I don't think so. Not that I know."
Abad told BBC Sport there had been "no discussions" with Horner.
The Ferrari statement will do little to quell the impression that all is not well between Ferrari and their star driver.
Sources close to Ferrari say the team are not entirely convinced Alonso always gets the best out the car in qualifying, while those close to Alonso say he feels he is constantly having to push to the absolute maximum to make up for an uncompetitive car.
Ferrari's admission that Di Montezemolo is unhappy with Alonso's public behaviour came on the same day that the team confirmed the signing of former Lotus technical director James Allison to lead their design department, with Pat Fry moving to a new job as director of engineering.
Allison, who is one of F1's most highly regarded design engineers, joined Ferrari with the explicit approval of Alonso.
The two worked together at Renault when Alonso won his back-to-back titles in 2005 and 2006, when Allison was deputy technical director.
Prior to that, he worked at Ferrari for five years during the early 2000s, when they dominated the sport with Michael Schumacher.